indieWIRE
has the entertaining news that Morgan Spurlock, director of Super Size Me, made a trip to Capitol Hill earlier this week. He presented his now infamous documentary to Congress, working alongside the Physicians Committee for Responsible Medicine. One of the things Spurlock addressed is the proposed Commonsense Consumption Act, which would ban civil lawsuits against the food industry for any role they might have in the growing obesity problem. The premise of Spurlock's film is actually that such a lawsuit by some obese young girls who relied almost exclusively on fast food as their diet was thrown out as unfounded. Spurlock set out to delve into the ways that marketing and branding can affect food decision choices from a very early age and also examined the real health problems that arise from such a diet. In both Eric Schlosser's book
Fast Food Nation
and Greg Critser's
Fat Land: How Americans Became the Fattest People in the World,
the implication is that politicians are very solidly in the pocket of the food industry. Given the growing health issues arising from obesity-related illnesses, it will be fascinating to see how that relationship evolves.
I've seen three 2004 releases so far this weekend. The first was The Bourne Supremacy, which was another excellent spy thriller. Though it does appear to deviate almost completely from the Ludlum novel, the sequel to The Bourne Identity totally grasps what made the first film work and carries it over to a cunningly crafted follow-up.
Catwoman, on the other hand, is almost certainly the worst film of the year, though I do waver between it and Two Brothers (it's a bad time to be a kitty cat). It has ludicrous dialogue, laughable acting performances, and a story that is only coherent when it is cliched. I would have liked the film much, much more if instead of Frances Conroy, the crazy cat lady looked a little something like this: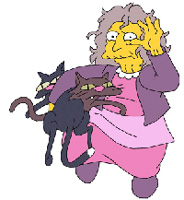 And finally, I also saw The Clearing. This film had marvelous, measured performances from two actors I really admire - Helen Mirren and Willem Dafoe - and Robert Redford was brilliant as well. Unfortunately, the movie itself was too plodding and devoid of any real emotion to leave a lasting impression. Even worse, I had an unbelievably stupid couple sitting right behind me, basically narrating every step the film took. "Oh, look. He's writing her a letter." "Oh, wow. It was really dumb of him to do that." "Oh, no! Why wouldn't she have brought help!" People. It's a movie. With fake characters and stuff.

It's possible my entire "The Clearing" experience might have been tainted by their presence, no?