One of the very positive results of Morgan Spurlock's horror-documentary Super Size Me is that McDonald's has started to sell GoActive Meals, which are basically Happy Meals for grownups. The box that you receive comes complete with salad, water and a pedometer. I decided to try one and the meal was decent, and the pedometer was digital. I already had a pedometer, but this new one seems quite an improvement.
So today I set out for my daily exercise routine, and took the pedometer along. It didn't work perfectly - for some reason it didn't like the shorts I was wearing, but in general it's okay. Especially since if it breaks I can get another one if I'm ever hungry for chicken salad.
Anyway, since I haven't had much to post of interest lately, I figured I'd just give you my playlist of what I heard on my iPod while exercising. It was kind of a fun mix.
Underground - Ben Folds Five (The first Ben Folds Five song I ever heard - I've loved them ever since)
Uncle John's Farm - Owsley (an XM Radio discovery - he actually sounds a lot like Ben Folds Five, which is probably why I like him)
Nine Tail Demon Fox - Toshiro Masuda - from the Naruto soundtrack (what the hell is Naruto, you ask? It's a Japanese animated series that I just adore. Here's a picture for the very very curious.)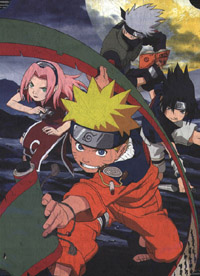 Shipbuilding - Elvis Costello and the Attractions - a most excellent song off the outstanding High Fidelity soundtrack
Ring of Fire - Johnny Cash - the first song I ever liked. I used to play the record incessantly at three years of age.
Careful - Guster's MTV2 cover of the Violent Femmes tune
Delta (Little Boy Blues) - Badly Drawn Boy - be careful when you throw bread out to ducks.
Short Skirt/Long Jacket - Cake - the perfect tempo for walking
Innocent - Fuel - I'm a sucker for anything that incorporates Dylan Thomas' "Do Not Go Gently Into That Good Night"
Where the Soul of Man Never Dies - Johnny Cash - yes, more Johnny
Tout doux Bruno - Ben Charest - from the wonderful, wonderful Triplets of Belleville soundtrack
Keep Me in Your Heart - Warren Zevon - poignant and sad
A Silhouette of Doom - Ennio Morricone - I'm only just beginning to appreciate his fantastic movie scores
Some Kind of Wonderful - Joss Stone - a young woman with an amazing voice
Athena - The Who - she's a bomb!
Anyway.
I was a tremendous fan of Batman: The Animated Series when it initially hit and am totally looking forward to the DVDs as they make their street dates. This fall, Kids WB will have another series dedicated to the Dark Knight, this time called The Batman.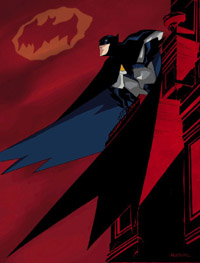 Early signs are extremely promising. Voice talent includes Rino Romano as Batman (Eternal Darkness's Karim), Gina Gershon (Catwoman), Kevin Michael Richardson as The Joker (he played "big dummy" Captain Gantu in Lilo & Stitch), SpongeBob SquarePants himself Tom Kenny as The Penguin, Clancy Brown (Mr. Krabs in SpongeBob's show) as Mr. Freeze, the original Riddler Frank Gorshin as Hugo Strange, Hellboy's Ron Perlman as Killer Croc, Adam West (hee hee) as Mayor Grange, Steve Harris (The Practice) as Clayface/Evan Bennett, Ming Na (as Detective Ellen Yin), Robert Englund as The Riddler (brilliant voice casting here), and 24's Joaquim de Almeida as Bane.
Quite simply, I can't wait.