Soft Box Office Will Breed Winners
John Hamann's Monday Update
December 15, 2003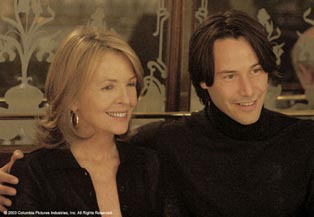 With box office totals low for the weekend, there wasn't much room for the studios to miss by. Saddam Hussein's capture on Sunday morning and the Survivor Finale on Sunday night might have been just big enough events to throw off the studio estimators. The tightest race this weekend was for fourth between Love Don't Cost A Thing, The Haunted Mansion, Bad Santa, and Elf, as only $300,000 separated the contestants. To see yesterday's coverage of yesterday's estimates, click here.
Openers were downgraded; Something's Gotta Give fell from its $17 million estimate to $16.1 million. Stuck on You may have been hurt by the Survivor wrap-up, as the two would have similar audiences. SOU dropped from $10 million to $9.4 million, closer to Tim Briody's estimate on Saturday of $9.5 million. The last opener was Love Don't Cost A Thing, and after the estimate for Honey was overgauged last weekend, it looks like WB learned a lesson. The weekend estimate for Love came in at $6.5 million, with the actual close at $6.3 million.
As for holdovers, the estimate for The Last Samurai was spot on, coming in only a few thousand from its Sunday studio guess of $14.1 million. As for the race for fourth, Love Don't Cost a Thing came fourth, and The Haunted Mansion remained fifth despite dropping from $6.3 million to $6.1 million. Elf moved up to sixth with $6 million as the estimate was downgraded from $6.2 million. Bad Santa dropped down one spot to seventh as its $6.2 million estimate dropped to $6 million, leaving it just a few thousand dollars shy of Elf.
Stay tuned to BOP, as we will have complete Lord of the Rings coverage once the film is released on Wednesday.
Top Ten for Weekend of December 12-14, 2003

Rank

Film

Number of Sites

Change in Sites from Last

Estimated Gross ($)

Cumulative Gross ($)

1

Something's Gotta Give

2,677

New

16.1

16.1

2

The Last Samurai

2,908

No change

14.1

46.9

3

Stuck on You

3,003

New

9.4

9.4

4

Love Don't Cost a Thing

1,844

New

6.3

6.3

5

The Haunted Mansion

3,001

-121

6.1

53.7

6

Elf

2,876

-243

6.0

147.5

7

Bad Santa

2,540

+449

6.0

35.7

8

Honey

1,972

No change

4.9

19.8

9

Dr. Seuss' The Cat in the Hat

2,955

-454

4.2

90.7

10

Gothika

1,806

-399

2.7

53.9

11

Master and Commander: The Far Side of the World

1,623

-721

2.4

76.2

12

Love Actually

1,566

-106

2.1

52.2