Soft Box Office Will Breed Winners
John Hamann's Weekend Wrap-Up
December 14, 2003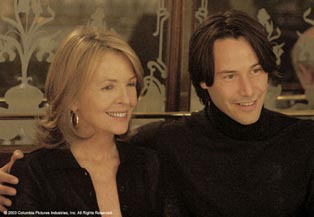 Three films opened this weekend, all of them hoping more for legs over the holiday season than boffo opening weekend numbers. Sony's Something's Gotta Give, Fox's Stuck on You, and WB's Love Don't Cost A Thing all vied for viewers in a marketplace quickly distracted by the rush of the holiday season. It's important to remember that over these mid-December weekends, it's all about legs.
At first glance, this weekend's box office numbers for a weekend in December look disastrous. However, before listening to the studios cry the box office blues, remember that opening weekends in December mean little to the long term success of their films. The second weekend in December is infamous for producing films of various quality that benefit from opening during the holidays, and manage huge numbers before the end of the run. Maid in Manhattan opened last year on this weekend to "only" $18.7 million, and went on to gross $93.9 million -- a head scratching success for a film of dubious quality. Other films opening on the same weekend last year also had decent legs, except for the abysmal final Star Trek movie, Nemesis -- they included The Hot Chick (open $7.4 million, total $35.1 million) and Drumline (open $12.6 million, total $56.4 million). Openers over this frame in 2001 were no different. Vanilla Sky opened to $25 million and grossed $100.6 million, despite questionable word-of-mouth. Not Another Teen Movie was basically forgotten except for opening weekend ($12.9 million open) but still managed $37.9 million by the end of its run. In 2000, three films opened and they all had legs: What Women Want still remains December's fourth biggest opener with $33.6 million and still managed a huge $182.8 million by the end of its run. The other two openers in 2000 were Dude Where's My Car (open $13.8 million, total $46.7 million) and The Emperor's New Groove (open $9.8 million, total $89.3 million). Legs are never a given, but releasing a film in mid-December certainly help your chances.
The number one film at the box office this weekend is Sony's Something's Gotta Give, but the opening weekend is no What Women Want. Something grossed a lower-than-expected $17 million over the December 12th - 14th weekend, as it failed to reach the $20 million mark. SGG was released to 2,677 venues, and secured a not-bad venue average of $6,350. The best news for Sony is the automatic seasonal legs I referred to above. If SSG can pull an open-to-total multiplier between 4.8 and 5.2, the final gross will end up between $81.6 million and $88.4 million. It shouldn't have any problem reaching those levels; reviews were great, of the 100 reviews counted at RottenTomatoes, 72 were positive, leading to a fresh score of 72%. SGG should also get some Oscar talk, as Diane Keaton has already won the Best Actress award from The National Board of Review.
Second spot goes to last weekend's champ, The Last Samurai; however, the Tom Cruise epic lost a significant percentage of last weekend's audience despite the fact that there was no snowstorm this weekend. The Last Samurai grossed $14.1 million, down a hefty 42% from last weekend (maybe the studio will blame the capture of Saddam for this weekend's drop). The drop is bad news for WB and for Cruise's Oscar hopes; the film was made for a costly $100 million, and will need all of the Christmas effect on the box office if it has any chance at recouping the production budget domestically. So far, The Last Samurai has grossed $46.8 million.
The other major opener, Stuck on You, lands in a disappointing third spot this weekend, which is quite a surprise given the pedigree of the directors. Stuck on You grossed a soft $10 million, despite opening on 400 more screens than Something's Gotta Give. The comedy from Peter and Bobby Farrelly looked strong heading into the weekend, but failed to engage moviegoers when it really counted. Save for their two worst outings, Osmosis Jones and Kingpin, Stuck on You is the Farrelly's worst open of their exceptional careers. Their biggest opening weekend remains with Me Myself and Irene ($24.2 million), followed closely by Shallow Hal ($22.5 million). Why didn't Stuck work to a bigger degree? Discarding a curse that seems to be growing around Greg Kinnear, the movie needed a comedic star, which wasn't delivered via Kinnear or Matt Damon. The marketing wasn't laugh-out-loud funny, and the premise was so odd it may have turned some people off, although that didn't happen with Shallow Hal. Reviews were mixed; of the 95 reviews counted at RottenTomatoes, only 57 were fresh, resulting in a 60% positive rating. Again, The Hot Chick opened to $7.4 million and somehow managed to gross $35 million, so Stuck on You isn't a write-off quite yet, despite its $55 million production budget.
It was a tight race for fourth this weekend as four films stacked up around the $6 million dollar mark. Estimated at fourth is Love Don't Cost a Thing, the too-soon retread of the '80s classic Can't Buy Me Love. The WB flick grossed $6.5 million from only 1,844 venues, resulting in a decent average of $3,544. Love was the only opener to not get a fresh rating at RottenTomatoes. The film scored only eight positive reviews from 48 critics, resulting in a rotten percentage of 17%.
Fifth goes to The Haunted Mansion, which is playing much younger than might be expected. THM grossed $6.3 million through its third weekend, down 33% from the previous frame. After a Friday gross of $1.5 million, I thought the film might be in serious trouble. However, the movie proved to be selling young, as it bounced back with an internal multiplier of 4.3, meaning it was ignored on Friday night by adults, but then played well for kids and families over the rest of the weekend. Regardless, the $90 million Eddie Murphy comedy will still struggle to match its production budget domestically, as it sits with a total of $53.9 million after three weekends of release.
In at sixth is the resilient Bad Santa, as the grouchy elf continues to hold very well. After finishing last weekend with $7.1 million, the Dimension/Miramax release dropped a very small 11.5%, pulling in a gross of $6.2 million this weekend. The studio made a very shrewd move of adding several hundred screens to Bad Santa's run, keeping the momentum up. Bad Santa now has a running total of $35.9 million against a production budget of only $18 million.
Currently Elf is in seventh, but that could change when actuals are released tomorrow. Despite the drop down the top ten list, Elf still performed very strongly. The New Line film grossed $6.2 million (only $335,000 from fourth), dropping a small 23% from its fourth place finish last weekend. Now in its sixth smash weekend, Elf has a cumulative gross of $147.7 million.
Eighth goes to Honey, which after an impressive debut appears to be going down with the ship in its sophomore weekend. Honey grossed $5.1 million in its second frame, down a horrendous 60% from its $12.9 million debut. The good news for distributor Universal is that at least Honey has made its $18 million dollar production budget back, as the Jessica Alba flick has a current total of $20 million.
Way down in ninth is Universal's The Cat in the Hat. The Cat grossed $4.2 million in its fourth weekend of release, down 41% from the weekend before. The kids flick, budgeted at $109 million, now has a total of $90.8 million, as it stretches for the $100 million mark.
Gothika hangs on to a top ten finish by Halle Berry's fingernails, as the Dark Castle horror flick grossed $2.7 million in its fourth weekend. WB has a successful film in Gothika, as the total for the horror flick has reached $53.9 million against a production budget of $40 million.
Overall, box office didn't compare well with the same frame last year when Maid in Manhattan opened. Last year, the top ten films at the box office came in at $87 million; this year box office was down 10% as estimates for this year came in at $78.3 million.
Top Ten for Weekend of December 12-14, 2003

Rank

Film

Number of Sites

Change in Sites from Last

Estimated Gross ($)

Cumulative Gross ($)

1

Something's Gotta Give

2,677

New

17.0

17.0

2

The Last Samurai

2,908

No change

14.1

46.8

3

Stuck on You

3,003

New

10.0

10.0

4

Love Don't Cost a Thing

1,844

New

6.5

6.5

5

The Haunted Mansion

3,001

-121

6.3

53.9

6

Bad Santa

2,540

+449

6.2

35.9

7

Elf

2,876

-243

6.2

147.7

8

Honey

1,972

No change

5.1

20.0

9

Dr. Seuss' The Cat in the Hat

2,955

-454

4.2

90.6

10

Gothika

1,806

-399

2.7

53.9

11

Master and Commander: The Far Side of the World

1,623

-721

2.5

76.3

12

Love Actually

1,566

-106

2.3

52.3