Survivor: Game Changers Recap
Parting Is Such Sweet Sorrow
By David Mumpower
May 24, 2017
Historically, these situations never turn out well. This one's even worse since Brad is diligently foraging for the tribe when she arrives. Even though he doesn't have a lot of hope for winning Survivor, he's still taking care of the needs of his tribemates. Despite this, one of them is telling him that he should do this something. Basically, Culpepper has found fruit and vegetables, but Michaela wants to order something from off the menu. She's a pretty awful person. As mentioned, that makes her a fitting Survivor winner.

The other women plot strategy. Aubry and Andrea discuss the elimination of Sarah, but Aubry says she is "not acting on that gut feeling with Sarah." Meanwhile, Cirie and Sarah are talking about Andrea, who probably is the smartest player remaining in the game (not counting Cirie herself).

Tribal Council features a lot of confused players. All of them wonder why there wasn't more scrambling in the lead-up to the night's vote. Brad Culpepper says that he's talked to everyone except for Andrea, whom he's voted for twice. He indicates that he could finally get his way with this vote, which seems like a strong indicator that Andrea will get at least a few of the votes. He then goes into a rant about gameplay that we're sure makes sense to him.

"Here's an argument against waiting until the end to get rid of your big weed. When you guys are final five, somebody's gonna get got, okay? And you're gonna wish when I was at seven, I could have got who got me at five." He then holds out his hands for maximum effect. Alternately, he found caffeine on the island. We're sure the discussion makes sense to him.

Anyway, Andrea receives every vote but two. She's going home. Since Culpepper has absolutely no power, this is the right play. Andrea quickly credits Cirie for it, which should speak volumes to the other players. Several jury members have the (correct) perception that Cirie's the power player this season. As such, she should be the target every vote until she's gone. Otherwise, she'll win Game Changers.




The second half of the episode begins with Culpepper gloating to Aubry, which is stupid on several levels. He has no female allies in this game, and he's picking at someone who just saw her best hope of winning fly out the window. This is exactly the moment when he should work with Aubry to build an alliance rather than taunt her.
Cirie reinforces this notion. She points out that Aubry needs to go. She also dislikes that Tai hugs Aubry "like Aubry's husband." So, Cirie wants Aubry gone, and she wants Tai gone. It's like that bit from The Simpsons where Homer tells every kid that they're cut. Cirie hates Survivor because of all the people.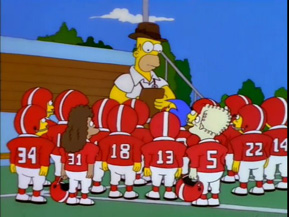 Probst Sighting 2!
The second immunity challenge involves a bucket and a pole. Players stand on the pole and use the bucket to get water. They pour the water down a chute that raises their poles (don't make it dirty). Once it reaches the appropriate height, the players receive keys that they use to solve a block puzzle.