Survivor: Kaoh Rong - Season Preview
Part 2 - The Beauty Tribe
By Jim Van Nest
February 17, 2016


Michele Fitzgerald - Every season has to have one, so I introduce you to Michele, Season 32's bartender! Michele's also a super fan of the show, and we know how that usually works out for people. Aside from that, she's a huge Harry Potter geek. I know you'll all expect this grumpy old man to make fun of that, but having made two trips to Orlando to visit both Harry Potter worlds, I'd suggest that you judgmental muggles need to back the hell up off Michele! Other than that, her bio and video are not very helpful. She's a Jersey girl, but she doesn't act like a Jersey girl, but then the Jersey girl sass may come out. I don't know...they have really given me nothing on this girl so it's hard for me to determine what to do with her. I have a sneaking suspicion that she may coast through the game for a little while based on just that - not being out there enough to be a target. I see her making the merge, but I fear that she could be the "wait a minute, SHE was on Survivor" girl of this cast. Hopefully for her, her Patronus is strong; I'm just not feeling it early on.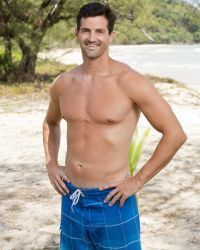 Nick Maiorano - Oh, Nick. You have history with Rob Has A Podcast, so I want to like you. But, simply put, I don't. The fact that you plan to fake listen to people and can't wait to start manipulating people actually makes we want to root for Caleb. He lists himself as a "Life Coach" but plans to tell everyone he's a personal trainer because Life Coach is too hard to explain. And, let's be honest - you never want to tell people that you make money from bullshitting people who are in a bad place and come to you for "help." This guy is gonna drive me nuts from the time he hits the beach until Jeff snuffs his torch. The only redeeming thing about guys like this is that their fall from grace is usually epic and incredibly satisfying. He'll make the merge and may even last a little while after, but that epic fall is coming and it will be glorious.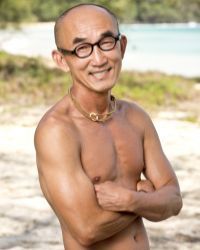 Tai Trang - I'm gonna go ahead and say it right now. If you can watch two minutes of Tai Trang and not like him, you are a scary person and you probably need help. I LOVE this guy. Tai is a gardener who also loves to keep bees (who DOES that?). He's from Vietnam (which he says he could probably swim to from where they are in Cambodia) and he's one of 10 children. He climbs trees, he loves to have fun, he's great to listen to and I instantly want to root for him. He would love nothing more than to win this game in his own backyard. I hate to take the smile off the little guy's face, but I think Tai is in trouble. Unless Beauty can go on a nice immunity run, I worry that being small and 51-years-old will make Tai a liability in challenges and with this tribe, that might be enough to get you booted early. Of all the predictions I'm going to make in these previews, this is the one I hope I'm wrong about. I want Tai to do well and go all the way, but I really fear he'll be a pre-merge boot. If that's the case, I hope he's at least memorable enough to get the call for Survivor: Second Second Chances or whatever the next fan vote season will be called.

And just like that, we're finished talking about the Beauty tribe. Overall, I'm about even on the Beauty and Brains tribe, though this tribe definitely has two people I think I will not like in Caleb and Nick. To counteract that, though, I do have some Tai Trang - for however few episodes that might be. Overall for this tribe, I see Julia and Tai being potential early pre-merge boots with Anna and Caleb having a good makeup to make it far in this game. Nick is a classic "vote after the merge" boot and Michele will likely bow out somewhere along the way, but not really pose too much of a threat to win it.

Thanks so much for checking out Part 2 of my Kaoh Rong preview and be sure to read about the Brawn tribe and I make my season predictions for Final 4 and ultimately, the winner of Survivor Kaoh Rong! 'Til then, take care!