Box Office Prophets proudly announces
...the 2002 Calvin Awards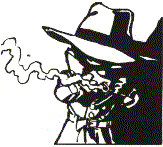 With the proliferation in the past few years of year-end awards ceremonies for the movie industry, it's becoming harder and harder to follow which are important enough to follow (I blame the Golden Satellites). We at the Box Office Prophets are happy to muddy the waters a little further with our own awards. In honor of our most frequent contributing writer, we have named them the Calvins.
This has been a year of confusion as far as the Oscars go, with no true front-runner or even clear front-runners. Many early-2001 pictures failed to live up to potential either in terms of quality or in box office, an unfortunate qualifier for Academy Awards success. The main advantage towards smaller awards groups, such as ours, is that there's no sense of requirement to be 'proper' in industry terms, no need to re-award for box office and what we think we ought to honor. Idiosyncrasies abound in our group of 21 voters, composed of the Box Office Prophets writers plus assorted behind-the-scenes staff, which I believe makes for a nice mixture for the awards of mainstream films plus personal favourites. Mainstream still rules the roost since we still have to pay our bucks to watch these films; however, smaller films tend to have passionate supporters among our group. I learned a lot of things about our voters by their choices for their ballots, along with what the keyboard shortcut is for that "é" in Amélie.
For all our categories, I'll list the top five vote getters, with the full vote listings available at the end for those that want to see how all the rest of the films fared. The boring rules can be read here.
Now on to the awards!
Best Picture
Best Director
Best Actor
Best Actress
Best Supporting Actor
Best Supporting Actress
Best Screenplay
Best Scene
Best Cast
Best Use of Music
Worst Picture
Best Trailer
Best DVD
Best Overlooked Film
All sections written and compiled by Reagen Sulewski*
*Trailer and DVD sections written by Kim Hollis