TiVoPlex

By John Seal
September 16-22, 2003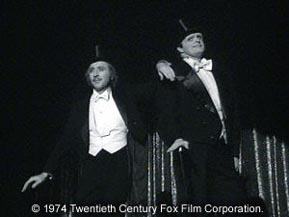 From the obscure to the obscurest to the merely overlooked or underappreciated; they all have a home in the TiVoPlex! All times PDT.
Tuesday 09/16/03
3am Turner Classic Movies
From Hand to Mouth
(1919 USA): For those who missed TCM's Harold Lloyd film festival back in April, here's an opportunity to see some of the rarer shorts that the channel aired that month. Starting out with this one-reeler (one of 38 shorts Lloyd made in 1919!), the film that introduced his famous "glasses character," the programming block also includes two previously unaired 1919 shorts, Ask Father (one of many Lloyd comedies dealing with unrequited love) at 3:30am, and Billy Blazes Esq. (a Western parody) at 3:45am. 1920's High and Dizzy follows at 4am and includes the first of Lloyd's many set pieces on narrow ledges in very unsafe high places, and 1921's newlywed nightmare I Do airs at 4:30am. After that, the programming reverts to the more familiar features, with Safety Last (1923 USA) at 5am, and The Freshman (1925 USA) at 6:15am, followed by the diminishing returns of Lloyd soundies, such as the overlong silent/sound hybrid Welcome Danger (1929 USA) at 7:30am, Movie Crazy (1932 USA) at 9:30am, The Cat's Paw (1934 USA) at 11:30am, and The Milky Way (1936 USA) at 1:30pm. The one-reelers are essential viewing, as are the feature-length silents if you haven't seen them before.
9:30am Black Starz!
The Story of a Three-Day Pass (1968 FRA): Black Starz! has quietly been airing a Melvin Van Peeble's film festival this month. Whilst I wouldn't be too proud to trumpet the dubious pleasures of films such as Identity Crisis(1989 USA), the man's wildly variable output is best represented here by this made-in-France film about a black American soldier, newly promoted, on leave in Paris. The underutilized Guyanan-born Harry Baird (The Mark, The Whisperers) stars as a GI who meets a young French woman (Shoot the Piano Player's Nicole Berger, who died before this film was completed) in a nightclub. The two have a whirlwind romance in a Normandy hotel, but the relationship begins to founder on the rocky shoals of racism. Filled with Van Peeble's trademarks, including his annoying penchant for quick-cut editing and still shots, this is an imperfect but bracing little drama, hinting at a directorial talent that has never been fully realized.
4pm Sundance
Justifiable Homicide (2001 USA): I haven't seen this documentary about the deaths of two Puerto Rican teenagers at the hands of the New York Police Department in 1995, but it definitely sounds interesting. This case didn't inspire the number of headlines resulting from incidents such as the Amadou Diallo case in 1999, but it sounds like another clear-cut example of NYPD heavy-handedness, with the unarmed victims killed execution-style and subsequent police department investigations apparently swept under the rug. Sounds like I found my weekly dose of outrage.
Wednesday 09/17/03
3:40am Black Starz!
Otomo
(1999 GER): Continuing this week's F*** Tha Police theme, this film plays like a typical liberal Hollywood exposition on racism, until one realizes that it's based on the true-life case of an Ivoirian immigrant in Germany whose death came at the hands of overzealous police officers. The title role is brilliantly realized by Isaach De Bankole, also outstanding as the ice-cream seller in Jim Jarmusch's masterful Ghost Dog: The Way of the Samurai (1999 USA). De Bankole brings the perfect balance of empathy and mystery to his character, a man forced to try to survive by any means necessary.
6pm Sundance
The Marriage of Maria Braun (1979 BRD): This late-period Fassbinder film stars his favorite actress, Hanna Schygulla, as the wife of a Wehrmacht soldier (Klaus Loewitch) during the last days of World War II and the immediate post-War period. Schygulla is superb as the woman trying to rebuild a life amongst the ruins, and in keeping with this week's OTHER theme of interracial relationships, her character has a brief fling with an African-American soldier. This is Fassbinder's most accessible film, at least from the perspective of Joe Popcorn, and was a massive commercial and critical success in West Germany, where people were still coming to terms with their country's Nazi past 30 years after the fact. Schygulla won the Silver Bear as Best Actress at the 1979 Berlin International Film Festival, and the film was also nominated for the Best Foreign Film Golden Globe in 1980. Also airs 9/20 at 9:30am.
Thursday 09/18/03
Going Home
(1971 USA): Here's a long-forgotten drama starring Robert Mitchum and Jan-Michael Vincent as members of a severely dysfunctional family. Mitchum plays a murderer, convicted of killing his wife, who is paroled back to the less-than-loving arms of his son (Vincent) who would prefer to see the old man dead, especially considering his childhood was scarred by witnessing the crime in the first place. Yanked after a very brief theatrical run, this film has never (to my knowledge) received a home video release and has rarely aired on television. Featuring a young Brenda Vaccaro as Mitchum's new gal pal, Going Home is a film richly deserving reappraisal.
6am Sundance
Stealing the Fire (2002 USA): Despite the fact that events have since outstripped this documentary's premise - that Saddam Hussein's nuclear programs posed a looming threat to Israel - this remains a fascinating look at nuclear proliferation, in this case perpetrated on an entirely legal basis by a German scientist named Karl-Heinz Schaab. The film is actually most interesting when it's dealing with issues other than Schaab's complicity with Iraq's attempts to acquire centrifuge technology, spending considerable time detailing Nazi Germany's efforts to develop nuclear weaponry, and revealing the unsavory stories of Nazi scientists and German industrial concerns in the post-War period. Though the film relies too much on interviews with the thoroughly discredited Iraqi defector and camera magnet Khidhir Hamza, whose knowledge of Hussein's nuclear program extends only until 1994, this remains a powerful indictment of personal greed and corporate aggrandizement.
Friday 09/19/03
7:25am Sundance
Toto the Hero
(1991 FRA-BEL-GER): This Dickensian tale of fortunes won and lost stars Michel Bouquet as a man convinced he was switched at birth with a "wealthy" baby (played as an old man by Alfred Bohlke). Ensconced in a retirement home, Bouquet decides to take his revenge on his long-time archrival, but not before flashbacks detail the lives, times and travails of the two men from childhood to the present. This is a very, very smart movie with a superb screenplay and two dynamic performances at its heart, and it scooped up the Golden Camera at the 1992 Cannes Film Festival. Believe it or not, there really is an award called the Golden Camera.
1pm Fox Movies
John Goldfarb Please Come Home (1964 USA): Here's another of those ubiquitous movies from my childhood. I don't know how many times I watched it, but I can still hum the theme song, which I haven't heard in close to 30 years. That's all I remember about this film, but with a super cast, including Peter Ustinov, Shirley MacLaine, Richard Crenna, Jim Backus, Fred Clark, Wilfrid Hyde-White, and Harry Morgan, not to mention a William Peter Blatty screenplay, how bad can it be? (Don't answer that question.) As a bonus to aspect-ratio junkies, Fox is airing it wide-screen.
Saturday 09/20/03
8:45pm IFC
The Wicked City
(1992 HK): This was one of the first Hong Kong movies I ever saw, and it left a big impression. Set on the streets of Tokyo and HK, the film posits a bleak future where a drug called Happiness is gaining adherents among the local hopheads. Did I mention that the future is also populated with a lizard-like race of immigrant space aliens called Reptoids, who may have a hand in the development of, and trade in, Happiness? Could it be these seemingly benevolent vertebrates are actually trying to enslave the inhabitants of Planet Earth? It's up to detective Jacky Cheung to do battle with the death-dealing baddies, as well as contend with some eye-popping special effects and over-the-top scenarios in this hyperkinetic and first-rate example of action filmmaking that reminds me a little of John Carpenter's They Live (1988 USA). Also airs 9/21 at 3am.
Sunday 09/21/03
3:35am Sundance
Downtown 81
(2001 USA): Originally filmed in 1981 but unreleased for 20 years, this look at the art and music scenes of early '80s New York City is required viewing for anyone interested in either. A day in the life of the late artist Jean Michel Basquiat, this film also features a veritable who's who of New York rockers of the time: Blondie (except, of course, original bass player Gary Valentine), August Darnell of Kid Creole and the Coconuts, Tav Falco of the Panther Burns, Lounge Lizard John Lurie, no-wavers DNA, San Francisco art-rockers Tuxedomoon and, erm, Coati Mundi. Considering the film stayed in the can for two decades, it looks remarkably fresh, and while the story is nothing to write home about and the acting frequently amateurish, the Big Apple looks great and the music is memorable. Also airs at 12:05pm.
9pm Turner Classic Movies
The Circus (1928 USA): Sometimes overlooked by cineastes and somewhat overshadowed by Chaplin's earlier Little Tramp films and his later, floridly emotional work, The Circus is the film that marked the beginning of Chaplin's transition from straight-up comedy to the blend of humor and heart-tugging sentimentalism of later films like City Lights (1931 USA) and Monsieur Verdoux (1947 USA). Chaplin had tried unsuccessfully to produce straight drama five years earlier with A Woman of Paris and then, after the poor critical and box-office response to that film, hurriedly reverted to comic foibles for 1925's The Gold Rush. In 1928 he was ready to broaden his scope again, but wisely chose to mix the comedic and dramatic elements in this story of the Little Tramp falling in love with the daughter of the circus owner for whom he works. It's not his greatest work, but it's probably the least-known of his major films, and deserves a look-in by all serious cinema fans.
Monday 09/22/03
2:30am More Max
Medium Cool
(1969 USA): I'm not the biggest fan of Haskell Wexler's fictional take on the 1968 Democratic National Convention in Chicago, but it has plenty of adherents and doesn't show up on the schedule all that often, so here it is. In all truth, I've never been impressed with Wexler's directorial work, but this is probably his best effort, starring Robert Forster as a television news reporter covering the violent proceedings outside the Convention whilst falling in love with newly-widowed Verna Bloom along the way. There are interesting bit parts for Peter Boyle and Peter Bonerz, but the film never successfully reconciles its attempts to blend exposition with documentation. All in all, it's a curious film; not exactly a failure, but extremely uneven.
3am Turner Classic Movies
Hi Nellie! (1934 USA) : You can't go wrong with these ingredients: Jack Warner providing the dosh, Mervyn Le Roy behind the camera, and Paul Muni, Glenda Farrell, Hobart Cavanaugh, and Donald Meek in front of it. This Warner's comedy about a newspaper reporter demoted to the lonely-hearts column after covering a story his editor doesn't want covered isn't particularly original, but its first rate entertainment for fans of 1930s cinema.