Trailer Hitch for August 6, 2003
By Zach Kolkin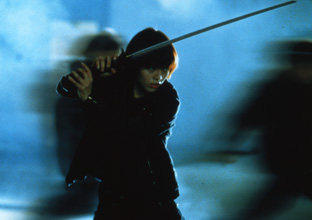 This movie is the story of a prison inhabited by African-American women and the inmates' struggles to overturn the inhumane and corrupt system under which they are forced to toil. The film obviously attempts to deal with some very weighty and controversial issues, but the trailer did not really give me the sense that they were addressed all that well here. The preview instead devotes itself to the story of the inmates taking over the prison. While this may make for a good premise, the film will only work if it can address the real-life issues with which it is clearly dealing in an intelligent manner, something which I would have liked to see a bit more of here.
Certainly Steve Martin never envisioned himself starring in a movie with teen idol Ashton Kutcher and pre-teen idol Hillary Duff; on the other hand, he probably never imagined he'd star in a movie with Queen Latifah either. In any case, Martin plays the tormented dad of twelve kids in this remake of the 1950 film of the same name (which of course is itself an adaptation of a classic novel). I was actually expecting this preview to be a bit more amusing than it was. Although the opening slasher flick spoof was cute, it's been done before. The rest of the trailer consisted mainly of Martin and Kutcher tripping and getting clobbered, which is shockingly just not that humorous. Hopefully there's a bit more to this remake, but I'm certainly not holding my breath after this lackluster first look.
Much like Space Jam or Who Framed Roger Rabbit, this new Looney Tunes flick features a melding of live action and animation. In addition to all your favorite cartoon characters, the movie stars Jenna Elfman and Brendan Frasier (who really, truly looks like a cartoon character himself). The preview was disappointing, as I was expecting quite a bit more original humor. With the notable exception of Daffy Duck's "Welcome to my world" comment, much of what was seen was rather dull and humorless. Perhaps children will find this trailer exciting, but the rest of us should be much more excited by the upcoming DVD release of the original Looney Tunes shorts.
This sci-fi thriller looks to borrow quite a bit from a number of other similar movies in telling the story of a man who has forgotten his own identity and gets caught up in a bizarre world of corporate espionage. Clearly, the picture is hoping to stake a reputation in large part by being a, for lack of a better term, weird movie, something which could also be said of director Vincenzo Natali's first work, Cube. Lucy Liu is the biggest star in the cast, and even she is only in a supporting role, so obviously the film is not going to get any extra attention because of its big names. This type of movie frequently gains most of its exposure from a knock-out trailer, something which Cypher unfortunately does not have. Again, the main problem seems to be that the film is odd for the sake of being odd and, more simply, lacking in originality. Whereas a fine film like Twelve Monkeys or Dark City gains a cult audience over time, this movie does not seem to be anywhere near those pictures in terms of quality.
Jack Black finally gets the chance to rock out on the big screen in this movie about a slacker musician who poses as his friend to get a job teaching at a prestigious prep school. The preview actually has some charm to it, unlike Black's other upcoming film, Envy, which was reviewed here several weeks ago. For all of Black's crazy antics, what makes him so likeable is the fact that he also has a gentle side. That comes out quite well here, as the movie gives him a chance to be a crazy rock star and clown around with kids all at the same time. It's hard to get a good sense from the promo, but depending on the rating the film gets, I would imagine that this will appeal to both teenagers and younger children. There's a good chance that among that age group, this movie could be a moderate success.
The trailer for this Japanese film is completely dialogue-free, and with good reason. The lack of verbiage puts the focus entirely on the breathtaking stunts and action sequences which are obviously the film's main selling point. There is no question that it's all quite spectacular, but with such a one-sided ad, it seems likely that most moviegoers will simply label the film as a martial-arts flick and move on. In order to achieve success, it would seem that the film would need to sell itself similarly to Crouching Tiger, Hidden Dragon, and it's unclear from this preview whether The Princess Blade has the story to back that comparison up. It's probably a moot point, however, since in all likelihood most audiences will never even hear of this small foreign film.
This film, based on the novel by Philip Roth, boasts a tremendous cast, all of whom look spectacular in this first preview. The story tells of a college professor, played by Anthony Hopkins, with a shady past who has an affair with a much younger woman (Nicole Kidman). Although the trailer introduces us to the plot, it certainly does not divulge too much, leaving viewers curious as to where the story will go. Of course, the film is based on a book, so many will already know the general storyline. This fact allows the trailer to stay a bit more on the cryptic side, as it can assume that at least some of those moviegoers interested will already know the story. Even those who don't will no doubt be attracted to the great performances of the two leads, as well as supporting castmembers Ed Harris and Gary Sinise. The Human Stain certainly has the potential to be one of the better films this fall.
If you have certain preconceived notions about the type of films Jason Biggs stars in, this might be the film to change your mind. I had not heard anything about this movie until I watched the trailer, and as it played, I found myself thinking that this certainly didn't seem like the type of romantic comedy I was expecting in a film starring Jason Biggs, Christina Ricci, and Jimmy Fallon. It wasn't until the penultimate frame of the promo that it all came together; Anything Else is actually the latest film from Woody Allen. Surprisingly, the director appears nowhere in the ad, and although he apparently does play a role in the movie, it does not appear to be a major one. Unlike Allen's other recent films, Anything Else appears to mark his return to the genre where he did some of his greatest work- a comedic romance set in the city exploring the various foibles and neuroses that make relationships so interesting. Biggs and Ricci appear to have a fantastic chemistry together, and if this film is anywhere near as good as it looks here, Woody Allen will have once again created a fantastic picture.