Trailer Hitch for July 31, 2003
By Zach Kolkin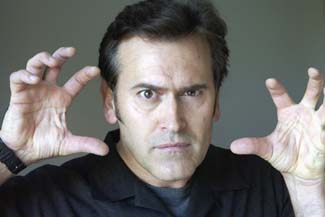 This bland-looking comedy is the story of two gay men who must deal with the reactions from their large Italian families after they come out of the closet as lovers.  The film mainly seems to be trying to capitalize on the success of the ethnic comedy by adding the ever-popular gay twist to it.  Unfortunately, in this case that addition alone doesn't make the film unique.  As much as this film would like to be My Big Gay Italian Wedding, it just isn't going to happen.
If there is one sure thing in this world, it is that there has never been a student who has taken a European history class, learned about Martin Luther and the Protestant Reformation, and thought to him - or herself, "This sure would make a great movie!"  Yet that is exactly what Luther is; a movie based on the life of Martin Luther.  On paper, this film seems like a terrible idea, and on screen, it appears an only marginally better one.  While Luther's story is certainly important history, it absolutely does not translate well into an intriguing movie.  While I can't see this film finding a very large audience in theaters, it seems destined to at least end up being shown in high school history classes for a very long time. 
For anyone who has been avidly watching Project Greenlight (me, for instance), this trailer is sure to come as an enormous shock.  For weeks now the series has been documenting the making of a subtle and intelligent coming-of-age dramedy, compared at one point to last year's excellent Igby Goes Down.  What, then, has become of that movie?  This is the trailer for a slapstick high school comedy that is not dramatic in the slightest.  I am at a complete loss as to what happened to the movie that was being shot on Project Greenlight and how little of a resemblance it bears to what is advertised here.  Although I can't say the movie looks all that great, I'm sure as hell interested in finding out how on earth the movie turned into what is being advertised here.
Underworld (or as I like to call it, Blade With a Babe) is the latest action- horror flick to hit theaters, takes quite an interesting route with this full trailer.  In addition to featuring now-typical Matrix-esque stunts and highlighting the werewolves and vampires that make up the film's cast, the promo spends quite a bit of time on the Romeo and Juliet love plot between the two leads, Kate Beckinsdale and Scott Speedman.  This romance at first seems a little out of place, but its purpose seems to be to give this otherwise generic film a unique slant.  I personally did not find this added plot element that enticing, and although there's no denying that Beckinsdale sure looks good in skintight leather, I certainly was not wowed by the film overall.  While an interesting idea, the film's amalgamation of themes and plotlines from numerous literary sources certainly doesn't appear to create a very appealing movie. 
Cult legend Bruce Campbell stars as Elvis (yup, that Elvis) and Ossie Davis stars as JFK (yup, that JFK) in this insanely ludicrous horror-comedy.  It's hard to tell from the trailer exactly what the film is about; apparently the two men team up to fight a mummy who is attacking their nursing home.  In the words of Dr. Evil: "Riiiiiight."  Although the idea of purposely making a cult movie seems somewhat odd to me, that's exactly what this film is trying to be.  Whether or not the lunacy of the whole thing actually makes a decent movie seems doubtful; on the other hand, the picture's potential for being entertaining is much higher.  Although the majority of moviegoers will probably never even hear of this film, cult fans will undoubtedly get a huge kick out of this preview.
It would be much too easy to say that this near-future sci-fi flick starring Ben Affleck is an obvious knock-off of Minority Report; after all, both films are based on stories written by Phillip K. Dick.  Instead, let us just say that Paycheck is highly reminiscent of a certain Summer 2002 film.  This picture appears to have just as labyrinthine a plot as That Other Movie, but under the direction of John Woo, it is a safe bet that Paycheck will be chock- full of big stunts and explosions.  After seeing the trailer, I have to say that I'm a little surprised that this film is being released around Christmas time; it seems much more like a summer release.  However, after Minority Report's box office disappointment, perhaps Paycheck's producers are hoping for a better outcome in a different season.  In any case, the film looks pretty decent, and although comparisons to the Tom Cruise flick are inevitable, Paycheck should find a sizable audience of its own in December.
Diane Lane follows up her outstanding performance in Unfaithful with a slightly more upbeat role in this chick flick about a recently divorced woman who on a whim buys a house in Italy while vacationing there.  The story veers into familiar territory from there, as she meets an attractive Italian guy with whom she falls in love.  Although I can't say that I found the film too enticing, it does seem to be marketed perfectly towards its target audience, right down to the best friend who always has a one-liner response and the "adult contemporary" pop song in the background.  Among female moviegoers who can never get enough of the chick flick genre, this preview is almost guaranteed to be a big hit. 
Russell Crowe's latest film is a nineteenth century nautical tale based on the venerable book series by Patrick O'Brien.  This first full trailer focuses on the film's power and intensity, a good bet given the type of films that are often successful around the holidays.  Crowe looks fantastic as always, and it is good to see a bit of Maximus' swagger back on screen.  The film actually seems to draw on Gladiator quite a bit; the moving orchestral score is quite reminiscent of that Oscar-winner, as is the romanticized view of war that appears to dominate the film.  Although this is on some levels a "guy movie," the trailer doesn't market the film that way at all; instead, I imagine that this promo will be just as enticing to women as it is to men.  At this point, Master and Commander certainly looks to have all the makings of a high-quality blockbuster picture with enormous appeal across the board.
This film, which from the reviewer's quotes it uses in its trailer is obviously trying to portray itself as a "film for adults," is actually quite successful in achieving that goal.  The movie focuses on the relationship between a husband and wife, played by the fantastic Campbell Scott and Hope Davis.  Although this is unquestionably a topic tackled by numerous movies each year, it is always enlightening to see the issue from a new perspective, particularly when the roles are played by such talented actors.  Rather than focusing on a plot synopsis, the trailer primarily shows extended clips from various scenes in the film, allowing the movie to show off what look to be at least three phenomenal performances (the two leads plus Dennis Leary).  Even though the film's subject matter is not new, I am still extremely interested in seeing this picture and its take on the relationships formed by adults.