Trailer Hitch for June 25, 2003
By Zach Kolkin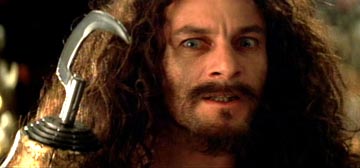 If David Letterman were to write a list of the Top 10 Signs You're Watching the Trailer to a Bad Movie, there's no question in my mind that "'Who Let the Dogs Out' is the background music" would top the chart. Since apparently it's not funny enough just to have dogs talk anymore, someone decided that they would add the twist of aliens taking the form of canines to the equation. Clearly, the bar for intelligent humor has been raised several notches here. Although some of these jokes might get a chuckle out of young kids who don't know any better, the rest of us have heard them a thousand times before, most likely in one of the approximately eight zillion other films about talking dogs that have preceded this one.
Since Glitter apparently didn't serve as a big enough warning, Charlotte Church decided to star in her own movie in which she plays the daughter of an '80s pop star who doesn't even know she exists. There isn't too much to this preview, which simply sets up the yawn-inducing story (think What a Girl Wants, but with less humor and more singing). Although I imagine this film is primarily aimed at the ultra-popular "little chick flick" audience, I doubt it will garner the same kind of interest as some of the genre's more successful films, considering Church is not exactly a household name among teenyboppers. Plus, the movie looks really ridiculous and stupid. That still counts for something these days, right?
Although perhaps not quite as edgy as most IFC fare, this film about a summer camp for young drama enthusiasts looks quite humorous. The preview focuses on an experience which almost all of us have gone through at one point or another. Summer camp is a place where both the delights and horrors of adolescence seem to boil over. What seems to make this film unique is that it is set in the world of a drama camp, which of course is not at all your typical summer experience. The movie looks very amusing, and seems to approach a topic we all love to hate from a new and intriguing perspective.
Secondhand Lions boasts one of the most intriguing trios of actors in recent memory, as Michael Caine, Robert Duvall, and Haley Joel Osment star in this film about a young boy who goes to live with his country bumpkin uncles for the summer. The most notable element here is not Caine's southern accent, but Osment's newly puberty-stricken voice. Although I imagine the nonstop cracking is played up a little for the role, it is a little surprising for all of us moviegoers who remember when he was (sniffle, sniffle) just a little tyke in that scary Bruce Willis film. As for the film itself, I liked the lightly playful tone of the trailer, and I would imagine many others will feel similarly. With such a likeable cast and premise, this preview should be quite successful in attracting a large audience.
The comic book movie craze continues with The Punisher, set for release next summer. Being so far in advance, this first ad is quite short, simply setting up the key plot elements and making sure we all grow to recognize the elongated skull symbol of the title character. One thing I did find interesting was how prominent the Marvel logo is in the preview now that adaptations like Spider-Man, X-Men, and The Hulk have all been so wildly successful. I don't remember ever seeing the logo in Spider-Man's campaign, but now that comic books have become "cool", the Marvel brand is obviously a key selling point. I like this teaser a lot; I think it does an excellent job of introducing people to a story which they might not be very familiar with, as well as preparing them for the inevitable marketing onslaught that should hit full stride next spring.
One of this winter's biggest family films is this latest telling of the story of Peter Pan. The trailer starts off by showing a conversation between Peter and Wendy, and the scene is accompanied by a song by Coldplay which fits remarkably well here. The preview then transitions to Never-Never-Land, where Captain Hook is introduced, along with the rest of the enchanted world. What I like best about this preview is that it includes something for everyone to enjoy; adults will certainly appreciate the innocent romance between Peter and Wendy, while younger moviegoers are sure to be dazzled by the special effects and simply seeing this classic tale brought to life. At this point, this new version of Peter Pan looks to have all the elements of a wonderful family holiday movie.