Trailer Hitch for April 9, 2003
By Zach Kolkin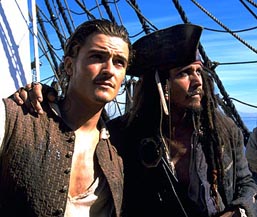 After four films, 315 video games, and 5,642 Pokémon, there are apparently enough fans of the franchise left to warrant the making of a fifth Pokemon film. The main attraction here appears to be the addition of a whopping two new Pokémon (which I believe translates into eight new video games). Having never understood the whole Pokémon craze in the first place, I am at somewhat of a loss in trying to figure out what is so exciting about this new movie. Nevertheless, I suppose I'll have to take the word of the voiceover and assume that this is "the most exciting Pokémon movie yet" - not that that's really saying much. For the six of you out there still interested in these crazy little creatures, I'm sure this trailer will seem like a godsend to you, but I think I speak for the vast majority of moviegoers when I say, "Enough with the Pokémon already."
This film is a reprisal of a storyline that has been used in a countless number of comedies - a young, struggling screenwriter in Hollywood comes up with an imaginary script written by an even more imaginary screenwriter and soon discovers that this "screenplay" has turned into the hottest thing in Tinseltown. The cast is filled with young actors and actresses, the most recognizable of whom is "that girl from the Blair Witch Project" (Heather Donahue). Although the ad was cute, I felt like I had seen this film a thousand times already, and it really didn't do anything to separate itself from the pack. I would think the lack of marketable names would also keep the film from gaining too much attention from mainstream audiences as well. Even though this may turn out to be a very funny movie, I didn't feel that the trailer did a very good job of selling the movie to the viewer.
Rob Reiner's new romantic comedy follows, if you believe the trailer, in the vein of modern classics like "When Harry Met Sally." Although that comparison might seem a little bit forced, particularly in the line about tomato skins that is placed right after the "When Harry Met Sally" namedropping, the real problem I had with this trailer was the fact that it was so gosh darn confusing. Apparently Kate Hudson plays at least three characters in the film, although who those characters are is a mystery to me. Luke Wilson plays opposite Hudson, and one positive aspect of the trailer was that the two did appear to have some good on-screen chemistry. I got the feeling that this was supposed to be a "Sleepless in Seattle" or "When Harry Met Sally" for a new generation, but that just isn't going to happen if the plot (especially the multiple characters) is as confusing as it is in this preview. Hopefully the film will get a new trailer that better explains the whole thing in the coming weeks; certainly, a romantic comedy from Rob Reiner deserves the best promotion it can get.
This heist flick is actually a remake of a 1969 film of the same name starring Michael Caine, but is here updated and set in modern times. Although the trailer was not spectacular, it was intriguing, and it did do a good job of showcasing what looks to be the most appealing part of this film - its phenomenal cast. Mark Wahlberg steps into Caine's role, and he is joined by Edward Norton, Charlize Theron, Donald Sutherland, and Seth Green. The entire cast (even Green as the obligatory techno-geek criminal) looked excellent in their roles, but overall the film simply did not seem that thrilling or exciting, a necessity in a good crime thriller. This is quite possibly due to a poor trailer and not the film as a whole, and thus, while the movie does not look excellent here, it would still seem to have a large amount of potential due to its extremely intriguing cast.
After her outstanding performance in I Am Sam, Dakota Fanning became recognized as one of the most precocious child actors anyone had seen in quite some time. She appears here in a lighter role as the child of a businesswoman who is constantly hiring new nannies for her daughter. The newest nanny (Brittany Murphy) is the daughter of a rock-and-roll legend who is forced to get a job after an unfortunate mishap, and to both her and the little girl's surprise, they become fast friends. The most appealing part of this preview for me was getting to see Dakota acting just as phenomenally as she did in I Am Sam. The implication in the trailer is that the little girl is far more mature than her nanny, and Fanning and Murphy seem to pull this off brilliantly. While the sappy story might leave something to be desired, the two main characters seem to have a rapport with one another that I was not expecting to see. I can see this trailer being quite appealing to moviegoers (especially female ones), and this film seems to be on the right track to becoming a late summer hit.
After the debacle that was The Country Bears, I have to say I wasn't expecting much from this latest Disney ride-turned-movie. The first teaser had no actual scenes from the movie, and was extremely unimpressive in my view. However, I was pleasantly surprised by this first full-length trailer for the film. Clearly, the storyline is not the main focus here; although I did catch something about a hidden treasure of Aztec gold, there wasn't too much beyond that. What were impressive were the slick effects, particularly the human-to- skeleton morph in the moonlight that was highlighted quite well here. Orlando Bloom looks great as well in his first major non-Elven role, and with the amount of makeup Johnny Depp wears in the film, Bloom will probably end up being the most recognizable face in the trailer. All in all, this film looks much, much better than I was expecting, and it definitely seems to have the potential to be one of the fun summer films of 2003.
Manic is the story of a group of teenagers all committed at a juvenile mental institution and the struggles they undergo in trying to overcome their problems. The trailer was done without any voiceover, instead letting the story tell itself through the strong performances of its actors and actresses (notably Don Cheadle as the group's doctor and Joseph Gordon-Levitt as Lyle, a troubled and violent teen). Almost the entire preview focused on the group therapy sessions, which were so realistic that, if it hadn't been for the familiar faces, I would have thought I was watching a documentary. Since Gordon-Levitt is primarily known for his work in comedic roles, I was quite surprised to see him in this film, but nevertheless I was quite impressed with how good he looked in the part. Based on what looks to be a number of excellent performances, the movie looks like a fascinating and intelligent look into the minds of a number of troubled individuals.