Zach Kolkin's Trailer Hitch
For January 26th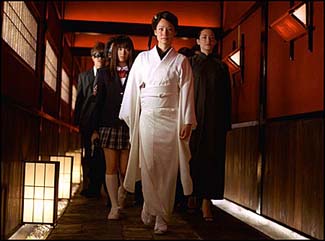 Typical teenage girl response to this trailer:
"Aww, that guy is so cute! He was soooo good in Clueless! But why does he look so weird there?"
"Oh, ok, he looks really good now.ooh this movie looks really good!"
"Wait.what is up with this girl? Why is she so, like, psycho?"
"Art project? Obession with the surface of things? Huh? This movie looks weird.I don't want to see it anymore..."
At first, I thought this was a romantic comedy about a gorgeous girl who falls for a unattractive, socially-inept guy and transforms him into a stud, a la She's All That. But then, as the trailer went on, I realized that the film was actually about this woman using the guy as a model for some bizarre art project. Frankly, I liked the idea that this was a chick flick a lot better, and I can't imagine the film's bizarre premise going over very well with most moviegoers either.
I'm not really sure what to make of this film from the trailer. Is it a thriller? Is it a film about dance? Or is it some odd combination of the two? The last seems the most likely, and perhaps that is the basis for the problems I have with the spot. The scenes seemed disjointed, skipping back and forth between a crime-thriller storyline and a romantic plot involving the tango. This movie is clearly going to be a tough sell - while men might appreciate the "assassination" part of the film, they're certainly not going to have any interest in the "tango" part, and vice-versa for women. Nevertheless, the trailer quite clearly tries to market itself on both these aspects, and I just don't see this strange coupling of crime and dance appealing to many people, especially in the way it is portrayed here.
This movie centers on a modern-day Irish immigrant family that moves to New York City in hopes of a better life. The most recognizable face in the film is that of Djimon Hounsou, but Samantha Morton (Agatha from Minority Report) might also be recognizable to some moviegoers. I was not too impressed by this preview; it seems to be a very personal film for the director, Jim Sheridan, but I was really not very moved here. Personal films like this one often turn out to be quite powerful, and it seems that perhaps the problem here is that the trailer simply does not do a very good job of selling the movie. From reading about In America, it seems to have great potential; however, I really don't see much of that potential here.
This feel-good British comedy is the story of two female soccer players who have dreams of going pro. One of the women is hindered in her ambitions by her very traditional Indian family, who feels that soccer is not a proper career for her aspirations. I find it hard to believe this film will find much mainstream appeal in the United States, considering our well-documented extreme apathy towards soccer in general. The title also seems somewhat problematic to me, as I am very doubtful that the majority of Americans even know who David Beckham is. Putting aside these issues, though, I personally was not very impressed by the preview. I feel like this story is one that I've already seen many times, and I really didn't see an original take on it here. I would think that this trailer will receive from audiences indifference similar to that which most Americans feel towards the sport around which this film is based.
Starring Goran Visnjic in a doctor role quite different from the one he currently has on E.R., Hypnotic is a scary-looking film of a telepathic doctor who is called in to help find a serial killer whose methods are wrapped up in the occult. The trailer was quite suspenseful and intense, and it did a good job of sufficiently setting up the story line without giving away too much. The film does look slightly formulaic for a thriller - one particular example would be the use of a child with a disability as the key to finding the killer, something which has been done more times than I care to count. Nevertheless, I can see this being a fairly good thriller, if not that original, and this trailer should certainly interest fans of the genre.
Here is the latest stand-up comedy performance to be turned into a feature film, and while not hilarious, the preview does have some funny moments. Jeff Foxworthy is probably the most recognizable name from the four men who perform here, but surprisingly for me I found the jokes of the others to be much funnier. Though the film advertises itself as "Blue Collar Comedy", it seems pretty obvious that this might as well have been called the "Redneck Comedy Tour." Though I have found Foxworthy's "You might be a redneck if..." bits funny in the past, they do tend to get slightly repetitive, and the fact that all four of these comedians were working from the same subject matter did not help cut down on the repetitiveness. While I'm sure this film will have its moments of complete hilarity, overall it did not look like anything fantastic. If these were the best jokes they felt they had to sell the film, I wonder what makes up the rest of the movie.
This new film, starring Ewan McGregor and Renée Zellweger, is set in the mold of those classic romantic comedies of the early 1960s (Pillow Talk being perhaps the most famous). Zellweger plays Barbara Novak, a woman who has just written a book called "Down With Love," designed to empower women in their relationships. McGregor plays a cad named Catcher Block, who is determined to prove Novak wrong by making her fall in love. The trailer is quite cute, and I would think it would have a very strong appeal towards older couples who have the fondest memories of the classic films this movie is modeled after. However, I would imagine that this homage will fly right over the heads of younger fans of romantic comedies (such as those who made Just Married a box office success). Nevertheless, from the looks of it, Down With Love appears to be a welcome departure from the cookie-cutter format that seems so prevalent nowadays in the "chick flick" genre.
This surprisingly funny trailers showcases the odd coupling of Cuba Gooding Jr. and Horatio Sanz as a pair of bachelors who decide to go on a singles cruise together, only to find out that it's a gay cruise. Whereas Gooding has been painfully unfunny in most of his recent comedies, I actually found myself laughing at quite a few of his lines here. Sanz also looks good, and slightly less manic than he is in many of his roles on Saturday Night Live. From the looks of it, this film should be a fun, wacky comedy, and this trailer will certainly help interest people in the movie.
The newest trailer for Daredevil does a good job of adding to the audience's knowledge of the film's story from the previous spots, while still not giving away the entire plot. Here we are introduced much more thoroughly to the film's villains, as well as seeing even more of Daredevil himself and the absolutely stunning Elektra. Michael Clarke Duncan looks great as the evil Kingpin, but Colin Farrell's over-the-top one-liners were a little much. The accompanying music was good, too, except for the wretched pop song that closed the preview - sticking with the techno would have been a far better choice here.
While this film was intriguing based merely on the novelty of teaming up four members of the Douglas family in a single movie, the trailer makes the movie look even better. Comprised of a bunch of scenes of a dysfunctional family to which everyone will surely be able to relate, this preview is very, very funny. The last lines between Michael and Kirk Douglas ("You didn't set the bar very high") were particularly hysterical. While many people will undoubtedly be attracted to this movie because of the casting of three generations of Douglas men, this great trailer is sure to interest people as well. It would not surprise me in the slightest if this film gets a significant amount of buzz throughout the spring.
Quentin Tarantino's fourth film is finally coming to theaters this year (as the trailer gleefully informs us), and so far it looks fantastic. The teaser's excellence is due in large part to the fact that it in no way takes itself seriously. The entire spot consists of sword fighting, predominantly by Uma Thurman and Lucy Liu, accompanied by a superb jazz-funk piece playing in the background. Thurman and Liu's banter at the end ("You didn't think it would be this easy, did you?") fit right in with the rest of the preview's humor. Despite the fact that this teaser gave away practically nothing about the movie (other than there will be a lot of swordfights), it still got me very excited for the film. I have a feeling many other people, especially those who were fans of his previous films, will feel quite similarly.