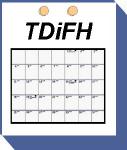 This Day in Film History:
May 16
---
1905:
Henry Jaynes Fonda, Academy Award-winning actor, father of Jane and Peter Fonda and grandfather of Bridget, is born in Grand Island, Nebraska.
1929:
Douglas Fairbanks, Sr and William C. de Mille host the first Academy Awards banquet at the Hollywood Roosevelt Hotel. Wings wins the first Best Picture (Best Picture, Production) award.
1977:
Horror film director Michael Findlay (Shriek of the Mutilated, Snuff) is killed in a helicopter crash atop the Pan Am Building in New York City.
1990:
Kermit's voice is forever silenced as Jim Henson succumbs to a systemic staph infection in New York, New York.
2000:
Wo hu cang long (Crouching Tiger, Hidden Dragon) debuts at the Cannes Film Festival. The film goes on to win four Academy Awards, including Best Foreign Language Film, and is nominated for six others.
---
Previous Day
Next Day
Random Day
About This Day in Film History
~ ~ ~
Errors & Omissions
---
This page is suitable for bookmarking.