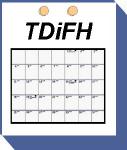 This Day in Film History:
April 26
---
1954:
Shichinin no samurai aka The Seven Samurai debuts in Japan. Akira Kurasawa's film later served as the basis for the American Western classic The Magnificent Seven.
1986:
Strange bedfellows Arnold Schwarzenegger and Maria Shriver marry.
---
Previous Day
Next Day
Random Day
About This Day in Film History
~ ~ ~
Errors & Omissions
---
We've secretly replaced Mrs. Gumberson's regular coffee with This Day in Film History. Let's see if she can tell the difference.