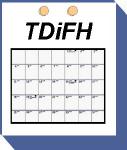 This Day in Film History:
April 24
---
1914:
Schlockmeister and showman extraordinaire William Castle is born in New York, New York.
1934:
Shirley MacLaine (née Shirley MacLean Beaty) is born in Richmond, Virginia.
1942:
Barbra Streisand is born in Brooklyn, New York.
1974:
Bud Abbott joins his former partner in the afterlife after a long bout with cancer in Woodland Hills, California.
---
Previous Day
Next Day
Random Day
About This Day in Film History
~ ~ ~
Errors & Omissions
---