Halfway Through 2002
Box Office for the First Half of the Year
By Reagen Sulewski
July 23, 2002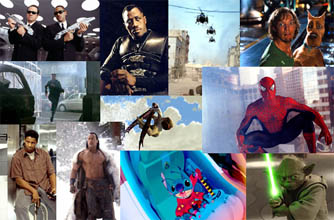 A little over halfway through the year, some general rules are starting to develop at the box office. Films are having shorter runs than ever; the middle film of a Star Wars trilogy will always be the lowest grossing; never underestimate the power of a pre-built audience, no matter how crappy the film looks; top-dollar family entertainment will always succeed; low-dollar family entertainment is best left to a video release (unless your company's name rhymes with "His knee") and the summer now starts somewhere in March (darn global warming!).
In some ways, 2002 is already ahead of 2001; by this time last year, ten films had opened that would eventually cross $100 million domestic (including holdovers from the previous year). As of this writing, there are ten that have already crossed this mark in 2002, plus three more that are likely to do so (The Bourne Identity, Mr. Deeds and Road to Perdition). The average opening weekend is also up over the same period from last year, moving a dramatic $3.2 million to $17.5 million. Although this is skewed by the record-smashing performance of Spider-Man, the field is deeper than last year's. Sixteen films opened to $20 million or greater in roughly the first half of 2001, while 21 have turned the trick so far this year. Much of the difference here is made up in March, which last year had The Mexican and Spy Kids as $20+ openers, but had a $20+ opener on each of its five weekends in 2002, including the film that is still the third-highest-grossing film of the year, Ice Age.
Ice Age was also one of three films to break monthly opening weekend records, along with Spider-Man and The Scorpion King (for May and April, respectively). Men in Black II also set a new Fourth of July weekend record, but its tally loses luster after comparing for inflation. Exceeding your original film by just $1.08 million after five years of ticket price increases isn't much of an achievement, especially in today's blockbuster climate. Black Hawk Down also took a record of sorts, as this 2001 holdover's $33 million weekend in January surpassed everything that had opened in that month prior, excepting the 1997 re-release of Star Wars. Scooby-Doo came within inches ($410,000) of beating the June record held by Austin Powers: The Spy Who Shagged Me. In fact, estimates initially had the Scooby Gang beating out the Mike Myers spoof sequel, but it proved to be wishful thinking on the part of WB execs.
Despite these record weekends, none of the monthly records for total gross look to fall. Spider-Man has the misfortune to be chasing two Star Wars films, although its $400 million and counting ranks as the fifth highest tally of all time and the third highest for an initial run. Ice Age's $175 million sits comfortably in third all-time for that month, behind both Liar Liar and Pretty Woman. The Scorpion King also sits third, but well back of that month's all-time leader, The Matrix. Meanwhile, Men in Black II does not look likely to challenge even the original's gross, let alone a July record. Scooby-Doo probably won't crack the top ten for June. Black Hawk Down faces the legacy of years of platforming Oscar hopefuls and was, in fact, beaten by another from this year, A Beautiful Mind, which at $170.7 million is the new standard-bearer for total box office in this month.
So are there any films that are exhibiting long runs? That depends on your definition of "long". Like the aforementioned A Beautiful Mind, several Oscar hopefuls were buoyed by their nominations and wins, among them Monster's Ball and Gosford Park. The leggiest regular release so far this year proves to be About a Boy, which like last year's Bridget Jones' Diary, started small and expanded after acclaim. Its total now sits at just over $40 million, after an $8.5 million start. Coming up strongly behind it is The Bourne Identity, which seems likely to finish at about the $125 million mark after a $27 million start. This figure could have been even higher except for a stumble in its second weekend. Two animated summer releases, Lilo & Stitch and Spirit: Stallion of the Cimarron, also have avoided an early exit, with the Disney effort probably earning double the total of the DreamWorks offering, $150 to $75 million. It's too soon to tell just how well Road to Perdition will be able to last, but it as well looks like a candidate for this category. Most of the rest of this year's films fall into just the average or below-average territory, with few of the summer blockbusters earning even a mere four times their opening weekend. While this still translates into a box-office bonanza for some, like Spider-Man, the higher opening weekends could have led to more.
Even as films like Scooby-Doo die on the vine after hot starts, some have earned impressive amounts, especially if they appeal to younger audiences. Star Wars Episode II, Ice Age, Scooby-Doo and Lilo & Stitch are all PG films that have earned over $100 million this year, and as anyone who saw it opening weekend can tell you, Spider-Man owes a great deal of its success to hordes of eight-year-olds. Each of the three G rated films released this year found success, with Disney yet again proving the viability of a live-action G-rated picture. The Rookie was one of the biggest successes of the spring, earning over $70 million. Spirit and Return to Neverland also were successful on their own terms, the latter despite looking for all the world like a straight-to-video release. Snow Dogs was another Disney film that, incredulously, became a hit, earning over $80 million. I believe it's currently being used as a form of torture in less ethical territories. Not everything that targeted the younger set has taken off, though, as two animated entries from cable channels flopped spectacularly. Hey Arnold! and The Powerpuff Girls both look to top out under $20 million, shooting holes through the idea that any cable channel can launch its best animated product to the screen and sit back and collect the dough. The re-release of ET in March was expected by many to be one of the year's success stories, much like the three-part triumphs of the Star Wars re-releases in 1997. Reaction was tepid, however, as it failed to capture more than a passing interest, fizzling out after about $35 million, although it was enough to sneak past The Phantom Menace in the all-time category. I assume there was no Variety ad forthcoming from George Lucas congratulating Steven Spielberg for that.
With the latter half of the summer season still to come (August may beat July this year) and a fall loaded with franchise films, 2002 looks set to easily expand on last year's 20 $100 million+ films. With current trends, though, they'll continue to require higher and higher starts to get there.