2001: A Box Office Review
Part Five: May
By Reagen Sulewski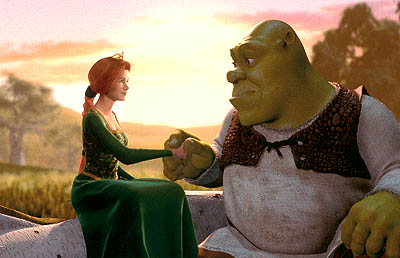 May had the sparest set of releases for any month of 2001, yet three of them were among the biggest stories of the year. Two were in the top ten for openings, and three were in the top ten of the year for total box-office gross.
The first release of the month opened the summer season, and was a microcosm of the trends for the year. The Mummy Returns shattered all expectations, with $68.14 million on opening weekend. It would be appropriate that it would surprise in this way, since its predecessor caught many off guard in 1999. The surprises started on its Friday, with a (then) record $23.38 million. A record Saturday followed; the $26.92 million on this day was, at the time, the second best day in history for a film, following only the opening day of Star Wars, Episode 1. It's difficult to comprehend that fact, considering the size and devotion of that fan base. After these two days, it had already made more than The Mummy had in its first weekend. It would be tempting to call $17.84 million for Sunday almost disappointing in comparison, then you throw a glass of water in your face and realize that that figure alone would put it 37th for opening weekends in 2001. This was - in a theme that carried throughout the year - at the time, the all-time record opening weekend for a non-holiday weekend (not quite surpassing The Lost World's Memorial Day weekend figure).
Like Austin Powers before it, the contribution of video and DVD to the success of this sequel cannot be overlooked. Video rentals were perhaps not spectacular at $50 million, but the DVD of The Mummy was one of the most popular releases of its time (in the ever-competitive business of DVD, sales records seem to be set monthly). A new double-disk edition was released just prior to the release of The Mummy Returns and was a brisk seller. The majority of movie consumers (in direct contrast to cineasts) continue to seek out "proven" commodities for their leisure time in the theaters.
Despite earning 46% of The Mummy's total box office in its opening weekend, The Mummy Returns fell victim to sequel-itis, with a final total of less than three times its opening, a still-impressive $202 million. As is typical for the summer season, despite setting an all-time record or two, it only spent two weekends at the top of the box office.
The second week of May offered only Brian Helgeland's anachronistic A Knight's Tale, with Heath Ledger driving the proceedings in his first headlining role. Driven by strong ads starting at the Superbowl, it was a modest success at $16.51 million in its opening weekend. It was a solid second that weekend versus weak April holdovers. Functioning as a medieval sports film, its take across the weekend was a below-average 2.77 times Friday. This wasn't a large sign of poor extended performance, as the young-skewing audience sought it out Friday night. Its final total was $56.08 million.
The third weekend of May saw an explosion in the number of wide releases to two, with Angel Eyes and some animated film. Oh right; that was Shrek, which only became one the leggiest films of the year, despite a very impressive $42.35 million opening weekend. Shrek is by far the most successful volley in the ongoing DreamWorks/Disney (really Pixar) animation war. This deconstructionist fable put up comparable numbers to Toy Story 2, and proved that other companies could be just as successful in the computer animation field. An impressive $267 million was its final box office after six months in theaters, an eternity in the ever-quickening theater/video/cable cycle. Although only one week was spent at number one for this film, its first three days on the Memorial Day weekend total matched its opening weekend, and it spent an impressive six weeks in the top five. As the highest-grossing animated film (by a shade) of 2001, it has the inside track on the first Oscar being awarded specifically for full-length animated films.
Hidden in the massive shadow of Shrek was Jennifer Lopez's mystery, Angel Eyes. Perhaps the biggest mystery was exactly what kind of film this was, as it appeared to be part romance, part crime thriller and possibly part ghost story. After a modest $9.23 million opening, it disappeared quite quickly and racked up only $24.04 million total, never passing fourth place in the box-office standings.
Memorial Day weekend has long been the showcase for the largest films of the year and this year was no exception, with one literally laying claim to that title. As the most expensive film ever green-lit, Pearl Harbor's $135 million budget ($152.75 million after overruns) needed to be recouped fast, and Buena Vista/Disney gave it a massive push. Teasers appeared many months in advance, and a full-length trailer was put in high rotation early in the year. Although I personally found it far too overtly manipulative, mine was a minority opinion. $59 million cannot be called anything but a success for an opening weekend, yet even that seemed ho-hum in the face of its gigantic promotional push and The Mummy Returns' recent record, one that many had all but awarded to Pearl Harbor. A second weekend at the number-one spot remained for it, but a quick decline in the face of poor word-of-mouth (50% declines occurred over both the second and third weekends) resulted in failure to cross the $200 million mark, although it came awfully close at $198 million. Such is the nature of Hollywood today that even one of the highest openings in history really isn't enough.
May was Memento's best month, with just under $8 million of its $25 million total being earned here. Its widest release and highest position in the charts also occurred here; 531 venues and eighth place on Memorial Day weekend. This was truly the indie success story of the year, as it initially couldn't find a distributor at any price after a successful Sundance appearance. Its original production company, Newmarket, took up the mantle and promoted the film itself, to huge rewards. This month ended up being a study in contrasts, with both the big and the small getting their rewards, but not always in the way expected.
<% sqlstr = "SELECT * FROM box WHERE y=2001 AND m=5 ORDER BY open DESC" max = 200 header = "Films that opened in May 2001" tstyle = "release" skin = "bop" x = Drawtable(sqlstr,max,header,tstyle,skin) %>