Weekend Forecast
for September 27-29, 2002
By Reagen Sulewski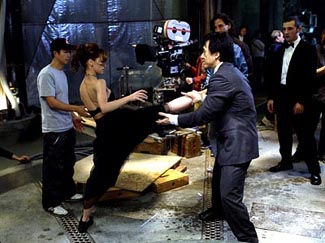 Two surprisingly underserved genres this year, the romantic comedy and the action comedy, return to screens this weekend. With the fall doldrums starting to pass, Sweet Home Alabama and The Tuxedo both have a chance to not only capture their genre fans but to capture a larger audience.
After the song appeared in every single movie made in 1996, it was only a matter of time before someone decided to make a movie with the title of Sweet Home Alabama. Of course, as all movies named after songs tend to end up, it's become a romantic comedy starring the rising female star of the moment, in this case Reese Witherspoon. Although the movie's poster tries to turn her into Meg Ryan, Witherspoon is an actress I would not have expected to take this route. After starting out as an indie queen in films like The Man in the Moon and Freeway, Witherspoon became an actress that people knew in 1999 after the teen-film pair of Election and Cruel Intentions (though this is the only real comparison between the two films). Last summer, beyond all expectation and reason, she had her biggest hit yet in Legally Blonde, which finished just shy of $100 million, and more importantly for Reese's sake, proved that she could carry a box office hit.
And now, since Julia Roberts isn't making Julia Roberts movies anymore, someone has to pick up the slack. Sweet Home Alabama is essentially a fish-back-in-water comedy, which would appear at first to make no sense. However, it's the South, and she's bringing along some Yankees, so let the comedy ensue. It's really not much different a concept than this summer's smash hit My Big Fat Greek Wedding, whose protagonist was both proud and embarrassed of her family at the same time. Switch Greek families to Southern culture and mix on a larger scale and you have Sweet Home Alabama. This film is, of course, looking for quick success instead of the slow build of Wedding, so it needs to look good before word-of-mouth makes its judgment, which it does. I'll be the first to admit that this is really not my kind of movie, but the trailer and commercials have been charming and funny. Additionally, the necessary romance elements are presented without being sickly-sweet. The secondary cast isn't really a help here (that I've gone this long without mentioning a single other cast member says something), but this will no doubt hook several careers back up to the rejuvenation machine (Patrick Dempsey, Candace Bergen, I'm talking to you). The judicious use of the Southern stereotypes will, of course, help it play well in the South, but really, this is more of a rural/urban split rather than North/South, and the concept shouldn't take too much effort to travel well. Some films just carry a sense of hit around them and this may be a perfect example of that. It's getting all the chance it needs as well, with an ultra-wide 3,000-plus-venue release. I predict this will start out with a $27 million weekend, with a great chance of sustained success.
Jackie Chan's North American career has been something of an enigma. The films in which he uses the most of his biggest talent - his acrobatic fighting abilities - have always taken a back seat to his films where he's played broader comedy (which he's good at, but he'll never be mistaken for Charlie Chaplin). This was never clearer than with Rush Hour, which reportedly had Chan ready to give up on making movies in America ever again until he saw the record-breaking box office. Compare the $60 million-plus opening weekend of Rush Hour 2 and the $11 million total gross of Legend of Drunken Master and you start to get the picture. It's as if Junior and Twins were somehow remembered as Arnold Schwarzenegger's biggest triumphs. So now we get The Tuxedo, with that pairing that everyone's been calling for, Chan with...Jennifer Love Hewitt? While it's certainly not the pairing I'd ask for, it's tough to begrudge anyone the chance to share the screen with Jackie Chan. In this film, Chan stumbles across a $2 billion secret agent suit that turns the wearer into an unstoppable fighting machine. The unspoken gimmick here is that Chan really doesn't need something like this to make him so. "Singer/songwriter" Hewitt is his inexperienced partner (and let's hope not love interest). With Hewitt no Chris Tucker, the Chan-as-comedian contingent will surely be disappointed, and the action junkies that worship him as a deity will no doubt suffer the same fate (however, horny 15-year-old boys will give it their highest grade). Action-wise the film looks...not bad, which is a pretty damning appraisal of a Jackie Chan film. Still, this is what American audiences have said they want of him. This may be able to repeat the $15.6 million of Shanghai Noon's opening weekend in May of 2000 but ultimately the figure should fall just shy of that, at about $14 million.
After two weeks at number one, a little controversy is probably the best thing for a film like Barbershop, which now is fielding criticism from Jesse Jackson and Al Sharpton for jokes made about Rosa Parks by a character in the movie. I'm confident that most will see the movie for what it is and not punish it for simply raising an issue. In the meantime, it's free publicity. Although it dropped only 38% from its first weekend gross, this was due to an almost-300 venue expansion and the per-venue average dropped by almost 50%. I doubt this issue will do much in the way to change that, but every little bit helps, right? Look for it to fall about 40% to between $7 and $8 million.
My Big Fat Greek Wedding dropped under the $10 million mark last weekend for the first time since crossing it three weeks ago. Now it faces the first direct challenge to its audience in this week's likely number one. However, leggy films are often able to deal with competition quite handily. To take a recent example, The Sixth Sense was knocked out of its first place spot in its sixth weekend by Stigmata and also had more competition from another horror/thriller film, Stir of Echoes. Yet the Friday-to-Friday drop from the fifth to sixth weekend for Sense was a measly 8%. Clearly, when a film gains momentum like this, it's attracting viewers who aren't normally fans of the genre, leaving room for other films in that same genre to peacefully co-exist. Though it is starting to lose some steam, My Big Fat Greek Wedding should be able to maintain another weekend in the top five, earning about $9 million and pushing its total gross above $135 million.
The Banger Sisters is likely the only one of last week's wide openers to show any kind of staying power. Ballistic, The Four Feathers and Trapped all garnered no more than ho-hums from audiences and at worst were outright reviled. Banger Sisters, however, has the benefit of playing to an older audience who are not necessarily in a rush to see a film on opening weekend. This should lead to at least a few good weeks in the top ten films. The other three will not be so lucky and should see drops of between 45% and 60% this weekend.
The major new limited release this weekend is Moonlight Mile, starring Jake Gyllenhaal, Dustin Hoffman and Susan Sarandon. Pegged by some as a multiple-category Oscar contender, Mile debuts in 22 venues this weekend. Somewhat autobiographical for the writer-director Brad Silberling, this film centers on a young man who's partially adopted by the family of his recently-deceased girlfriend. Gyllenhaal is perhaps the best actor in Hollywood under the age of 25; an Edward Norton-type breakthrough seems inevitable for him. Perhaps this is the film that will do that for him, although its showing at the Toronto International Film Festival, like most of the Hollywood films there this year, left much to be desired in terms of buzz-building. A useful target for this film to shoot for in this number of venues is about three-quarters of a million. Expanding in limited release is the Japanese animated film Spirited Away, which earned a respectable but slightly under-whelming $440,000 last weekend in 26 venues. Disney is handling the expansion of this film a little more aggressively than their last exhibition of a Hayao Miyazaki film, and they may be able to hold the per-venue average a little steadier. It's already performing about 70% better than Princess Mononoke at this point in its release, which might be enough to cross the mainstream hump. However, with further expansions planned for the next two weeks, this is certainly not its last chance for that.
Forecast: Weekend of September 27-29, 2002

Projected
Rank

Film

Estimated Gross ($)

1

Sweet Home Alabama

27.3

2

The Tuxedo

14.4

3

My Big Fat Greek Wedding

9.0

4

Barbershop

7.6

5

The Banger Sisters

6.7

6

The Four Feathers

3.8

7

Ballistic: Ecks vs. Sever

3.4

8

One Hour Photo

2.8

9

Signs

2.6

10

Swimfan

1.9