Weekend Forecast
for September 21-23, 2001
By Reagen Sulewski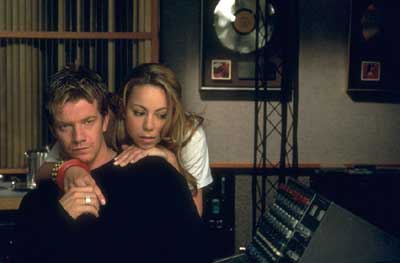 Perhaps the most underwhelming movie weekend in history is upon us, as only one new wide release hits the market. Mariah Carey's acting debut, Glitter, arrives in only 1,196 venues, and with that meager total becomes the week's widest new film. Previous to the World Trade Center disaster, Training Day had been scheduled to open as well, and would have taken the weekend handily. However, Warner Bros. felt that a proper marketing campaign would be hard to mount in the wake of such a calamity, a point which is well taken. Glitter is itself a film that has had troubles mounting its marketing campaign, with its last-minute postponement in August after Carey's collapse from "exhaustion". A second last-minute postponement was likely not an option.
Glitter is being sold as a semi-autobiographical tale of Mariah's rise to fame, a strategy which makes one question her ego. Early reports about the film have not been kind, and the sales of the album of the songs in the movie have been soft. The low screen-count lets us know that it's being targeted to a mostly black audience, in the same manner of the recent Two Can Play That Game. While the film can technically be classified as a musical, I don't think it fits in the same category of recent films like Moulin Rouge (which really sits in its own category anyway), but more in the vein of Selena or Spice World. Both of those films, however, reached double figures, something that I think is out of reach for Ms. Carey this weekend. I see a weekend total of approximately $6 million in store.
Megiddo, the sequel to 1999's surprising success (for its size) The Omega Code, arrives in a modest 400 venues as well this weekend. That first film opened to $2.35 million in 305 venues in October of 1999 and was followed in spirit by Left Behind this February, which took in $2.16 million in 867 venues. I don't see that this type of entertainment has seen either a great boost or decline, so the prudent prediction for me is similar to the previous results, with about $2.5 million being earned this weekend.
Glitter will fight for the top spot this weekend with Hardball, if it does manage to challenge that film. None of the other returning films looks to make a stab at the top spot this weekend. A 40% drop would put Hardball just below $6 million, which could yield the top spot to Glitter, but it would still be something of a hollow victory. Due to all these weak holdovers, The Others again becomes the story, with it likely spending its seventh straight week in the top five, becoming the annual film that manages to seize the consciousness of a bored marketplace and actually shows some legs, a rarity these days. Fear not, readers; next week brings real movies. Remember those?
Forecast: Weekend of September 21-23, 2001

Projected
Rank

Film

Estimated Gross ($)

1

Glitter

6.30

2

Hardball

5.70

3

The Others

3.80

4

The Glass House

3.30

5

Rush Hour 2

3.20

6

The Musketeer

3.10

7

Rat Race

2.95

8

American Pie 2

2.90

9

Two Can Play That Game

2.80

10

Megiddo: The Omega Code 2

2.50