Weekend Forecast
for September 20-22, 2002
By Reagen Sulewski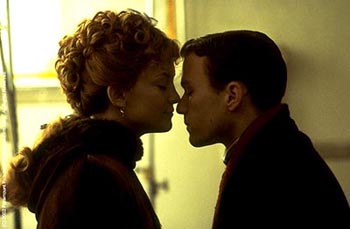 There's nothing like making up for lost time. This weekend has four wide releases and a positively bloated list of at least six new limited releases from which to choose. It's a motley mix of genre films and Oscar hopefuls that greet movie-goers this weekend, with something for nearly everyone. However, none of the films really carries the aura of a knockout performer. This potentially leaves the door open for last week's surprising breakout, Barbershop, but the addition of four major releases will surely lift a box office that has been sluggish all through September.
The Banger Sisters comes in with the highest pedigree of the four wide releases, having three Oscar winners in its cast, although the finish might be wearing off on Goldie Hawn's. Hawn and Susan Sarandon are two sisters who were formerly both Wild Childs, with only Sarandon having given up her crazy, hedonistic ways. Now Hawn has come back to visit and teach Sarandon the value of her youthful freedom and Sarandon will teach Hawn the value of a stable life. Or something like that. The Banger Sisters appears to do for sister relationships what Ya-Ya Sisterhood did mother-daughter relationships, and it's by that standard that it will be compared at the end of the weekend. With the relative rarity of female-targeted movies, heartwarming dramas like this are free to earn at the least respectable business without trying too hard; witness Ya-Ya's $70 million take and the fact that it's still holding down a hundred or so screens after 15 weeks. However, while Ya-Ya had a previous base of viewers on account of its origins as a novel, Banger Sisters has no such benefit and comes from the unlikely pen of the writer of Willow and Far and Away.
Cast comparisons are probably at best a wash, or slightly in favor of Ya-Ya Sisterhood; while the three Oscar winners (the third being Geoffrey Rush) certainly trumps the cast that Ya-Ya had, The presence of Ashley Judd and Sandra Bullock certainly brought more as current box office attractions than Sarandon and Hawn, whose last hits date to 1998 and 1996, respectively. From the ignorant male perspective, this looks slightly more tolerable, so I'm very confused at this point. Looking at Ya-Ya's very healthy $16 million opening weekend back in June, The Banger Sisters (now there's a title ripe for a porn parody) should pull in money in a comparable range of about $13-14 million and could have just as extended a run.
The Four Feathers is the latest from Elizabeth director Shekhar Kapur. Even though the cast all have excellent credits on their resume, the amount of youth present leads me to think of this film as "The WB Players Present Lawrence of Arabia" (In all fairness, the novel it's based on predates World War I). Heath Ledger, Wes Bentley (who still hasn't found the off button on his creepy machine) and Kate Hudson (competing against her mother, Goldie Hawn) are the headliners for this period saga about courage and duty in the British army, ca. the early 20th century. I'm sure the themes of the book are of great and pertinent merit, but judging from the trailer, they've bitten off more than they can chew. It all looks suitably grand, thanks no doubt to director Kapur's talent (and that of four-time Oscar-nominated cinematographer Robert Richardson). However, the trailer is not much more than a string of cliches and off-model accents. One image in the trailer, though, leads me to not dismiss it totally: The end rush of a charging Arab army encircling a small band of soldiers is simply a stunning-looking shot. Are the battle scenes enough to make the whole thing worthwhile? It's obviously positioning itself as an early Oscar hopeful but appears to have turned out just a middle-of-the-road film at best. I predict a similarly middle-of-the-road $9 million opening weekend.
Charlize Theron has built a not-so-insignificant portion of her career as the terrorized woman (see: The Devil's Advocate, The Astronaut's Wife). Kevin Bacon has recently reinvented himself as the guy always one step away from crazy (see: Hollow Man, The River's Edge). Trapped combines the two in a kidnapping thriller that tries to look unique but winds up looking like every other chase thriller in the last ten years. With films like Breakdown and Along Came a Spider and Joy Ride popping into my head, it just underlines the generic-ness of the film. It's even had its 24-hour ticking-clock timeline usurped by the TV show 24. Courtney Love and Stuart Townsend round out the major players in the cast (although you'd never know it from the commercials) for this kidnapping drama, but neither can be expected to add much in the way of box office potential. Expect this film to take in about $6 million this weekend; this looks like a film most will wait for video to catch.
Also destined to be a bigger hit on video than in theaters is Ballistic: Ecks vs. Sever, a film saddled with one of the worst titles I've ever seen. Based on an as-yet-unreleased video-game, it could pass for an unofficial take on the Mad Magazine feature of Spy vs. Spy (suggested parody title: Blecch vs. Suckers). With the severely second-rate lead casting of Lucy Liu and Antonio Banderas, it's going to depend on the action sequences to pull in fence-sitters. It looks stylish enough but has just a few too many cliched shots of people running from slo-mo fireballs for my tastes. With Franchise Pictures' skyscraper logo quickly becoming the warning sign for terrible production companies (replacing the Hollywood Pictures sphinx), it's difficult for me to be optimistic about the chances of Ballistic to be more than a one-weekend wonder. Although it's getting a huge launch of over 2,700 screens, this is no guarantee of butts in those seats. It should be able to get away with about $8 million this weekend, though.
Even though I predicted Barbershop to take the number one spot last weekend, I was more than a little surprised to see the magnitude of its win. Perhaps I shouldn't have been; I underestimated the effect that Next Friday had on its potential audience. The jump to a $20 million weekend on a release of just 1,600 screens is quite evolutionary, though, and goes a long way to erasing the memory of films like Booty Call and How High as examples of black cinema. Next on the agenda for Barbershop is trying to take a second weekend top spot. It's certainly possible against this group of new releases, but I get the feeling it's going to be tight at the top. Next Friday was hit with a normalized drop of about 45% in its second weekend back in January 2000. Barbershop should be able to cushion that fall a little better but short of a significant expansion plan, it's going to sit at about $12.5 million for the weekend total. This is still enough in this weekend alone to cover the film's production budget of $8 million, something that's going to make beleaguered studio MGM very, very happy.
Of course, this is put to shame by My Big Fat Greek Wedding, which with its production budget of just $5 million...yada yada yada. Three straight weeks of between $10.3 and $11.1 million and three straight second place finishes put this film squarely in the just-won't-quit category. Racking up weekends like that will lead to amazing pieces of trivia, like the fact that it's earned more in the last four weeks ($57 million) than in its first 18 ($52 million). The final total estimate just keeps getting bumped up with each amazing feat. Recently, $100 million looked like a pie-in-the-sky target; now the previously ludicrous goal of upwards of $150 million is realistic and perhaps inevitable. The question with films that continue to hold an audience like this is what's going to trigger its eventual decline? I don't think the similarly-targeted Banger Sisters poses too much of a threat but next week's Sweet Home Alabama just may. If that's so, then Greek Wedding may have just one more week of double-digit millions. The $125 million barrier should be easy to break in this frame, as it needs just to echo its previous three weekends of slightly over $10 million.
The highest profile of the limited releases is Spirited Away, the latest from legendary Japanese animator Hayao Miyazaki. The second of his films to get a significant release under a distribution deal signed with Disney, Spirited Away comes to movie screens in North America as the reigning Japanese box office champ, after unseating Titanic there. Princess Mononoke was the first of his films released as part of the deal in 1999 but apart from a group of ridiculously loyal fans, it was not able to gain much of an audience, earning just $2.3 million. Those same loyal anime fans will be out in force again I'm sure, as Spirited Away is said by some fans to be even better than Mononoke. The importance of its box office is increased due to the creation of the category of Best Animated Feature at the Academy Awards; last year, many expected Waking Life to be included as one of the three nominees in that new category but it was pushed aside in favor of the exponentially higher-earning Jimmy Neutron. Spirited Away will surely get consideration on its own terms, but a successful box office run will surely make voters take notice come nomination time. Perhaps learning something from last time, Disney has taken a little more aggressive approach to the launch of this film. In 26 venues, Spirited Away could challenge the $1 million mark, which would be a major step towards securing wider exposure.
Forecast: Weekend of September 20-22, 2002

Projected
Rank

Film

Estimated Gross ($)

1

The Banger Sisters

13.6

2

Barbershop

13.0

3

My Big Fat Greek Wedding

10.8

4

The Four Feathers

9.3

5

Ballistic: Ecks vs. Sever

7.8

6

Trapped

6.4

7

One Hour Photo

5.1

8

Signs

3.8

9

Swimfan

3.2

10

City by the Sea

2.9