Weekend Forecast
for September 14-16, 2001
By Reagen Sulewski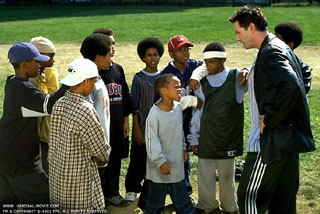 Two new movies open wide this weekend, but in the wake of the tragedies this week in New York City and Washington, DC, it's unclear as to just how many people are going to notice. People have been glued to their televisions all week looking for news about the incidents; however, movies have always been a form of release, and people looking for entertainment may turn towards movies for escape. With all major sporting events canceled this weekend, there will be few alternatives for entertainment. There are clear signs that the people of North America are moving to get beyond these terrible acts; on Tuesday, the day of the attacks, box office revenue dropped by up to 50% for some films. By Wednesday, these revenues had almost returned to normal. In times of crisis, America has always turned to the movies; for just one example, the Gulf War is widely credited with turning Home Alone into such a hit at a time when the United States was looking for cheerful diversions. Nothing quite fits that bill this weekend, but the healing process will begin, and it will include the movies.
The highest profile opener this weekend is Hardball, the story of an inner-city Little League baseball team. Since The Matrix, Keanu Reeves has gone through a career resurgence, taking on challenging roles and even playing villains in two separate films. While he's always fallen into the pretty-but-dumb slot, he's managed to stay out of punch-lines into which most actors like him fall. While few consider him a talented actor, even his critics can see that he's at least really, really trying, and have acknowledged him as good at finding roles that suit him. Last August's similarly sports-themed The Replacements earned $11 million on opening weekend and $44.3 million total, then went on to earn an astonishing $69.2 million in video rentals. While bearing more than a slight resemblance to The Mighty Ducks, the film is based on a true story, something that has come to the forefront as the person upon whom Reeves's character is based tried to block the film's release on defamation grounds. As readers of my columns know, I feel that this kind of tactic only draws more attention to a film. The overall tone of the film should be heartwarming enough to tap a need this weekend, and despite its smaller-sized release at 2,197 venues, a weekend box office of $14 million could result.
The other wide-opening film does not have quite the same attributes. The Glass House opens at 1,591 venues this Friday and has Leelee Sobieski as its headliner. After exploding into the public's consciousness in the surprise hit Deep Impact, she hasn't been able to capitalize on this fame. Her most recent wide release, Here on Earth, managed just $4.5 million in its opening weekend. While this isn't necessarily a barrier to a film becoming a hit, The Glass House does not appear to have any of the elements necessary for such a thriller to break out into the mainstream. Respected Swedish actor Stellan Skarsgård, best known from Good Will Hunting, also stars, and likely deserves better than the snarling, sneering villain he has been given to play. Coincidentally, Diane Lane appears in both this and the above-mentioned Hardball. Sony appears to not have much confidence in the film, looking at its smaller release, and I predict a dismal $3.5 million opening.
Among returning films, last week's number-one film, The Musketeer, could drop heavily this weekend; it received next to no critical praise, and CinemaScores for the film were among the most dismal seen this year. Universal should consider themselves lucky if it only drops 50% to approximately $5 million. On a personal note, it's a shoe-in to be one of the worst films I see this year. Two Can Play At That Game was the film hardest hit on Tuesday, dropping 50% from its Monday box office. I expect this film to perform the best of all returning films this weekend, as it serves the feel-good market and has received quite favorable reaction from crowds. A drop as low as 20% may occur, to approximately $6 million, and a two-week total of about $15 million.
Rock Star showed unremarkable totals last weekend and could fade from theaters quite quickly; a 45% drop is likely in store for the film. The Others continues to add screens, now in its sixth weekend. It has amazingly grown from its modest 1,600 screen opening to being just shy of the widest release of the weekend. Approximately $4-5 million should be in the makings for the film, pushing it over the $70 million mark.
Forecast: Weekend of September 14-16, 2001

Projected
Rank

Film

Number of Sites

Change in Sites from Last

Estimated Gross ($)

1

Hardball

2,197

New

14.3

2

Two Can Play That Game

1,297

No change

6.1

3

The Musketeer

2,475

+37

4.6

4

The Others

2,843

+106

4.5

5

Rush Hour 2

2,268

-278

3.7

6

The Glass House

1,591

New

3.5

7

Rock Star

2,525

No change

3.3

8

Jeepers Creepers

2,847

-99

3.0

9

American Pie 2

2,245

-532

2.7

10

The Princess Diaries

2,155

-255

2.5