Weekend Forecast
for September 6-8, 2002
By Reagen Sulewski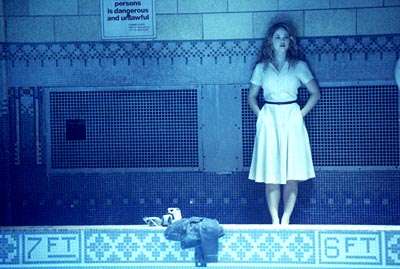 September has often been the box office equivalent of "57 Channels and Nothing's On" (unless you're at the Toronto Film Festival, in which case it's "357 Channels and Everything's on All at Once"). Home to one of the lowest-grossing number one films ever, 1997's Steven Seagal "blockbuster" Fire Down Below at a whopping $6 million, finding something worthwhile to watch in September often seems a Sisyphean task. Two new movies this week make a valiant attempt but in the final analysis, City by the Sea and Swimfan are nothing more than typical September fare that's doomed to repeat the self-fulfilling prophecy of Hollywood and this month.
With maybe the least intuitive title since Swordfish, Swimfan already has one strike against it. Then came the trailer, which received the most open mocking I've seen for a film since Captain Corelli's Mandolin (and this is from reserved Canadian audiences). Wearing its Fatal Attraction influences on its sleeve, Swimfan looks to be one of the biggest pieces of trash since The In Crowd, and I mean that in the nice way. In all fairness, the TV commercials have improved to a pretty big degree over the trailer (they'd have to) and have been in full blitz mode since two weeks ago. The use of an IM kind of pop-up at the end of the commercials, alluding to the new-age stalker techniques present in the movie, is a very unique angle.
Teen movies such as this aren't quite as dependant on their leads as movies hoping to appeal to older audiences, but Swimfan does boast a couple of recognizable names. Jesse Bradford is probably best known from his supporting role in Bring it On, although he did get his own starring vehicle in Clockstoppers this year. He exudes kind of a Freddie Prinze, Jr-but-with-talent vibe. As well, there's Erika "Don't call me Julia Stiles" Christensen, best known as the crack-ho daughter from Traffic. Trashy picks like this tend to have a core audience but probably can't break out of it. Given its high-profile ad campaign, I'm willing to predict as high as a $9-10 million opening weekend, but the possibility still exists for a flat-on-its-face bomb.
In contrast to the clumsiness of the title of Swimfan, City by the Sea boasts a rather poetic title. A film that brings four generations of father-son issues into the cop-thriller genre, it's also, incredibly, based on a real-life story. Robert DeNiro plays a cop trying to protect his son, on the lam after being suspected of murder. That son has an infant son of his own and to add to the incredulity, DeNiro's own father was executed following a kidnapping. If anyone tried to write this as an original story, they'd never get past the laugh test. DeNiro does the heavy lifting for bringing in the opening weekend money, but besides his recent successes with lampooning his tough-guy image, he's remained below the level of automatic hit-maker. The Score was a film that broke his pattern of $8-13 million openings but had a slicker, higher-profile campaign and a co-headliner in Edward Norton. City by the Sea has quality in Frances McDormand and James Franco, but neither of those two would be on a list of actors who bring in the bucks. Something in the nature of the take for last year's 15 Minutes' $10.5 million makes sense for City's first weekend take.
You have to admire what IFC Films, the distributors of My Big Fat Greek Wedding, have done. It's incredible to see a studio with such patience regarding the expansion of their film (although it shouldn't be). After about, say, Week 12, when they saw that it just wasn't dropping, they could have panicked, rushing it onto 1,500 or 2,000 screens all at once. Instead, they were content to let it be the quiet underdog, trusting audiences to discover it for themselves, letting it become the loveable underdog. With a steady increase each week, it's maintained its screen average, even improving it, with the addition of each new group of markets. While it wasn't able to pass the resilient Signs last weekend, it should do this one, since they were within a few million. Signs keeps falling, if ever so slightly, but Wedding keeps rising. Is the number one position safe then for this weekend? It certainly looks more likely, with the two new releases this weekend not looking to set the world on fire.
So, the chances of Greek Wedding finally attaining the peak position (after 21 weeks now) depend mostly on whether it can sustain the per-screen build it's achieved over the last three weeks. Part of last week's build was due to the Labor Day weekend, but it ought to at least match the Friday per-screen of $1,745 and continue through the weekend from there. In fact, as of Monday, it is already taking the daily number one spot. With nothing in the next two weeks that screams automatic hit, this could be the start of as many as three weeks in that position if it keeps expanding. With a smaller increase in screen numbers than in the past few weeks to 1,696, it's going to make achieving that goal a little harder. Between $10 and $11 million is realistic for this weekend.
Although it's probably being pushed from the top spot after three weeks there (although split up), Signs is still running strong. It held basically even across comparable periods, pushing its total to $195 million. It'll reach the $200 million milestone on Friday, with the potential for $250 million still there. Even buzz films drop at least 25% after Labor Day (expanding ethnic romantic comedies being the exception), so from Signs' $13 million Friday-to-Saturday-to-Sunday total from last weekend, expect a fall to about $9 million, which could still be anywhere from second to fourth. Using the Labor Day weekend as a boost, xXx got to report its fourth straight $10 million-plus weekend, pushing its total gross to just shy of $125 million (it subsequently passed that on Wednesday). Showing surprisingly long legs for an action film (just how starved were we?), it should still make around $6 million this weekend and $150 million is still a possible outcome for the film's final total.
Last week's lone opener, feardotcom, should practically vanish this weekend; it got the rare overall grade of F from CinemaScore and from that Hooray for Everything crowd, that's a remarkable achievement. It's also among a recent group of films that includes Master of Disguise and Serving Sara that nearly pulled a perfect zero for critical support, the only positives being to the effect of "If you like crap, this is for you". Its total could be as low as $2 million this weekend, with a drop out of the top ten very possible. Part of the reason for that is the last-gasp campaign by Sony for their two biggest summer films, Spider-Man and Men in Black II, which return to theaters in a double-bill. Re-releases like this never do tremendous business; with nearly $600 million combined between them, it's not as if there's a huge amount of people out there who haven't had the chance to see them. All three films in the Scream series tried this technique, with bonus earnings in the range of $16 to $2 million. Assuming that the monies will be split evenly between the two films (watch Sony try and report them as a group in the weekend estimates in this weak frame), Spider-Man and the Men in Black could add a little over $2 million each to their respective totals. That's a number that could make the $200 million milestone for Men in Black possible, but there's no realistic milestones for Spider-Man to pass as a result of this.
Forecast: Weekend of September 6th-8th, 2002

Rank

Film

Number of Sites

Change in Sites from Last

Estimated Gross ($)

1

My Big Fat Greek Wedding

1696

77

10.8

2

City by the Sea

2575

New

10.2

3

Signs

3232

-205

9.4

4

Swimfan

2853

New

8.8

5

xXx

3088

-448

5.7

6

Spider-Man/Men in Black II Combo

1850

New

4.4

7

Spy Kids 2: The Island of Lost Dreams

2821

-429

4.0

8

Austin Powers in Goldmember

2102

-404

2.9

9

Blue Crush

1975

-845

2.3

10

The Good Girl

690

23

2.0