Weekend Forecast
for August 31 - September 3, 2001
By Reagen Sulewski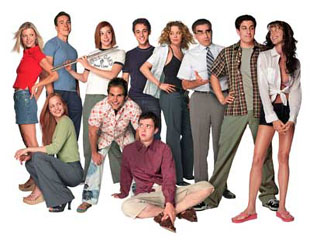 Labor Day weekend has long been considered the bottom of the trough as far as the movie box office has gone. Summer movies are ending, the fall Oscar season has yet to start and kids are going back to school. For these reasons, studios have viewed this weekend like Dracula does a vacation at Miami Beach; something to be avoided at all costs. As such, the current record holder for new films on this weekend is The Crow: City of Angels, with a measly $9.79 million. Of course, this is not the record for all films, as in 1999, The Sixth Sense pulled in $29 million in its fifth weekend of release. This number alone shows to me that this fear is generally unfounded; give the people something to watch on any weekend and they'll go see it. We've seen multiple records fall and new ground broken just this year, so why adhere to a rigid formula? Old habits die hard, of course.
American Pie 2 gets a chance to do what no movie since Meet the Parents has done; stay in first place at the box office for four straight weekends. As it cruises towards the $150-160 million total mark, this movie may in fact rival The Fast and the Furious for most profitable film of the summer, even as plans for a third film are dismissed, with cast costs generally cited as a reason. Returning films typically will earn 75 to 120% of their previous weekend over the four-day holiday weekend; I'm predicting AP2 to earn just slightly under the $12.5 mark it did last weekend.
The new film that hopes to challenge both for the number-one spot and the Labor Day opening weekend record is MGM's Jeepers Creepers. Receiving a measure of positive backing from horror aficionados, if not film critics, MGM is showing a great deal of support for the film by releasing it in 2,944 venues. With a cast that will be completely unknown to nearly everyone but fans of the TV series "Ed," studio support is about all it has. It's also drawn a small measure of controversy, in that its director, Victor Salva, is a convicted pedophile. However, this seems to be less of an issue than with his previous film, Powder. Although I normally take the stance that any publicity is good publicity, this case is probably one where the studio would like as little said about the situation as possible. What they have concentrated on is effective, moody commercials, emphasizing critical support, most notably in the form of Clive Barker. The film should overcome its lack of a driving teen star and should end up at around $10.5 million for the weekend.
The other notable wide release this weekend is "O," the oft-delayed modernization of Shakespeare's Othello. Originally scheduled to open in 1999, the release was postponed due to the Columbine massacre, then again due to a school shooting in San Diego. In the meantime, the original production company, Miramax, dumped the film in what some speculate was a political move by Harvey Weinstein. Lions Gate then picked up the film and finally gave it this release date. In the meantime, two of its leads have gone on to much greater success than could have been expected at the time; Josh Hartnett was one of the leads in this summer's blockbuster, Pearl Harbor, while Julia Stiles was in a number of medium-sized hits before having a breakout hit of her own this winter with Save the Last Dance. Lions Gate has a history of handling controversial films; last year they released American Psycho and in 1999, Dogma, another Miramax pickup. Arriving in approximately the same number of venues (1,434) as those two films, "O" shares more in common with American Psycho, at least on a superficial level. The violent nature of the film may make the controversy a much tougher sell (an irony, considering there is no controversy surrounding the violence in a movie like Jeepers Creepers) than if it were a comedy. TV commercials have not been very enlightening regarding the movie itself, choosing instead to focus on the attractive cast members (also including Mekhi Phifer). A four-day total of $5-6 million would likely be viewed as a fantastic success, given the struggles the film had simply to be released.
Jay and Silent Bob Strike Back is the most interesting film to watch of the other returning films, as it has the most to prove with regards to legs. The front-loaded nature of its weekend in general does not bode well for legs, but of all films, youth-skewing films are able to overcome this perceived handicap and show sustainability with their audience. Already Kevin Smith's largest opening, if Jay and Silent Bob Strike Back can hold steady at the box office, it will easily ensure that it will pass Dogma as Smith's highest total-grossing film. I think it will fall slightly short of that mark, slipping from its $11 million perch to slightly over $10 million. Also among returning films, The Others is showing a remarkable resilience, at least compared to most films this summer. With an infusion of yet more screens in its fourth weekend, it is likely to total around $10 million over the four-day weekend. Add that number to its cume and The Others should be headed on a collision course for a $80 million total.
Forecast: Four-Day Weekend of August 31 - September 3, 2001

Projected
Rank

Film

Number of Sites

Change in Sites from Last

Estimated Gross ($)

1

American Pie 2

3,115

-2

12.4

2

Rush Hour 2

2,825

-176

12.0

3

The Others

2,716

+280

10.6

4

Jeepers Creepers

2,944

New

10.5

5

Jay and Silent Bob Strike Back

2,765

No change

10.1

6

Rat Race

2,551

No change

8.0

7

The Princess Diaries

2,690

-59

7.5

8

Summer Catch

2,335

No change

7.1

9

"O"

1,434

New

5.4

10

Captain Corelli's Mandolin

1,610

-2

4.5