Weekend Forecast
for August 30 - September 2, 2002
By Reagen Sulewski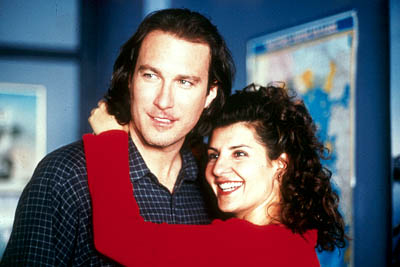 With the arrival of Labor Day weekend, the summer movie season officially closes, although it was really given up for dead last weekend with three DOA releases. One lone new release braves the period that has come to be the graveyard of wayward films; however, that doesn't mean that there's no story to this weekend. With little to challenge the summer leftovers and millions of eyes potentially free with a baseball strike on the horizon, several films will try to fill the vacuum left by this gaping hole in the schedule. Among the potential stories that could result from this is a film capturing the top spot in its 20th week, something not seen since the days of the original release of ET and Tootsie.
That film is this year's indie sensation, My Big Fat Greek Wedding, which has made the absolute most of its miniscule (by today's standards) $5 million budget. First released all the way back in April, it's been a throwback to the old days of platforming releases. Unusual for this type of release, though; its start didn't hint at anything in the way of this kind of film that ran forever. A modest $600,000 on 108 screens would have seemed to indicate something along the lines of $5-10 million total, still a handsome sum for a film with a $5 million budget. As it expanded through May, June and July, though, something unusual happened; the film refused to drop away, hovering just below the top ten films of the week (cracking it once in May). Up to 569 venues on the weekend of July 26th, it broke into the top ten once more with a $3 million weekend. Amazingly, it's per-venue average was still 95% of its opening weekend, all the more remarkable considering how expansion generally results in dramatic decreases of this figure. At this point it really caught fire, with successive weekends of $3 million, $3.1 million, $5.7 million and $7.3 million and fourth place in the box office happening last weekend, with $64 million in the bank at the end of it. And still the per-venue average was 98.8% of the first weekend. That just doesn't happen. Perhaps the simple reason for this consistency is the nature of the film itself; as an unassuming audience-pleasing comedy, it's not the kind of film that was going to attract giant audiences in the major metro centers while being ignored in smaller markets. Each addition of markets has brought one equal to the previous ones.
This weekend, it jumps from 1,329 venues to 1,619, its third straight increase of more than 250 venues. Coming a long way from its start as a one-woman play, Wedding may do the almost unheard of trick of reaching first place in its 20th week of release. This would not be a record for the latest-in-release for holding the number-one position; in ET's reign of terror, it was number one as late as its 26th week. However, for a film that did not start in the top position, it would be by far the longest route to the peak. In 1998, There's Something About Mary took nine weeks to reach number one (on this very weekend as well), setting the current standard for the slow build. This would be over twice that time period. In a world where most films don't even run for 20 weeks, even the blockbusters (Spider-Man, after all, only the fifth $400 million grossing film ever, left theaters after 16 weeks), this is nothing short of astonishing, even in a weak marketplace. Right around the corner is the $100 million mark, and this kind of performance will have producers Tom Hanks and Rita Wilson dreaming Oscar dreams. With its expansion this weekend and showing no signs of slowing down, an $11 million figure should be within its grasp. Even if it does fail to capture the number-one spot this weekend, it must go down as one of the most successful platform releases in history.
This commotion steals the thunder from last week's champ, Signs, which retook the top spot after sitting in second place for two weeks. It's no good, though, to be the once-in-a-year sleeper when there's a once-in-a-decade phenomenon going on. In its fourth weekend, it managed to wrestle just a 26% drop, adding screens due to the lack of interest in almost anything else out there. Although it dropped 51% in its first weekend, it's taken two more weeks to drop the next 50%. At $176 million as of Tuesday, it ought to be able to cross the $200 million barrier in the next two to three weeks and should pass Austin Powers for the number-three spot of the year so far. A milestone that it will pass this weekend is the total of What Women Want, making Signs Mel Gibson's biggest grosser. With all the hype surrounding the release of Signs and director Shyamalan's coronation by magazines like Time and Newsweek as the next Spielberg, it would have been very easy for the film to suffer a backlash. Its performance so far shows that it has managed to live up to the hype, and that may be the rarest achievement of all. It will have to fight hard to keep the top spot for a third week, and a total of $11-12 million for the Labor Day weekend will make this race one of the tightest this year.
What's that? Oh, yes; the new film this weekend. Silly me, I almost forgot. Hitting theaters just five years too late to capitalize on the idea of the Internet as an unfamiliar medium, feardotcom would be the champion for silliest premise of the year were it not for the upcoming The Core. Nominally about a homicide investigation, feardotcom is one of those terrors-within-the-soul kind of horror films, a spiritual kin to In the Mouth of Madness. The only problem: Does anyone actually believe that a Web site could be that scary? Warner Bros. apparently didn't even try; of all the films where a dynamite Web site could really make the difference in promotion, this is the one that is lacking in almost every respect. The main site is a dry cast bio display, and a small Flash site is just lame. Perhaps this shows the (lack of) effort that went into the making of the film. Stephen Dorff and Natasha McElhorne headline the cast, and while I know who these people are, this is not the greatest example of a knockout cast. Although Jeepers Creepers was a surprise success last Labor Day (and set the LD record for an opening weekend in the process), there's no simple guarantee that a horror film is going to work just because one did before. With about $5 million this weekend, the only thing scary about feardotcom will be its bottom line.
After two weeks in the top spot, xXx yielded back to Signs last weekend, falling $1 million short. Importantly, though, it showed that it was not in free fall, arresting its drop from the 50% in its second weekend to just 40% last frame. With nothing to challenge it, it should be able to cut into the drop even more this weekend, and a $9.5 million outing is the likely result. The final total for Diesel, Rob Cohen and company looks to be $130 to $140 million. It's not the best figure that could have been expected, but firmly cements Vin Diesel as the newest King of Action.
After what looked like a promising start, Blue Crush fell victim to the wasting disease that's affected many high-profile pictures this summer, losing half its figure in the second weekend. What might have been one of the impressive sleepers of the late summer seems to be limited to about $50 million now (if that), a solid figure given its cast and budget but one that does not match the hype and advertising given it. Young Miss Kate Bosworth should still benefit from all this promotion, but you only need to look as far as Piper Perabo to see that being the It Girl for a summer doesn't guarantee that it's going to carry over into longevity.
In this week of expansions, Jennifer Aniston's The Good Girl makes a jump from about 200 to 600 venues after performing well in limited release. Don't expect this to turn into another Greek Wedding, though, as it's definitely not the same kind of romantic comedy. In comparison to this writer/director team's last movie, Chuck & Buck, that it is achieving this kind of wide release is a triumph in itself. However, entering the top ten can often make all the difference in the world, as My Big Fat Greek Wedding may just show. With The Good Girl likely to earn about $3 million this weekend, this is almost assured. After that, it's up to the folks from Fox Searchlight to continue their momentum. Between this and what looks like the looming success of One Hour Photo, the folks at Fox's indie wing are looking to have a great fall.
Forecast: Weekend of August 30th-September 2nd, 2002

Rank

Film

Number of Sites

Change in Sites from Last

Estimated Gross ($)

1

Signs

3437

-16

11.2

2

My Big Fat Greek Wedding

1619

290

11.2

3

xXx

3536

19

9.3

4

Spy Kids 2: The Island of Lost Dreams

3250

-57

6.5

5

feardotcom

2550

New

5.2

6

Blue Crush

2825

-190

4.5

7

Austin Powers in Goldmember

2506

-299

3.9

8

The Good Girl

667

479

3.3

9

Undisputed

1117

15

2.9

10

Serving Sara

2174

20

2.8