Weekend Forecast for August 24-26, 2001
By Reagen Sulewski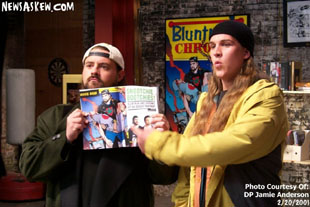 For whatever reason, you can always count on one weekend in August being extremely crowded with new films. Studios, having had trouble finding a spot for some of their less saleable projects yet still wanting to put them in the summer "season," shuffle their films around until they fall out of the deck and land in the last two weeks of August. This year was especially confusing, and schedule watchers could be forgiven for thinking that movies were being assigned release dates by the dart board method, and not only that, but done daily. One could wonder what would motivate the studios to spend so much effort on these particular films, but it's my experience that when less is at stake, the more desperate the studios become. Everyone's fighting for the same $5 million at the bottom of the box office, not the $30 million-plus at the top.
The slate of five opening films this weekend are notable for their variety as well as their schedule hopping; we have three films by ostensible auteurs (Woody Allen, John Carpenter and Kevin Smith), each of wildly disparate genres (film noir, sci-fi action and buddy/road comedy, respectively), along with a teen baseball movie and a surrealist comedy.
The one film out of these five that is most likely to take the take the number one spot this weekend is Jay and Silent Bob Strike Back. Kevin Smith's fifth (and tentatively final) film in the increasingly inaccurately-named New Jersey Trilogy (RIP, Douglas Adams) was probably the worst of the offenders in the shuffling release-schedule game. I lost track of all the changes, but the last four go something like this: August 24th to the 17th to the 24th to the 22nd back to the 24th. I think it may have even been on the 10th for a brief moment. It's enough to make a commercial producer cry. The film has emerged from this constant shuffling as the weekend's widest opener, with 2,735 venues. Mr. Smith has done well to build his following slowly, from Clerks' initial $3.1 million gross to Dogma's $30 million take, along with $33 million in rentals. There's no question that he is a filmmaker on the rise, but the question is how quickly the rise is happening. The main question regarding this film is how many people are going to be attracted by two previously peripheral characters in the series (although they had an increased role in Dogma). I think the notion that these characters pigeon-hole the movie to the cult audience only is disingenuous; it's being sold more as a broad comedy, in the vein of Dude, Where's My Car? (although Smith fans will probably wince at the comparison). I think the case can be made for the film opening to $11 million as easily as the case for it opening to $20 million; I'll split the difference and give it $15.5 million for the weekend.
Likely following closely behind it is Summer Catch, opening in 2,335 venues. Sharing some of the same creative team as Varsity Blues (and Ready to Rumble), it's obviously hoping to capture some of the same melodramatic goofiness hybrid that made Varsity Blues a success in January of 1999. Instead of James van der Beek (coincidentally appearing in Jay and Silent Bob Strike Back), this film's lead is Freddie Prinze, Jr., who, ever since She's All That, has been in a career slump, with his four films since averaging only a $6.1 million opening weekend. However, while those films consist of three generic romantic comedies and one science-fiction movie (and widely regarded as one of the worst ever, at that), Summer Catch takes what the producers obviously hope is a more male-friendly subject of baseball. Also starring 7th Heaven's Jessica Biel, this film squarely winds back and fires at the WB crowd. No box-office home run will happen for this film this weekend, but it should be a solid double...and I've run out of intelligible baseball metaphors. $10 million.
John Carpenter is another of those directors who always gets his name in the title, and generally for a good reason; he carries along with him a small but extremely loyal core audience, possibly the same people who saw Halloween 20 times. Both of his last two films, Vampires and Escape from LA, opened to around $9 million. I don't see much variance from this area for Ghosts of Mars, despite the presence of rapper Ice Cube, who, with the Friday series and The Player's Club, has developed himself into one of the few multimedia-crossover rap artists. Commercials for the film have been confusing, with the plot really not made very clear. I expect this one to attract Carpenter fans and few else, ending up at around $8 million.
The most offbeat movie released this weekend to wide audiences is Bubble Boy, starring Jake Gyllenhaal of October Sky fame. Essentially another road movie, the film follows a young man born without a functioning immune system who must live in a plastic bubble as a result. As he attempts to break up the wedding of his next-door crush, he comes across a collection of eccentric characters and wackiness ensues, or something to that effect. In recent weeks, the film has attracted controversy from groups claiming that it is insensitive to real sufferers of immune deficiency disorders. Of course, every press release and newspaper article surrounding this issue makes sure to mention the release date of the film, fueling my long-standing belief that protests like this one only serve to fuel awareness and/or interest in the film. Awareness has surely been achieved; however, the film is probably going to appear too strange to mass audiences. Getting a medium-sized release of 1,605 venues, I don't foresee much breakout opportunity for this film and a $5 million opening should result.
Woody Allen's latest star-studded ensemble ("Yes, we're listing the cast alphabetically because it's an ensemble, and hey, would you look at that, my last name starts with A!"), The Curse of the Jade Scorpion comes to 903 theaters this weekend. Allen has had what might be considered a mild resurgence in the past few years. When your films are almost completely ignored for a good portion of a decade, a $13 million take for your last film (last spring's Small Time Crooks) must seem reason enough to party till dawn. A large part of this comeback can be credited to his three-film deal with DreamWorks, who have similarly put their marketing muscle behind this movie as they did with his last film. I don't feel quite the same level of buzz with this '40s-style detective comedy as with Crooks' capers. In a similarly wide release, Crooks earned $3.88 million in its opening weekend. I predict a slight slide from this to a total around $3 million.
Forecast: Weekend of August 24-26, 2001

Projected
Rank

Film

Number of Sites

Change in Sites from Last

Estimated Gross ($)

1

Jay and Silent Bob Strike Back

2,735

New

15.5

2

American Pie 2

3,150

+78

11.0

3

Rush Hour 2

3,001

-79

10.8

4

Summer Catch

2,335

New

10.2

5

John Carpenter's Ghosts of Mars

2,048

New

8.1

6

Rat Race

2,551

+1

7.1

7

The Others

2,436

+283

7.0

8

The Princess Diaries

2,749

+23

5.9

9

Bubble Boy

1,605

New

5.3

10

Captain Corelli's Mandolin

1,612

17

3.6

Outside the top ten

The Curse of the Jade Scorpion

903

New

3.0