Weekend Forecast
for August 16-18 2002
By Reagen Sulewski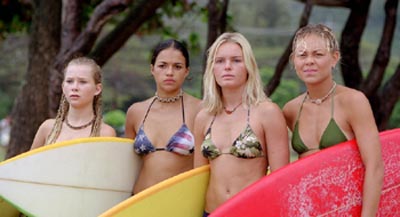 After three straight weeks of $40 million-plus openers, with two of them over $60 million, this weekend ratchets down at the box office, at least, if not the hype. Surprisingly, it's the surfing film without the name actors that's the big headline, although the Eddie Murphy film that's arriving against it still has a story, even if it's not the one that they would want. Up to three other films could draw in the double-digits of millions, making this a deep weekend for moviegoers.
Perhaps the film of the summer with the most non-CGI eye-candy, Blue Crush is a rather transparent attempt by Universal to repeat the out-of-nowhere surprise of last year's The Fast and the Furious. Included in the mix for both are a cast of young (relative) unknowns, a counter-culture setting and adrenaline-charged action scenes. Even the font for the ads of the two movies is the same; one can imagine the meeting about this: "We've found that audiences prefer films that use Arial, Haettenschweiler and Verdana." Trade in the street-racing scene for surfing and lose the undercover-cop angle for a larger focus on the love story and there's your movie. However, Blue Crush does not have a Vin Diesel. Kate Bosworth is undeniably cute, but that's never been able to carry a movie on its own. Another reason to disregard the comparison is that surfing just isn't as identifiable as street racing. Audiences are conditioned to car chases in movies; how will they react to action scenes like this?
The major positive this film does have going for it is a distinct target at the young female audience, a market that only every so often gets thrown a bone, like Coyote Ugly or Bring it On. The trick, of course, is to do so while not alienating the male audience, a failure of this spring's The Sweetest Thing. So obviously, it's not just cute girls. It's an attitude, letting the dates of the women who are the film's primary target know that they won't be squirming ten minutes in (is this a double standard, considering the "guy" movies that are successful by default? Yes, but I didn't create it). Add in attractive Hawaii scenery from director John Stockwell (previously of crazy/beautiful) and producer mojo from recent Oscar-winner Brian Grazer and all the elements are in place for at least a mid-level hit. About $16-17 million should be in store, disappointing headline writers all over by failing to "crush" the competition.
That honor will fall again to xXx, although "crush" is a pretty strong word to use here. After a $44.5 million opening weekend that failed to reach the heights predicted by many (including yours truly), it's that much closer to the rest of the films out in release. It seems to be one of the better-received action films in a while, rating an A- at CinemaScore. I wonder, though, if this will hold up; I personally found it lacking in many aspects, including the action sequences, and it makes me think that there's a potential for the film to fade in the mind after an initial viewing. Sony probably wants a $150 million gross before they'll go ahead with a sequel, so a 40% drop to about $27 million is what they'll be shooting for. I think they'll get that, but not a ton more. However, Vin Diesel has officially arrived as an action star, even if we do need to get him away from Rob Cohen.
Nothing quite signals the end of the summer movie season like the arrival of a long-delayed dog. Pluto Nash was originally scheduled to come out in April. That's April of 2001. Unless your film is Titanic and you're moving to the slot right before Christmas, long delays like this never work out. Looking at the commercials for this, it's no real wonder why the delay was so long. As a comedy, it's without laughs. As the umpteenth re-imagining of Casablanca ("It's like Barb Wire, but on the moon!"), it's a disgrace. Clearly this was Murphy's attempt to have a Men in Black-style franchise, but it's just as clear that it's been botched badly. As fellow site-mate Dan Krovich astutely pointed out to me, a bad comedy is the worst type of bad film; in a bad drama, you can laugh at the ineptitude, but a bad comedy is unenjoyable by definition.
For an A-list star (if he still is that), Eddie Murphy has had a tremendous number of disastrous, all-time-worst films. That he's still someone of the stature of Eddie Murphy and not, say, Chevy Chase, is remarkable. However, gone are the days when he could release a terrible film like The Golden Child and make it a success. In the past five years, he's had three separate films earn under $40 million total, with Holy Man being the poster child for star-driven flops, opening to just $5 million and finishing off at $12 million. Oddly enough, the comic who made his name with Saturday Night Live and astonishingly profane concert films has had his best recent success as a family entertainer. Mixed with the previous mega-flops are Shrek, The Nutty Professor and Doctor Dolittle movies and Mulan, all $100 million earners. If Pluto Nash could somehow be sold as children's entertainment, it would surely be the best chance of salvaging something, as the successful-beyond-all-comprehension The Master of Disguise shows. Crucially, though, that film was PG-rated, while Nash carries the normally-desired PG-13 tag. With just about everything working against it, Nash will be lucky to take in more than $8 million this weekend. Can Trading Places 2 be far away?
Signs fell a disappointing 51% to just under $30 million last weekend. It probably suffered from being slightly a different movie than was advertised; instead of a supernatural/sci-fi suspense film, they got a claustrophobic film about the nature of faith with some spooky scenes in the middle. I wonder if this initial drop will be just a hiccup, since the film that audiences actually got is very, very good. Its descent could arrest to the point where it stays above $20 million for the weekend, but anything more than that is unrealistic. Spy Kids 2 didn't break $20 million to start, although a significant portion of its core audience saw the film in an initial Wednesday-to-Thursday preview. With kid-friendly summer behavior still in effect, this disappointing fall-off from the original film's initial performance should be far from fatal to the movie's bottom line, especially considering Robert Rodriguez might be the most frugal of today's mainstream directors. After spending $35 million making Spy Kids 1, his costs went down for this edition to $30 million. He claims to have the go-ahead for Spy Kids 3, and with a bottom line like that, it's hard to imagine him being refused. Austin Powers may have reached the end of its run though, as the 55%-plus drop that happened in its second weekend continued for the third. If this pattern continues, it'll have fallen from over $70 million to under $6 million in just four weeks. That's not the kind of performance that inspires sequels. While not the kind of project that inspires sequels, My Big Fat Greek Wedding continues to chug along under the radar, coming up on its 18th weekend in release. After hovering below the top ten, it has managed to crawl as high as eight spot last weekend, with a total box office approaching $50 million (that's certainly not its limit, though). As the summer films run their course, watch for Wedding to continue to hold its position, as long it can hold onto its screens.
Forecast: Weekend of August 16th-18th, 2002

Rank

Film

Number of Sites

Change in Sites from Last

Estimated Gross ($)

1

xXx

3,388

+14

26.6

2

Signs

3,344

+34

19.9

3

Blue Crush

3,002

New

17.0

4

Spy Kids 2: The Island of Lost Dreams

3,307

No Change

11.3

5

Pluto Nash

2,320

New

8.2

6

Austin Powers in Goldmember

3,113

-395

5.2

7

Blood Work

2,525

No Change

4.2

8

My Big Fat Greek Wedding

1,060

+337

3.1

9

Road to Perdition

1,914

-297

2.6

10

The Master of Disguise

2,137

-431

2.5