Weekend Forecast for August 10-12, 2001
By Reagen Sulewski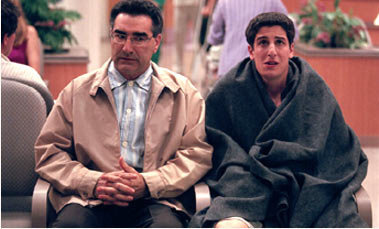 One of the most impressive box-office streaks in history gets a chance for an extension this weekend. The past three weekends have each seen a release grossing in excess of $50 million. While I don't believe that American Pie 2, the biggest release this weekend, will cross that barrier, there is every reason to expect that it may break $40 million. A sequel to 1999's sleeper $101 million-grosser, this film crucially brings back all members of the original cast. While most of the leads of the cast have not seen much success post-Pie (specifically, Jason Biggs), two of the supporting characters have gone on to at least a modicum of popularity. Seann William Scott appeared in three films that could be considered small hits in between the two American Pie films, Final Destination, Road Trip and Dude, Where's My Car? As well, Mena Suvari gained national attention as the teenage temptress in 1999's Best Picture winner, American Beauty.
An increasingly important indicator of success is home video rentals, and American Pie certainly saw success there. A look at its tally shows that it has cracked the top 100 rentals, with $68.7 million in revenue. This compares favorably with last week's Rush Hour, which grossed $54.12 million from rental outlets.
Universal has had a banner summer, with all three of its releases so far exceeding most expectations. The Mummy Returns started off the summer season with a bang, setting a temporary three-day weekend record of $68.14 million on the first weekend of May and recently passing $200 million. In June, the gamble to move the "gangs and gearheads" film The Fast and the Furious to the summer from a previously planned spring release paid off extremely well, as it opened to $40.09 million and is in line to be one of the most profitable movies of the year. Jurassic Park III helped to further cement itself as a major franchise for the studio, grossing $50.77 million on opening weekend and may yet challenge the $200 million mark.
Now American Pie 2 sets the stage for a fourth blockbuster this summer for the studio. Perhaps mindful of the recent criticism about R-rated movies being advertised to minors, many of the recent ads have had a subtle nostalgia angle, pitching towards adults instead of their children (who really need little selling in this case). This type of advertising will be necessary for the film to see similar grosses as another R-rated comedy, Scary Movie. With 3,058 venues, I predict an opening in the neighborhood of $47 million. Given the inexpensive nature of the film, it's very likely to have a third installment.
Hoping to follow in the August horror success of The Sixth Sense is Miramax's The Others, the English language debut of Spanish director Alejandro Amenábar. Also bearing a superficial resemblance to The Shining and the 1961 Deborah Kerr film The Innocents, the advertising for this film has sold a claustrophobic environment with supernatural malfeasance. Nicole Kidman is the only name actor in this film; however, her previous summer film, Moulin Rouge, must be considered a success, given its subject matter and genre. With a $54 million take, that makes it one of the more successful non-animated musicals in some time. The Others faces a fight from a perceived position of weakness, as it is both a period piece and a British-set film, two things that can present some difficulty in selling to American audiences. It also opens in only 1,678 venues, almost half of the average summer wide release. Despite all these factors, I feel that this film is poised for a breakout. The advertisements have been well made and sell this well-constructed ghost story concept. I am predicting a $14 million opening weekend.
The third new film in wide release this weekend is Osmosis Jones, the animated/live-action hybrid from the Farrelly Brothers. Not content to deal with external bodily functions, this film goes the further step into the human body. Animation this summer has been a mixed bag, ranging from the blockbuster success of Shrek to the disappointment of Final Fantasy. Featuring Bill Murray and the voices of Chris Rock, David Hyde Pierce and Lawrence Fishburne, the nearly patented gross-out humor of the Farrellys goes to the next logical step. Unfortunately, in recent months Farrelly products and related spin-off productions, such as Me, Myself & Irene, Outside Providence and Say It Isn't So, have fared quite poorly. It's also been a long time since Bill Murray has had a hit film that was dependent heavily on his name, dating all the way back to 1993's Groundhog Day. It also faces the difficulty of being an animated film without the branding of Disney or DreamWorks, the two studios with the proven ability to launch animated films. In addition, it faces a direct challenge from Miramax's re-release of Spy Kid in 1,676 venues. While advertisements have been in heavy rotation for Osmosis Jones, I don't expect it to reach its audience. Debuting in 2,305 venues, I expect a $6 million opening weekend with a quick exit from theaters.
The major returning film this week is Rush Hour 2, which surprised many by challenging the one-week-old opening weekend record held by Planet of the Apes. As opposed to that film's 60% drop on its second weekend, I expect Rush Hour 2 to hold much firmer in the box-office rankings. Audience reaction and word-of-mouth has been much stronger than most recent blockbusters, with CinemaScores in the A range. Due to the front-loaded nature of sequels, this will still likely translate into a 45% drop for the weekend, and $37 million.
Forecast: Weekend of August 10-12, 2001

Projected
Rank

Film

Number of Sites

Change in Sites from Last

Estimated Gross ($)

1

American Pie 2

3,058

New

47.5

2

Rush Hour 2

3,118

No change

37.1

3

The Princess Diaries

2,706

+169

15.5

4

The Others

1,678

New

14.3

5

Planet of the Apes

3,405

-125

13.2

6

Jurassic Park III

3,155

-347

7.0

7

Osmosis Jones

2,305

New

6.1

8

America's Sweethearts

2,686

-325

4.0

9

Legally Blonde

2,031

-505

4.0

10

Spy Kids: Special Edition

1,676

New

3.7