Weekend Forecast
for August 9-11 2002
By Reagen Sulewski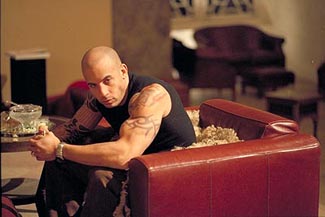 In a rare case of demographic coverage, this weekend's new releases bring an action or thriller film for every age group. The PG-rated Spy Kids 2: Island of Lost Dreams covers the family and pre-teen market, while the 14-to-45 market is covered by newly-minted action star Vin Diesel and the PG-13-rated xXx. Lastly, Clint Eastwood hopes to bring the older audience to his R-rated Blood Work but should still draw from younger ages. The smash success of Signs is still in play, though, and while Austin Powers may be fading fast, it still makes a significant portion of this weekend's box office. For the second straight year, the summer movie season has saved its biggest fireworks for the end of its run.
It's shameless, really, the way that xXx doesn't even pretend to avoid the James Bond comparisons; except this isn't your father's James Bond. Goldeneye already partially admitted that Bond was a bit of a dinosaur, but xXx makes the case even more obvious with the extreme-sports junkie anti-hero here. The pure summer action film has actually been a rarity lately, with only The Bourne Identity coming close to fitting that role this year and last year seeing only Tomb Raider and The Fast and the Furious filling that niche. It's no coincidence that the last of those features the star of this one, Vin Diesel. His star had been bubbling underneath the surface after efforts in Saving Private Ryan (which, to be fair, he is not remembered for, despite its $200 million earnings), Boiler Room and, most significantly, Pitch Black. The right project will do great things for anyone's career, and The Fast and the Furious couldn't have been better suited to his skills. While the $40 million opening can't be credited all towards him, a vast chunk of it was due to his steely presence and gravelly voice. If you didn't know who he was before The Fast and the Furious, you certainly do now.
Another case of picking the ideal project, xXx fits perfectly with the image he cultivated last summer; although he's not going to be in The Fast and the Furious 2, xXx might just as well be that sequel. The trailers and commercials are a fantastic series of money shots; it's rare enough for a film to have one outstanding hook visual, but this film has at least three (discounting the furry coat). Audiences starved for an action film should turn out in droves for this. What size the droves will be is another matter. Of course, it is chasing the marks of previous Bond films, the best performance of those being The World is Not Enough at a $35 million opening in 1999, or $40 million in adjusted dollars. It's also shooting at the other self-made Bond franchise out there, that of Tom Cruise's revamped Mission: Impossible, both of which sit around $60 million in adjusted dollars for their opening weekends. With $60 million seeming to be the new floor for event pictures, it's tempting to predict a breakout far beyond this, but it should stick between $60 and $65 million. The only trouble will be avoiding confusion between xXx 2 and X2, the X-Men sequel.
Ordinarily, releasing two spy films on the same weekend would be a faux pas on the nature of inviting Robert Downey, Jr. to your daughter's 18th birthday party, but in the case of Spy Kids 2, it's savvy counter-programming. In March of last year, Spy Kids surprised almost everyone by earning $26 million opening weekend on the way to $100 million-plus, with only the benefit of Antonio Banderas as a recognizable name in the cast. Of course, Antonio can take little credit for its success, that being the result of a great hook, convincing F/X (even on a budget of $35 million) and likable kid actors in the title roles (and, of course, a kid-friendly PG rating). Director Robert Rodriguez, cynical as it may be, merely has to revisit this formula for a repeat of his success last year. Family-film franchises, as we recently saw with Stuart Little 2, rarely show a huge amount of growth from film to film. However, the look of this film is sharp enough to do at least as well as the previous one, if not a tiny bit better. A Wednesday opening siphons off a few viewers from the weekend figure, but should still allow for a slight growth in the opening weekend to $28 million, with $8 to $10 million coming in on Wednesday and Thursday. As befits the current trend, Rodriguez has already pitched Spy Kids 3 before this one opens, so it's clear this could become one of the sneakiest successful series of film in some time.
It's a remarkable testament to Clint Eastwood's popularity that he is still a leading man at the age of 72. Gene Hackman has his age but not his popularity, and no one else even comes close to his track record on both sides of the camera over the last 40 years. Space Cowboys was a $90 million hit in 2000, which wiped away the disappointment of True Crime, a $20 million disappointment in 1999. In Blood Work, he returns to something resembling True Crime, but with an evocative trailer, he should avoid the failure of that. Although "on the trail of a killer" is rapidly replacing "in a world where..." as the most over-used phrase in trailers today, I think Clint can still bring something to the genre, especially since this film acknowledges the age factor explicitly. Clint's character suffers a heart attack early on in the film and deals with this issue throughout the proceedings. This recalls somewhat the idea of The Bone Collector, a moderate hit in October of 1999. This should approach the figure of $16.7 million that film produced in its opening weekend, although it will probably be more like $14 million. Still, name another septuagenarian that could inspire this kind of performance at the box office.
M. Night Shyamalan was officially crowned Hollywood's wunderkind last weekend at the age of 31, living up to at least the box-office comparisons to Steven Spielberg. With $60 million, Signs earned back its budget in one weekend. All of Shyamalan's films will be judged in their performance after opening to The Sixth Sense's tremendous run. That film earned an astonishing 11 times its opening weekend, a figure that obviously won't be repeated here. For one thing, as evidenced by its second-highest-ever August opening frame, it snuck up on no one. It opened in over 1,000 more theaters than Sense, giving it that much less room to grow. It also lacks a true go-back-and-see-it-again hook like the one that was the secret to Sense's record-breaking tallies. As well, it's not receiving near the critical raves that The Sixth Sense grabbed, and it's CinemaScore rating is a measly B, compared to Sense's A-. This beats the C that 2000's Unbreakable garnered, though, which only managed three times its opening weekend. I think a modest 38 to 40% drop will be in order, giving the film about $37 million and about $130 million after the weekend.
Although a massive opening frame does not have to translate to a steep drop in the second weekend, someone forgot to tell this to New Line, whose Austin Powers in Goldmember free-fell from $73 million to $31 million, the kind of decline seen for trashy horror sequels (and some would argue it's deserved). Although $200 million is all but assured at this point for the film, which would pass the total for The Spy Who Shagged Me, that has to be considered a disappointment after its record comedy start. A repeat of last weekend's fall would push the film all the way down to $13 million. This is probably a low-end, but a figure higher than $15 million is unlikely. If Myers thinks that the story arc of Austin Powers and Dr. Evil is wrapped up, then this would be a good note to end on, before a third sequel can wreck all that came before it, à la Batman & Robin.
Despite a rallying of critics not seen since the release of Battlefield: Earth, The Master of Disguise still managed $12.5 million last weekend. To put this in perspective, this awful, awful film earned only $200,000 less in its opening weekend than the most recent Harrison Ford film. OK, it was peddled as a children's film, but are even they this hard up for entertainment? I bet Ace Ventura doesn't look quite so bad to a lot of these critics now. It's nice to see Dana Carvey having a movie earn some money for once, but he'd better use this momentum to atone, and atone quickly. With Spy Kids in the market, one would hope this would fall by the wayside, but it'll probably hang on for $7-8 million.
Lord of the Rings finally hit video this weekend and will probably be pulled from the majority of its theaters either this or the following weekend. It finishes with $313 million in ninth spot in the all-time rankings, leaving itself a spot for when The Two Towers comes along this December. Nothing left this summer looks to challenge those rare heights (Star Wars may wheeze over $300 million), and it will be left to the fall to try to add more new members to the top ten.
Forecast: Weekend of August 9th-11th, 2002

Rank

Film

Number of Sites

Change in Sites from Last

Estimated Gross ($)

1

xXx

3,374

New

63.9

2

Signs

3,310

+46

37.2

3

Spy Kids 2: The Island of Lost Dreams

3,307

New

27.9

4

Blood Work

2,525

New

14.4

5

Austin Powers in Goldmember

3,508

-105

13.8

6

The Master of Disguise

2,568

+3

7.0

7

Road to Perdition

2,211

-121

4.5

8

Martin Lawrence: Runteldat

774

+22

4.0

9

Stuart Little 2

2,382

-713

4.0

10

Men in Black II

2,076

-826

2.7