Weekend Forecast
for August 2-4, 2002
By Reagen Sulewski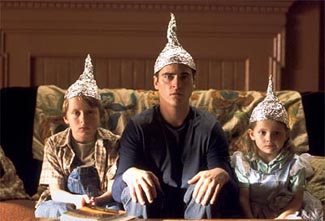 Even though the entire world doesn't expect Austin Powers to translate its monumental opening weekend tally into extended legs, its $73 million starting position gives it a leg up on keeping the number-one spot against all but the most high-powered films. In this case we have one, in the form of M. Night Shyamalan's Signs. These two films will make the majority of the box office story this weekend, as the other two wide releases are comedy also-rans, with a fourth film premiering in limited release, that one a return to indie roots by a modern master.
It's a rare director that can sell to a mass audience on his name; the list includes the two Stevens, Spielberg and Soderbergh, and arguably Tim Burton (George Lucas joins this list only if he makes a hit of a film without Star Wars in the title). To this we can also probably add M. Night Shyamalan. The Sixth Sense was, of course, the most surprising success story of 1999, earning six Oscar nominations and tenth spot all-time in the box office (now #14). Unbreakable was a step back financially, but was consistent with his style (and some, like myself, consider it the superior film). More importantly, it established that audiences were willing to follow his name; after the $23 million opening of Sense, Unbreakable reloaded for a $30 million three-day total on Thanksgiving weekend. It ended under $100 million but gave credibility to the notion that his name could open a film. This is not to dismiss in the least the contributions of Bruce Willis, since the re-teaming of Shyamalan and Willis was a key factor in the marketing of that film.
Bruce isn't involved in this film but his replacement, Mel Gibson, is of no less stature. In fact, if you compare early-year war movies (We Were Soldiers vs. Hart's War), it could be viewed as a significant upgrade. This is the first time that Gibson has gone the sci-fi/horror route, so there are few direct comparisons. However, he's been successful in a great variety of genres, from romantic comedies (What Women Want) to historical war films (The Patriot, Braveheart) to family films (Chicken Run) to buddy-cop films (the Lethal Weapon series) to thrillers (Ransom, Conspiracy Theory). About the only thing he hasn't done yet is a musical, but he's seen to that with The Singing Detective coming next year. He remains one of the few stars that seem to be successful in almost any kind of project.
While Signs and Shyamalan's last two films (the little seen Wide Awake seems to be left out of any discussion of later films) aren't directly related, they all share an indirect "what if?" theme. What if ghosts were real? What if superheroes were real? Now we have, "What if crop circles (and aliens) were real?" Whatever you might say about him, he certainly uses his topics to the maximum effect. The spooky trailer never fails to provide a jump for its audience but also mixes it with some comedy. This looks to have all the elements necessary for a late-season hit and should not disappoint, earning about $45 million this weekend.
Austin Powers in Goldmember became the highest opening comedy film in history and the fourth-highest opening film ever last weekend, but what has it done for us lately? All that means nothing if it does a Lost World and fades immediately after opening weekend. That seems extremely likely, given the nature of sequels and the lukewarm reception the film's been given. It scored well with teens but the rating gets steadily worse as the age bracket gets higher, down to a C at CinemaScore for 35 and up. The first sequel saw a fall of 43% in its second weekend back in 1999 and this should fare worse, approaching but not reaching the 50% drop mark. Although New Line did underestimate by $2 million for last weekend, this isn't really any hint of hidden legs. It will post a still-very significant $38 million this weekend, moving to over $150 million total.
It's one of the great mysteries of our time: Dana Carvey is a very funny man (the opening sketch on the lamentably short-lived Dana Carvey show, which featured Bill Clinton breast-feeding a puppy, might just be the funniest thing ever to appear on television; screw Lucy and her chocolates), but his humor has never been able to translate to the big screen. With the exception of the Wayne's World films, his previous outings have been miserable failures. He hasn't been very active for the past six years for health reasons but is back in a starring role in Master of Disguise. This looks no better than Clean Slate or Opportunity Knocks but it does have the advantage of Adam Sandler as a producer, who lent his help to David Spade and Rob Schneider to varying degrees of success. I'm skeptical that this film can work on more than a sketch basis and although that's essentially the nature of the movie, you get the sneaking suspicion that you've seen every funny bit in the movie from the commercials (especially the turtle bit). Carvey should be happy with about $5 million for the weekend and the fact that he gets to make fun of another Bush president.
After the twin failures of What's the Worst That Could Happen? and Black Knight, Martin Lawrence must be reeling. Hence the return to the venue that started him, stand-up. Runteldat is his second feature concert film, after 1994's You So Crazy. $10 million for an NC-17 rated stand-up film is an impressive feat and, crucially, for this outing, he's gotten an R rating. The market for stand-up comedy films is very untested, with only The Original Kings of Comedy appearing in any kind of wide release. Nearly $40 million was taken in by that film, but it offered four comedians from an extremely successful tour. Lawrence ought to be able to total half that but will be starting on a quite small number of screens. It should start at around $4 million this weekend.
Road to Perdition held its ground against all other returning films last weekend to stick in second place. The arrival of Signs pushes it into third place. $80 million total is the reasonable goal for it at the end of this weekend, with the hunt for $100 million still in play. Men in Black II searches for $180 million by Sunday, with the double century mark as its hopeful final tally, although that is more in doubt. However, the indie success story of the year, My Big Fat Greek Wedding, finally had something resembling a wide release last weekend, pulling in $3 million in under 600 venues and finishing in the top ten for the second time this summer. Now over $35 million for its total run, last weekend could be considered its announcement of intentions for some of the Oscar races, à la Four Weddings and a Funeral in 1994. Everyone loves an underdog, and Oscar loves one that's made a huge profit, as this romantic comedy has definitely done.
Forecast: Weekend of August 2-4, 2002

Projected
Rank

Film

Estimated Gross ($)

1

Signs

45.2

2

Austin Powers in Goldmember

37.8

3

Road to Perdition

7.8

4

Stuart Little 2

7.1

5

Master of Disguise

5.3

6

Men in Black II

4.7

7

Martin Lawrence Live: Runteldat

4.5

8

K-19: The Widowmaker

4.4

9

The Country Bears

3.2

10

My Big Fat Greek Wedding

2.7