Weekend Forecast
for June 28-30, 2002
By Reagen Sulewski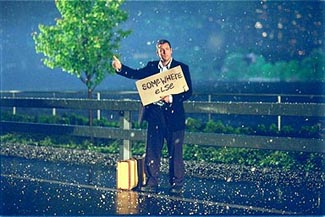 The summer movies season pauses for a reload this weekend, with only one release that can be termed a blockbuster. With the July 4th long weekend looming in the near future, films from June will be looking to establish themselves to best take advantage of the holiday period. The return of Adam Sandler, a Nickelodeon TV translation and the settling of the score between last weekend's two big blockbusters highlight this weekend at the cinema.
As attempted career-killing moves go, Little Nicky was probably a best-case scenario for Adam Sandler. After all, if you're going to release one of the worst movies of the year (taking number one being an impossibility in a year that contained Battlefield Earth), it's better that very few people actually see it. After both The Waterboy and Big Daddy were stunning successes and totaled out at approximately $160 million, Little Nicky earned just a quarter of that, stopping short of $40 million, a total more in line with his popularity in the days of Happy Gilmore and Billy Madison. Lesson learned, apparently, as after a two-year exile, Sandler has brought a decidedly less outlandish film to screens this summer in Mr. Deeds.
Deeds is a remake of the 1936 Gary Cooper film Mr. Deeds Goes to Town. That sound you hear is thousands of cineastes committing suicide. That Simpsons episode where Mel Gibson remakes Mr. Smith Goes to Washington doesn't seem quite so outlandish now, huh? As Sandler portrays him, Longfellow Deeds is just another in the line of down-to-earth everymen that just happen to have occasional outbursts of psychopathic violence. This time, instead of discovering a talent for sacking quarterbacks or adopting a child, he's inherited $40 billion. You can probably pencil in the plot from here yourself. Since this looks almost the same in tone as Waterboy and Big Daddy, the only question is how much damage Little Nicky did to his bankability. Looking at the obvious example of a comedian who nearly killed his career with an out-of-character bomb, probably not that much. The Cable Guy became synonymous with career suicide after its release, yet Jim Carrey followed it up with the biggest March opening ever at that time in Liar Liar. Audiences can be forgiving if given a reason, and I don't see that there's been any kind of shift in the basic appeal for Sandler's movies. As a possible additional bonus, this movie presents the first A-list leading lady for Sandler in Winona Ryder, although she's more famous lately for appearing in court and breaking up with musicians than starring in movies. Barring some kind of backlash, this should serve to be Ms. Ryder's first $100 million-grossing film, a surprising fact for such a high-profile actress. It's Sandler's show, however, and with a slightly schizophrenic campaign pushing every possible angle, Mr. Deeds should return Adam Sandler close to the top of Hollywood comedy with approximately $42 million on its opening weekend.
The other film in wide release this weekend is the latest from Nickelodeon, entitled Hey Arnold! The Movie. Apparently I'm not eight years old, since I've never, ever heard of this show. Family films have performed almost universally well in the last nine months or so, but I question whether this has the cultural breakthrough power of a Rugrats or even a Recess: School's Out movie. While animated crossovers of this type would seem to be bulletproof, especially in the recent family-friendly environment, one needs to look only as far as Doug's 1st Movie ($4.5 million) to see that there is no guarantee of success. Sandwiched between the Disney juggernaut of Lilo & Stitch and the much hipper Powerpuff Girls movie, I don't see much of a chance for a huge hit, though I'm reluctant to proclaim doom with no real knowledge of the series. Hey Arnold! should pick up some stray non-Lilo & Stitch traffic this weekend to around the tune of $9 million, with a tough fight on its hands for future weeks.
Minority Report and Lilo & Stitch came to the line last weekend in one of the closest photo finishes in years for the number one spot, with Minority Report emerging as the victor by just $400,000 (though it's interesting to note that if Canadian box office is subtracted, Lilo & Stitch wins by $1.2 million). This weekend, they'll fight over the number two and three spots, with the victor having an excellent chance of being the highest-grossing movie of June. I currently give the slight edge to Lilo & Stitch, which has the family demographic and a slightly better response from audiences. Minority Report is the critic's choice, but that only gets you so far and can, paradoxically, be a hindrance. Consider last year's A.I. for an example of just such a hindrance. Both films have performed well through the week, with Lilo & Stitch naturally outpacing Minority Report due to its audience being out of school and available, while Minority Report is limited more towards evening showings. In round two of this battle, Disney gets its revenge, with Lilo & Stitch outpacing Spielberg and Cruise by a margin of approximately $24 million to $21.5 million.
Scooby-Doo, to no one's surprise, could not hold its audience in the face of its general badness, falling over 50%. It's not likely to recover much from this level of descent, but it has already crossed the $100 million mark; $150 million is probably the ceiling for this film, but it is well on its way to profitability. Rivaling it for weekend-to-weekend drops, but not profitability, will be Juwanna Mann, which took a dismal $5.5 million last weekend (and still too much, in my opinion) but will fall under $3 million and maybe all the way to $2 million. That drop will prevent one of either Spider-Man or Attack of the Clones from falling out of the top ten this weekend. Spider-Man has consistently fallen less each weekend than Star Wars, and this may be the first weekend where it passes it in the final tallies. Expect them both to earn just over $3 million this weekend.
Forecast: Weekend of June 28-30, 2002

Projected
Rank

Film

Estimated Gross ($)

1

Mr. Deeds

42.3

2

Lilo and Stitch

24.1

3

Minority Report

21.5

4

Scooby-Doo

11.9

5

Hey Arnold! The Movie

9.2

6

The Bourne Identity

9.0

7

The Sum of All Fears

4.9

8

The Divine Secrets of the Ya-Ya Sisterhood

3.7

9

Spider-Man

3.3

10

Star Wars: Episode II - Attack of the Clones

3.2