Weekend Forecast
for June 7-9, 2002
By Reagen Sulewski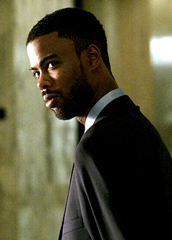 The biggest difference between the summer movie season and every other one is that in the summer, even the obvious dogs have big production budgets and $35 million ad budgets. Instead of derivative garbage like Slackers, with Devon Sawa being the biggest name, they're called things like "Bad Company" or "The Divine Secrets of the Ya-Ya Sisterhood" and have people like Chris Rock and Sandra Bullock. One of them appears to be Jerry Bruckheimer's first real bomb in eight years and the other, while most likely featuring prominently in Oprah's end-of-the-year list, is unlikely to make a dent outside the 30+ women's market.

The critic's dartboard that is the title of the Bruckheimer movie, Bad Company, certainly won't help. One wonders what genius thought up the plot, too, or if it was just stolen and tweaked from an episode of Passions. See, Chris Rock has a twin brother who was a CIA agent who was killed, and now they need him to stop a terrorist...listen, when you can't get through a plot synopsis without sniggering in derision, that's not a good sign. Chris Rock, a brilliant stand-up comedian who has on occasion been known to produce a watchable movie, really should know better. This is the first thing to be a "Chris Rock" movie since Down to Earth ($64.2 million total)? Anthony Hopkins should, of course, know better, but everyone likes a tax-bracket bump now and again. I'm sure at first it seemed no weirder than Mask of Zorro (let's get that sequel happening, people!). Hannibal is the only blockbuster film that's really been sold on Anthony Hopkins' presence, so it makes sense to look at his role as one of a credibility loan. That's all taken away, however, by the presence of one Joel "Hack-Extraordinaire" Schumacher. His influence is seen pretty quickly: incomprehensible editing, rap-music-is-horrible jokes and, well, anything that once looked interesting in the project now looks like a horrible joke.
It still carriers a huge promotional push, though, following in the fine tradition of Gone in 60 Seconds, Enemy of the State and last year's unofficial Bruckheimer film, Swordfish. Just jack up the volume on the trailer, get a clip of an explosion and focus on one funny bit and you've got yourself a product. These films seem to be working backwards in box office, though, with Swordfish not clearing $70 million at the final bell. It's going to take another killer concept like The Rock to get this brand of action film back on track. Bad Company will not be that film. The weekend's business for this film will be about $15 million, despite it being placed in 2,944 venues. Bad Company will leave a bad taste in the mouths of theater managers.
Perhaps I've got the idea behind The Divine Secrets of the Ya-Ya Sisterhood's title all wrong. Maybe it's just a very direct way of telling the majority of men that there's no way they'd be interested in this film. Or maybe they just want to provide work to the people that put the letters on the marquees. It shares this super-sized moniker with the book it's based on, which apparently sold a lot of copies (but then, so does the dictionary, and you don't see them making a film out of that). Sandra Bullock is arguably the biggest name in this, sharing the bill, though not the screen, with Ashley Judd (who plays Bullock's mother in flashback). It's a similar situation as with 1998's Practical Magic, which had Bullock co-starring with Nicole Kidman. Another comparison here is Fried Green Tomatoes, which also took a multi-generational look at Southern women. This one's more about mothers and daughters, and this will probably be the basis of its appeal.
Sandra Bullock hit a bump this spring with the less-than-spectacular performance of Murder by Numbers (I maintain that she should have switched roles with Angelina Jolie in Life or Something Like It), whereas before that she had been one of the most consistent actresses at delivering a solid, if not earth-shattering, opening weekend. Ashley Judd is in much the same territory but had a better spring, with the moderate hit High Crimes. Adding these two together in a cast would seem to be a natural, but this is a case where 1+1 does not equal 2. The overlap between the fan-base of the two actresses would be near total, I would suppose, especially for a project like this. In a strong 2,507 venues, this should perform about as well as the typical Judd or Bullock vehicle, which is to say between $11 and $14 million on opening weekend.
Neither of these films should beat last week's number-one film, The Sum of All Fears, which I predict will retain that spot. Besting every previous Jack Ryan film, even accounting for inflation, it's positioned itself to be the number three film of May, no small potatoes in this crowd. Critical and audience response isn't quite as solid as could be hoped, but at the very least, it's garnering overall good marks. Concerns about the potential for the material to be too current seem to be fading. Approximately $19 million would be a good expectation for its second weekend.
The post-Memorial Day hangover hit harder than usual for returning films last week, with most falling in the 45-55% range over comparable periods. Most crucially, this appeared to cut the take of Star Wars off at the knees, seeing it fall to just $21 million three weeks after starting out at over $80 million. It is a foregone conclusion now that this will be the first Star Wars film not to break the top five all time on its initial release. The real shock is how short it's going to fall. It's saved slightly by the true arrival of summer and the subsequent uptick in Monday-to-Thursday box office (it's down only 34% week-to-week for similar days), but its performance is clearly the kind of thing that keeps George Lucas up nights plotting revenge. With eight-week contracts in place for the majority of its screens, it's in no danger of suddenly dropping off the map, but theater patrons aren't necessarily going to drink the water to which they're led. With more and more high-end product in the coming month, the Star Wars name brand will be put to its toughest test ever. A slight recovery of "just" 35% should be possible this weekend, allowing it a shot at $300 million. The hangover caught Spider-Man, too, dropping it to $14 million. This stopped it from passing Jurassic Park over the weekend, though it took care of that mid-week. This is the first weekend it starts to shed screens as well, so it's likely that it will drop below the $10 million mark for the first time. This is the major obstacle for further climbs in the ranks, as the next milestone is all the way at $431 million.
Undercover Brother's $12 million could be viewed as either a disappointment or a good first step. A disappointment in that it's not the kind of take that had been hoped for a potential franchise, but a success that a comedy with no big names opened to a figure that will easily makes back its modest budget. Hopefully it can avoid the precipitous drops of other recent high-concept comedies like Kung Pow.
Forecast: Weekend of June 7th-9th, 2002

Rank

Film

Number of Sites

Change in Sites from Last

Estimated Gross ($)

1

The Sum of All Fears

3,218

+25

19.4

2

Bad Company

2,944

New

15.3

3

Star Wars: Episode II - Attack of the Clones

3,161

No Change

13.5

4

The Divine Secrets of the Ya-Ya Sisterhood

2,507

New

12.0

5

Spider-Man

3,235

-411

9.7

6

Spirit: Stallion of the Cimarron

3,362

No Change

8.2

7

Undercover Brother

2,169

+2

7.6

8

Insomnia

2,458

-152

6.4

9

Enough

2,388

-235

3.7

10

About a Boy

1,605

-151

3.0