Memorial Day Weekend Forecast
for May 24-27, 2002
By Reagen Sulewski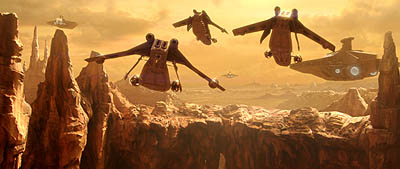 It's a less-than-typical Memorial Day weekend in terms of the new movies in release; while most years since about 1983 have had one single blockbuster release, the early May debuts of Spider-Man and Star Wars have landed a trio of smaller (but not small) films in this extended frame. There's still no question that Star Wars will win the holiday period, but people looking for fare beyond the spectacle will have plenty of choice. The three new movies cater to three very different demographics, hopefully allowing all three to succeed.
Al Pacino headlines Insomnia, the film arriving with the best pedigree of the weekend. It's somewhat shocking to realize that this is the first appearance of Pacino on screens nationwide since Any Given Sunday almost three full years ago. He's certainly not going to be forgotten, but it makes a person wonder what a long hiatus such as this could do to a star's bankability. Tom Cruise spent three years between Jerry Maguire and Eyes Wide Shut, but it doesn't take much to see that as an entirely different situation. In approximately his 417th turn as a cop, Pacino follows a killer to Alaska who taunts him by telling about his crimes. He's meanwhile tormented by insomnia (hence the title), which isn't helped by the fact that the sun doesn't set in Alaska during the summer. This psychological cat-and-mouse game reminds me somewhat of Se7en, or perhaps Silence of the Lambs.
In addition to Pacino, there are two other Oscar-winning actors in the film in Hilary Swank and Robin Williams as the tormenting killer. This is psycho role number two for Williams this year, following Death by Smoochy, and with One Hour Photo upcoming. Although he's yet to win an Oscar, the film's director also brings a successful record to the plate, as he was at the helm of last year's indie sensation Memento. This is a decidedly more straightforward picture, at least for the simple fact that the story is told in order. Despite all these positives, this film will have to fight an upward battle. The trailer lacks that really crawl-up-your-skin kind of moment, and the TV commercials have bounced around in focus from the plot to Pacino's character. Without a real hook beyond an esteemed though not box office-busting cast, it's going to be difficult for it to distinguish itself. The recent Murder by Numbers failed to do so and limped to a $9.3 million opening weekend. With the benefit of some gorgeous Alaskan scenery, this thriller should earn about $18 million for the four-day weekend.
Enough may be the first movie to not only reveal the entire plot in its trailer, but also the entire character arc. With Jennifer Lopez in the lead role of this chixploitation flick, it places itself directly in the niche filled by films like Double Jeopardy and Sleeping with the Enemy, which this film most directly resembles, minus the romantic subplot. Revealing the plot seems to be de rigueur for this demographic (See the most successful use of this technique, What Lies Beneath) and really, it's tough to get upset at this; after all, we don't expect the philandering, abusive husband to win, do we? Still, it seems like pandering to me, especially with its cynical, vigilante justice view of the world. However, I continue to remind myself that I am not the intended viewer. Just as Double Jeopardy revealed just how many women fantasized about killing their husbands, Enough should reveal how many simply want to beat up theirs. Comparing recent releases, Double Jeopardy earned $23 million on opening weekend in September of 1999 and last year's Angel Eyes earned $9 million in May, compared to Judd's $14 million for High Crimes. A possible factor could be the reviews of the film, which have been nearly uniformly bad, focusing on the one-dimension-ness of the characters and the stacked-deck of a story. With a title that practically writes derisive headlines for reviewers, it's been open season on this film. Will that sway people away? Probably not enough to stop it from earning about $20 million for the holiday weekend. A heavy blitz of advertising combined with sneak previews has certainly guaranteed that it can't be ignored.
The third release is the family option, Spirit: Stallion of the Cimarron (or as its audience will surely call it, The Horsy Movie). In the past few years, traditional cel animation has given way to computer animation, with the latter becoming something resembling a brand, regardless of company or concept. Meanwhile, even Disney cell-animation films have been having difficulty finding success, with last year's Atlantis barely breaking $20 million on opening weekend. Animated films are going to need killer concepts to succeed now and I don't think this DreamWorks effort fits that bill, especially considering that it boasts perhaps the loudest and sappiest trailer ever. Another strike against it is the fact that the two biggest films still in release, Spider-Man and Star Wars, aren't exactly kid-unfriendly. Even in a massive 3,317 venues, it is not guaranteed the box-office gold. What was an underfed market in the spring now looks positively gorged, with Spirit the film to suffer as a result. Perhaps just $15 million is in store over the holiday period, with hopes for the long-legged performance of most kids' films. Maybe they should have made it on computers.
Star Wars is without question going to be the number one film this weekend, but it enters the weekend with more question marks than one would expect for a film that earned $80 million in just three days. For one thing, there's the extraordinary overestimation by $6 million, which was undoubtedly done to put its four-day total ahead of Spider-Man's three-day total. Mistakes like that just don't happen. The $80 million number is troubling in itself for many, since it falls well short of what was shown could happen just two weeks prior. Whole systems of self-worth are put to the test then this weekend, with the hopes that like The Phantom Menace, Attack of the Clones can hold its ground over Memorial Day weekend. The tactic of releasing a film the weekend before the holiday is a savvy one that has come to several studios' attention, especially if your film is pre-sold. It's two opening weekends for the price of one. This worked well to the advantage of The Phantom Menace, where the four-day Memorial weekend total exceeded the opening weekend by an approximately $3 million margin. However, in the case of Clones, this may not happen, if credence is given to the inter-week figures. Not only do they compare unfavorably to Spider-Man, but also to Phantom Menace, which despite a lower starting figure had higher totals on each of the first three weekdays. While word-of-mouth in general has been more positive, it seems that it becomes something of an abstract concept at this level, akin to judging box office by popcorn sales. This edition of Star Wars should be able to report two weekends above $60 million, but how much? With the extra day, a total of $66 million is my prediction, or just shy of what The Phantom Menace made in its second weekend. This would give it a total box office of approximately $205-210 million, very close again to the total of The Phantom Menace. In my mind, the chance of it passing the $400 million mark is slim at this point, though a $70+ million weekend could change my mind.
Spider-Man, on the other hand, appears to be cruising right along, showing no ill effects from the appearance of the saga of long, long ago. In fact, its drop-off was less than the non-Star Wars weekend. After just 20 days of release, it's moved all the way to 12th all-time, ahead of The Sixth Sense - and of course, The Empire Strikes Back - with $295 million. This weekend could see it jump all the way to sixth place, behind Jurassic Park. After that, the road gets considerably tougher, with $400 million a realistic milestone but Phantom Menace's $431 million relatively difficult to hit as the summer season threatens to eventually crowd it out. Can it remain the spectacle throughout the summer, or does it give way around the end of June? For this weekend, a $36 million figure would be an excellent step towards the former, considering that theater owners have just given it a vote of confidence by adding about 200 new venues, for a record total of 3,876. It will assuredly become the quickest film to pass the $300 million mark on Friday, achieving in just 22 days what it took the previous record holder, The Phantom Menace, 28 days to do.
Also adding a significant number of venues is About a Boy, which jumps from 1,200 to 1,700 after a strong $7,000/venue average. In a proportionately similar move last year, Bridget Jones' Diary held its box-office figure and moved into first place. That obviously isn't going to happen here, but Universal would no doubt be thrilled with that kind of performance for About a Boy. With strong audience recognition and factoring the holiday, give it $11 million for the weekend.
Forecast: Weekend of May 24th-27th, 2002

Rank

Film

Number of Sites

Change in Sites from Last

Estimated Gross ($)

1

Star Wars: Attack of the Clones

3,161

No Change

66.2

2

Spider-Man

3,876

+261

36.7

3

Enough

2,623

New

20.1

4

Insomnia

2,610

New

17.8

5

Spirit: Stallion of the Cimarron

3,317

New

15.3

6

About a Boy

1,749

+542

11.0

7

Unfaithful

2,401

-286

9.7

8

The New Guy

2,374

-313

5.3

9

Changing Lanes

1,258

-900

2.3

10

The Rookie

836

-1007

1.4