Weekend Forecast
for May 16-19, 2002
By Reagen Sulewski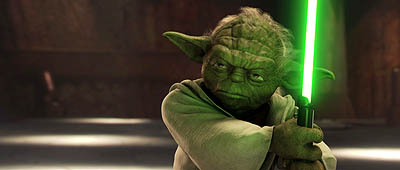 It can't be easy being a Star Wars *ahem* enthusiast these days. Time was, the Star Wars movies had their place at the head of the geek pantheon and it couldn't even be questioned. One need only look to 1983, when Return of the Jedi's opening weekend was $23 million versus Superman III's $12 million, to see where they ranked in the geek hierarchy. Nineteen years later there are tons of challengers to the throne; films like Planet of the Apes and Rush Hour 2 are beating the numbers that Phantom Menace put up, and there are serious challengers in the geek hierarchy, like Lord of the Rings, Harry Potter and Spider-Man. Try and imagine Attack of the Clones doubling Spider-Man's $114.8 million now.
The spell has broken for George Lucas. Oh, the Star Wars name still commands a tremendous amount of respect; hell, you could probably sell out midnight screenings for Star Wars: Give Me Your Money. Nonetheless, it is no longer the bulletproof enterprise once thought. The Phantom Menace turned off a huge number of fans - though not a majority, I should be careful to point out - with its heavily "kid-ified" story. Yet even that wasn't enough to stop it from earning a very healthy $400+ million once its final box office was tallied, and Lucas would have to be happy with third place all-time (recently bumped to fourth by the re-release of ET) and leaving fan-boys to mutter that "box office doesn't mean that much to me anyway." Sure it doesn't, and those Raisinettes were probably pretty sour, too. Even Lucas is conceding that this edition of the series isn't out to challenge the one-weekend total. A large portion of the reasoning behind this is a limited number of screenings relative to Spider-Man; Attack of the Clones looks to top out at 3,161, in contrast to Spider-Man's 3,615. Ordinarily this wouldn't be a huge point of contention, but with Spider-Man getting about as close to 100% capacity as we're likely to see, it suddenly becomes an issue. The hype surrounding the film is almost...subdued. No massive lineups, no rush for tickets, very little advertising (although this is kind of a reverse prestige thing) and all of a sudden, the mystique is gone.
Lest we forget, there is a film behind all of this, even if it does get discussed as if it is a theoretical concept sometimes. And hey, doesn't it look shiny? After falling short of Titanic's record last time, Lucas has apparently given in to the principle of "if you can't beat 'em, join 'em" and added a doomed romance. I'm having a hard time believing anyone was really asking for this angle in the Star Wars canon. More than one pundit has compared this to "The Young Adolf Hitler Story", which isn't that cheery a concept. Looking beyond that, though, there's light-saber action galore, with the long-hinted-at Clone Wars and a battle scene involving Yoda ranking high on the cool scale. Let's not kid around; this film is going to rake in massive amounts at the box office. The question is how it compares in the new box office-obsessed marketplace.
Episode I's opening day set a record, due in no small part to country-wide midnight screenings, which made up approximately $7 million of that day's $28 million total. The record to shoot for is now Spider-Man's $43.62 million, and due to a variety of factors, I don't think it will be broken. The lower number of screens has already been mentioned, but the record was also set on a Saturday, and despite rumored millions of sick-outs, there'll be daytime screenings that just won't be filled. Star Wars will still be viewed as an impossible ticket to get, which may convince many to simply stay away. The weekend may be a different story, but I feel that the overall effect will be to spread out a three-day pattern into four. In a similar fashion to Episode I, the Friday should be lower than the opening day. People won't be going out of their way for second-day tickets. Last time around, the ratio was $28 million/$18 million, and I don't see a big reason to expect anything different this time around. Straight factoring for inflation and sites gives a $35 million opening day, with an $82 million weekend. This makes an excellent $117 million take across four days. However, even factoring for inflation doesn't explain the recent explosion in box office. The trend towards increased opening weekends has been accelerating, even over the past three years. For this reason, I think the opening day will end up being a monstrous $38.5 million, with an $88 million three-day weekend total, or $125.5 million over four days. Adding in Memorial Day weekend numbers for cushioning, Attack of the Clones may wind up with enough ticket sales to help the film to defeat its first-ever challenger for a yearly box-office crown.
That challenger is, of course, Spider-Man, which put up an extraordinary $232.8 million in twelve days and is on pace to shatter the days-to-$300-million record. The question here is how much of a dent does Star Wars make in Spider-Man's third weekend, after a beyond-all-expectations 37% drop in its second weekend? The answer is, surprisingly little. The second-place film at the time of The Phantom Menace's release was The Mummy, which kept a consistent 42-44% drop-off in both a non-Star Wars week and against it. Just two weeks ago, the Scorpion King held its own against Spider-Man's opening weekend. The one significant counter-example here is Monsters, Inc., which suffered a 50% drop against the opening weekend of Harry Potter after a miniscule 27% in its second weekend. The deciding factor there, I feel, is the complete clash of demographics and competition for the tyke dollars. While Spider-Man and Star Wars do appeal to largely the same audiences (i.e., people who watch movies), I think they both appeal to broad enough audiences that the overall drop doesn't have to be complete. In addition, the opening day screenings will take away the need for people to choose between the two. Spider-Man is poised to make this its third weekend over $40 million, with about $42 million.
In the tradition of Shanghai Noon and Notting Hill, someone has to play the underdog. The Notting Hill comparison is quite apt this year, as About a Boy shares with it a star in Hugh Grant. Based on the Nick Hornby book (shameless plug: read more Hornby), it follows High Fidelity to the screen, which unfortunately failed to impress in its theatrical run. I've warmed to Hugh Grant in the lead role. I initially thought he was too old; of course, I was wrong and he's absolutely perfect for it. Playing smug and shallow suits him well, which is an odd sort of compliment. The Brit-centric nature of the film could scare some off, which is obviously a fear for Universal. The studio is starting the film on only 1,200 screens, in a strategy similar to the one Miramax used for Bridget Jones' Diary. That film started slow, with $10.7 million in its first weekend, but worked itself all the way up to $71.5 million. Though perhaps Hornby's novel is not the phenomenon that the Bridget Jones' books are, it has similar heart. As a film that is a complete opposite of the two big-shots this weekend, it could definitely position itself as the film for people who can score dates. A strong showing of $10 million would put it the running for significant expansion in following weeks.
Unfaithful and The New Guy were second and third, respectively, last weekend, and I expect both to get somewhat lost in the shuffle. Unfaithful, the Adrian Lyne soft-core infidelity thriller, has gained mixed reviews, which is not what it needed. A close-to-unanimous praising of this film could have lifted it into buzz status; it's likely to slowly drift away now, earning about $8 million this weekend. The New Guy should fall precipitously this weekend, as teen films follow that trend almost without fail. The abysmal reception it got from both critics and audiences seals its fate. Over a 50% drop would not be much of a surprise here.
It's the Superbowl of box office this weekend; see you all on Monday.
Forecast: Weekend of May 17-19, 2002 (three-day numbers)

Projected
Rank

Film

Estimated Gross ($)

1

Star Wars Episode II: Attack of the Clones

88.3

2

Spider-Man

42.2

3

About a Boy

9.9

4

Unfaithful

8.1

5

The New Guy

4.3

6

Changing Lanes

2.9

7

The Scorpion King

2.7

8

The Rookie

1.7

9

Murder by Numbers

1.3

10

Ice Age

1.0