Weekend Forecast
for April 5-7, 2002
By Reagen Sulewski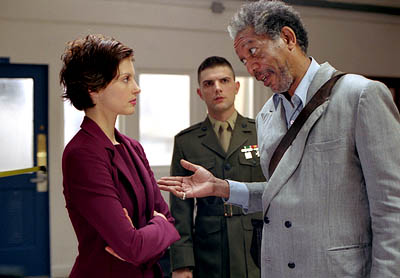 Perhaps the strongest March slate in history yields to one of the least-impressive schedules for April ever. There is a chance, although small, that after the five $20+ million openers last month, only one in April will be able to match that mark. This weekend's motley crew of releases includes a female-targeted version of The General's Daughter, the return of the National Lampoon brand and a refugee from last September.
The surest bet this weekend is for High Crimes, which reunites Ashley Judd and Morgan Freeman from Kiss the Girls. One of the surprise hits of late 1997, it opened to just $13 million but did quite well in the following weeks, making $60 million and establishing a franchise for Morgan Freeman. Ashley Judd was able to jump from that to the extremely successful Double Jeopardy, fulfilling every woman's secret fantasy to get away with killing her husband. Opening to $23.2 million and finishing over $100 million, it was one of 1999's most surprising hits. Someone Like You rode mediocre advertising to a $10 million open in March of last year, but died after people actually got to see it. Morgan Freeman has become an actor like Gene Hackman or Robert Duvall; someone to hire to lend an air of credibility to the project. Somewhere, James Earl Jones is fuming. Of course, he's not simply a gun for hire, as at the ripe old age of 64 he became a franchise with the Alex Cross series. Along Came a Spider took in $16.7 million on this weekend last year (Hollywood scheduling patterns die hard, almost like a superstition) and finished with about $75 million. Interestingly enough, a review at Amazon.com of the book on which the movie is based specifically predicted Morgan Freeman for this role, so iconic he is becoming at the reassuring, non-threatening father figure role.
I think this will be a case of two actors adding to more than the sum of their parts…wait, am I forgetting something? Oh, that's right, Jim Caviezel, who plays Judd's husband in the movie. Well it's only fair, considering the advertising nearly forgets him as well. It is, after all, a movie about him being arrested for the murder of civilians while on a military operation. Was January's Count of Monte Cristo forgotten this quickly? Don't answer that.
This movie compares favorably in presentation with other military legal dramas such as The General's Daughter and Rules of Engagement, and very favorably with something like The Last Castle. With Morgan and Ashley combining talents and James Caviezel hopefully not getting in the way, first place shouldn't prove much of a challenge at about $22 million.
Perhaps the most heavily pushed film from National Lampoon since Christmas Vacation, Van Wilder can probably at best hope for the type of showing of Vegas Vacation ($11 million, adjusted for a three-day weekend). It would seem to match well against recent films like American Pie or even Road Trip, but there seems to be just a certain something missing. For one thing, while no one had heard of the Weitz brothers before American Pie, they did have a successful screenplay to their name, that of Antz. The title that jumps out most from the CV of the writers of Van Wilder is a parody, Saving Ryan's Privates. *cough* While you ponder that, consider the recent failures of Slackers and Sorority Boys. Although Van Wilder looks better than these two recent flops, it doesn't look that much better. I can't see a lot of Two Guys, a Girl and a Pizza Place fans turning out to see Ryan Reynolds, either (if they do, in fact, exist). A realistic expectation for this film is about $8 million this weekend.
It pains me to say this, really, but Big Trouble is in huge trouble if it's expecting to be a hit. Based on one of the funniest books I've ever read, Dave Barry's Florida crime comedy borrows heavily from the pages of Elmore Leonard (the author of Get Shorty). Unfortunately, while Tim Allen is a very good choice for the lead role in this film, his films have not been burning up the box office. Just this December saw the flop of Joe Somebody. Although it ended up as one of the leggiest films of 2001, that's a bit like having your house burn down but finding that jar of pennies you buried when you were seven. It's also an ensemble film, a category that has been notoriously hard to sell. How do you properly indicate that there are at least a dozen major roles in this film while still focusing on the leads and making sure that the comedy gets across properly? It's a Herculean task. Not only that, but it also faces being the last orphan of last September's quick schedule changes. Because the plot features both a plane hijacking and a stolen nuclear bomb, it was judged to be too risky a property to release in the post-9/11 environment. Collateral Damage fared reasonably well under the circumstances, but I don't think Big Trouble will be as lucky since it is a much harder project to sell. A little under $7 million is a fair estimate for this, my most anticipated movie of April. Sigh.
Panic Room may suffer slightly this weekend, as although it is visually dynamic, it's a rather slight work from director David Fincher. There's really nothing to "get" in the film and I don't see repeated viewings as a high possibility, except by film students. Continuing the trend of frustratingly high post-opening-weekend drop-offs, about $18 million is likely for this thriller. After a strong showing in its second weekend, Ice Age had a sharper drop, even with a Good Friday boost. While this week has seen very strong weekday showings, with many schools on Easter break, this won't carry over through the weekend, and a fall to about $11 million is expected. After a quick start, it should end up with a final total between $160 and $175 million, depending on how the glacier crumbles. This falls well short of the $267 million posted by Shrek last year, but still gives Fox a very positive incentive to continue with feature animation. The Rookie is the returning film to watch, as it is specifically designed to be a crowd-pleaser. I wouldn't be entirely surprised to see this pass Ice Age in the weekend standings, making between $11 and $12 million. A Beautiful Mind actually decreased its weekend take after its Oscar wins, the first since Titanic to decrease after winning Best Picture. It was a decrease of only 4% to be sure, but surprising nonetheless. Expect its previous behavior to resume, and about a 30% drop for the weekend. The same should be seen for Lord of the Rings, which by adding a preview for The Two Towers, saw its weekend tally stay steady. It should now be two weeks, three at the most, before it breaks into the all-time top ten.
Forecast: Weekend of April 5-7, 2001

Projected
Rank

Film

Estimated Gross ($)

1

High Crimes

22.2

2

Panic Room

17.9

3

The Rookie

11.8

4

Ice Age

11.0

5

National Lampoon's Van Wilder

7.7

6

Blade II

7.5

7

Big Trouble

6.8

8

Clockstoppers

6.6

9

E.T. 20th Anniversary Edition

3.6

10

A Beautiful Mind

2.7