Weekend Forecast
for March 29-31, 2002
By Reagen Sulewski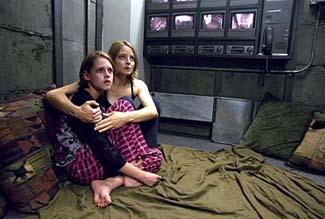 One of the strongest release slates ever for March continues this weekend, with at least one of the four new releases having a great chance to surpass $20 million. That would make for five films opening over $20 million this month, when no previous March has had more than two. In fact, with the exception of the DOA Sorority Boys, all wide releases this month so far have opened over $10 million. There's a chance all four openers this week could do that as well, achieving the kind of feat normally reserved for June or July.
Panic Room leads the group of four wide releases this weekend by a wide margin. This thriller from David Fincher presents an interesting twist on the locked-room genre, as the uniquely constructed vault of the title is the focus of a team of burglars and the inhabitants of the house who are locked in it. Promotion for this film has been top-notch, with a fantastic trailer early this year followed up by television spots that convey the same sense of creepy dread.
Jodie Foster hasn't been a very busy person lately, unless you call having your first child being busy. Wait; you would? Then never mind. Her last appearance on the big screen was 1999's Anna and the King, which was nothing short of a disappointment, opening to only $5.2 million and finishing with $39.3 million. Before that, we have to go back to 1997 and Contact, the intelligent sci-fi hit of that summer, opening to $20 million and ending up with over $100 million. Behavior like this makes her presence in the film tough to judge as a factor. Anna and the King wasn't really her type of role, or at least not the one that audiences may have been used to from her. It also violated my big-stars-with-phony-accents rule. This film gives her the opportunity to play more of the tough part she's known for.
David Fincher is one of the most visually kinetic directors in Hollywood today. Almost everyone is familiar with his MTV beginnings, but he is one of the few that have transcended the stigma of "MTV director". Although Alien3 was derided critically and by fans of the series, he came back with one of the most surprising hits of the '90s, Se7en. It opened to just under $14 million but finished with over $100 million. The Game improved on that opening total but was unable to capture the same lightning-in-a-bottle for total box office. 1999 brought his most controversial film so far, Fight Club, which was alternatively hailed as a masterpiece or a repellent piece of film, with little in-between. It's certainly grown in stature since it left theaters and whether it's liked or not, it definitely got David Fincher's name known. Panic Room should be a much less controversial film, as initial reviews have it as a pure Hitchcockian genre exercise. None of that nasty thinking to confuse audiences. The box office for Panic Room should represent a big step upwards from his previous three films and should pass his personal record, set back in 1993 with Alien3 at $23.1 million. Sony is certainly giving it the full push, with 3,053 venues. I predict a weekend of $25 million, which ought to be good enough for first place.
Second place among the openers should be a fight between two family-oriented films, The Rookie and Clockstoppers, although they come by their family appeal by very different routes. The Rookie isn't a film that would automatically fall into that category, but is a particularly odd animal these days, a non-animated, G-rated film. Although last year had The Princess Diaries, there hasn't been another in the previous five years in wide release that didn't have some kind of kids' TV-show tie-in. The Babe movies are perhaps separate from this, but it's easy to see how they fit in with the typical G-rated film. The point here is how unusual it is. It seems to be an obvious marketing angle, trying to attract younger audiences to this film, basically the polar-opposite of the R-rated Hardball. It has received terrific placement, with ads running throughout the NCAA basketball tournament. With opening day looming for Major League Baseball as well, interest in its subject matter is peaking. Dennis Quaid was at one time a jinxed actor, with even sure-fire projects he was attached to failing. Maybe he just looked too much like Harrison Ford for audiences. He does seem to have broken that streak after 2000's Frequency and Traffic, and this will be the first real test for standing on his own two legs. In a solid 2,511 venues and with the strong marketing power of the Disney family behind it, I see no reason why it can't reach at least $13 million.
Clockstoppers comes from a more obvious lineage, being produced by Nickelodeon Films. In a similar way to Spy Kids, this film employs a great deal of special effects. Obviously the effects popularized by The Matrix have become cheaper to produce, as the notion of stopping time and rotating the picture are featured prominently in the ads. The effects look pretty good and they have to, as there is virtually no star power on which to hang the hopes of the film. French Stewart, formerly of 3rd Rock from the Sun, is perhaps its biggest name, with Jesse Bradford of Bring it On also possibly having some recognition. The most well-known person involved in the production is likely its director, Jonathan Frakes (yes, Riker), but that's unlikely to get more than the most fanatical of Star Trek fans into theaters, and they don't tend to bring dates. While the family market is quite active in theaters in recent months, I wonder if this, the fourth film serving this market in just three weeks (along with ET and Ice Age) won't represent a glut. I predict that it will fall short of The Rookie, earning about $11 million.
Death to Smoochy, while rating very high on my own personal want-to-see list, doesn't appear to have tremendous potential this weekend. Audiences have never particularly gone for strange films, and this certainly qualifies. Robin Williams plays a popular child star who goes a little off in the head and, after being fired, attempts to kill his replacement. While most of the world, I'm sure, wants to see the death of purple, overly-cheerful children's entertainers, I'm not sure this is going to satisfy them. The recent ads for the film have been noticeably shorter, perhaps a sign that the first ads were being poorly received and they were cut to lower costs. I don't think it's a successful strategy, since if I weren't already pre-sold on the concept, these ads wouldn't convince me to see the movie. I hope this is just a case where the studio didn't know what to do with a film rather than a stinker. It reminds me of Being John Malkovich, another film that audiences and marketing people just didn't quite get at first. I predict a dismal performance of about $6 million. I think we can thank Robin Williams that this even got wide release this weekend.
Blade II surprised some by taking first spot last weekend, although there is little chance of it repeating. Action genre films such as this tend to fall precipitously, as evidenced by Resident Evil's dramatic 60%+ slide last weekend. That would be a very extreme prediction for Blade II, as it was much better received by critics and fans. I think a solid 40-45% drop to between $18-19 million should satisfy its producers for this weekend. This would be a very good showing in light of its fan-boy nature and sequel status. Ice Age, last week's number-two film, should slip past it, as it ought to improve on last weekend's 33% drop. It experienced a high drop from Friday to Friday, but picked up the pace on Saturday, dropping less than 30%. I expect similar behavior and a $21-22 million weekend. ET is an interesting case for this weekend. Re-releases have had very different patterns after their first weekends in the past few years, ranging from leggy (Star Wars and The Exorcist) to one-and-out (Grease). With the obvious children's theme to this film, it should be able to last a few weeks, performing well; however, I wouldn't expect it to last more than a few weeks before it plays itself out. A weekend of about $9 million makes sense, reviewing past data. ET should get enough to pass Star Wars Episode I, but I hold out little chance of it surpassing the original Star Wars.
Oscar-winning films from last weekend look to make their impact this weekend, with A Beautiful Mind, Lord of the Rings and Monster's Ball looking to reap the biggest benefits. An up-tick of up to 50% would not be a surprise for any of these three films. In addition, Lord of the Rings is attaching a special preview of its next installment, The Two Towers, at the end of the film. I'm not sure that this will add a tremendous amount of viewers, in the same way that a Star Wars trailer really didn't do much for Ice Age. Lord of the Rings should definitely cross $300 million this weekend though, even as it loses a few venues. Depending on its performance this weekend, we can expect a final total of around $315 million. A Beautiful Mind should be able to achieve over $175 million, based on its wins for Best Picture, Director, Supporting Actress and Adapted Screenplay. The most publicized individual winner would have to be Monster's Ball's Halle Berry, winning for Best Actress. I expect a significant increase for this film, perhaps even 100%, as curious viewers see what the fuss is about.
Forecast: Weekend of March 29-31, 2000

Rank

Film

Number of Sites

Change in Sites from Last

Estimated Gross ($)

1

Panic Room

3,053

New

25.3

2

Ice Age

3,333

-18

21.3

3

Blade II

2,707

No Change

19.0

4

The Rookie

2,511

New

13.6

5

Clockstoppers

2,540

New

11.1

6

E.T. The Extra Terrestrial

3,007

No Change

8.9

7

A Beautiful Mind

1,550

+95

6.2

8

Death to Smoochy

2,164

New

5.8

9

Showtime

2,321

-596

4.4

10

The Lord of the Rings

1,120

-197

3.6

11

Monster's Ball

676

+133

3.0

12

We Were Soldiers

2,046

-813

2.8