Weekend Forecast
for March 15-17, 2002
By Reagen Sulewski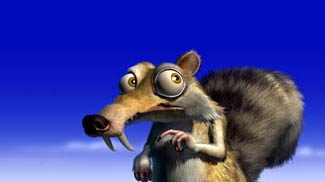 Three major-league films tackle the box office in the first big dogfight for opening films this year. All are aimed at very different audiences, so direct competition should be minimal. However, the weekend crown is very much up for grabs. Only one thing is certain this weekend, that one of Ice Age, Resident Evil or Showtime will supplant The Time Machine as the number-one film this weekend.
Ice Age appears to be the film with the most going for it; computer animation sells now, as long as there is both kid and adult appeal. This past year saw two of its biggest films be computer-animated films, Monsters, Inc. and Shrek. It's not quite that easy, though. The primarily kid-oriented Jimmy Neutron had success over Christmas, but the "mature" Final Fantasy sunk a studio after the initial curiosity about its photo-realism faded away to indifference over its storyline. Ice Age decidedly falls into the category shared by recent Pixar films, as well as DreamWorks' brand of animation. The question will be how well another studio might be able to establish itself in this ultra-competitive market. Both Sony and WB have turned their tails and run after expensive flops. Fox has done well in raising awareness for Ice Age; a brilliant teaser trailer, good enough to be its own short film, started appearing in the middle of last year. In a similar fashion to Disney's Dinosaur, however, a brilliant teaser did not mean that later commercials would look as good. Dinosaur was able to translate that into a $38.9 million opening, trading mostly on the Disney name. Ice Age doesn't have that advantage, but on the other hand, its ads do look better. Fox has also pulled out all the stops in the press, using a natural Winter Olympics tie-in and also incorporating the film into its Fox Network promos.
The star power of voice actors has become an issue with recent CG films, started initially by the appearance of Tom Hanks and Tim Allen in Toy Story. Where traditional animated films have continued to go with no-name or lesser-name actors, CG films seem to rely almost exclusively on marquee names. It's a bit weaker than usual for Ice Age, with Ray Romano getting the most press. I don't anticipate his name, or Denis Leary's or John Leguizamo's names having too much of an effect. I don't see ice Age reaching the lofty heights of Shrek or Dinosaur, and certainly not Monsters, Inc. Approximately $28 million should be an excellent showing, with typically strong legs for a children's film.
Resident Evil is my pick to surprise and come up the middle for the number two spot. Although it lacks the star power of the third opening film this weekend, Showtime, it has presented ad after ad of sharp, fresh-looking action. A number of different commercials are in rotation, each playing up a slightly different angle of this cross-genre film while still reinforcing the overall feel of the film. Action, horror, sci-fi and black comedy all are promoted in this latest video game-to-film transition. They also succeed in making waify Milla Jovovich look convincing as a bad-ass. Last summer's Tomb Raider presented a breakthrough for video game-based movies, as it was the first to truly become a hit. Resident Evil certainly doesn't have the character base of that film, with little mainstream awareness of its Lara Croft character. However, for a comparison, I look not to that film, but to another surprise from last year, The Fast and the Furious. With a minimum of star power, that film promised action and delivered, shocking many with a $40+ million weekend. That would be quite outlandish a prediction for this film, but a weekend total of $20-21 could be in the cards.
The third film of this weekend, Showtime, seems strong on paper, but its elements break down when brought together. Robert DeNiro, after 30 years as a tough-guy character actor, has suddenly found himself in the unusual spot of being a comedic draw. Trading in on his tough-guy stereotype, starting in Analyze This, he has enjoyed the greatest success of his career. Interestingly enough, a move back to drama was one of his weaker showings at the box office in the past few years, as last year's 15 Minutes opening weekend of $10.5 million was a step backwards from the tremendous success of the runaway hit Meet the Parents. Eddie Murphy also is at an unusual place in his career, as the former raunchy SNL comedian is now a high-powered family-film draw, in films like the Dr. Dolittle series and Shrek. They combine this weekend to play off their stereotypes as LA cops in a reality show. Films about the entertainment industry and/or the media have never really fared that well; although the media likes talking about and analyzing themselves, it appears no one else really cares. Strange ad campaigns, as we've seen for Showtime certainly don't help, as the initial, explanation-free ads would leave a viewer puzzled as to exactly what the film would be about. Recognizing this, ads have appeared in the past few days with a voice-over, but the damage is done; that lost period of enticement is gone. With 2,917 venues, Warner Bros. is giving it plenty of support, but I don't see this one grabbing the attentions of many. The play off the stars' stereotypes should be good for $12-13 million the weekend, but I wonder how many more times they can both go this well before it runs completely dry.
A fourth new film debuts on a slim 398 screens this weekend. Harrison's Flowers tells the story of a woman who travels to Yugoslavia to try and find her journalist husband. A Lifetime channel film with a big budget, I don't expect much out of this film, as little promotion and zero star power don't allow much chance for success. Andie MacDowell has never been the lead draw for a film and she doesn't have much support elsewhere, although fine actors Elias Koteas and David Strathairn are also supporting players. I would be surprised to see this film earn over $1 million this weekend.
The Time Machine is the largest returning film; $22.6 million gives it ample opportunity to become a very profitable film. However, this seems unlikely, as aside from younger viewers, most audiences were disappointed with it. I personally felt it presented some interesting ideas in the first portion of the film and sympathize with those who feel it abandoned them in the second half for some lifeless set pieces. I don't think it will have a disastrous fall, but 45% or so to around $12 million will be severe enough. We Were Soldiers had an impressive 29% drop last weekend, holding at around $14 million. A continuation of this trend would put it slightly below $10 million. It needs more than that to really live up to the potential of a Mel Gibson movie. All About the Benjamins should follow the trend of black films to be front-loaded; I expect a take between $5 and $6 million this weekend. In milestone news, A Beautiful Mind may cross $150 million this weekend; at the latest, this will happen before the Oscar telecast on the 24th. Lord of the Rings should pass yet another film on the all-time list this weekend, moving past The Sixth Sense's $293.5 million into 11th place.
Forecast: Weekend of March 15-17th, 2002

Rank

Film

Number of Sites

Change in Sites from Last

Estimated Gross ($)

1

Ice Age

3316

New

28.3

2

Resident Evil

2528

New

20.7

3

Showtime

2917

New

12.6

4

The Time Machine

2958

+14

12.1

5

We Were Soldiers

3143

No Change

9.5

6

All About the Benjamins

1519

+14

5.2

7

40 Days and 40 Nights

2312

-82

4.5

8

John Q

2019

-363

4.0

9

A Beautiful Mind

1530

-273

3.4

10

Return to Neverland

1895

-613

2.8

11

The Lord of the Rings

1101

-109

2.4

12

Dragonfly

1785

-646

2.3