Weekend Forecast
for March 8-10, 2002
By Reagen Sulewski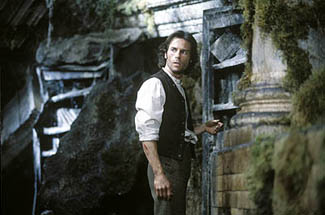 Once positioned as a major event movie, The Time Machine limps to theaters almost three months after its scheduled debut. Originally positioned as a Christmas release, it was pushed back for marketing concerns (read: some studio exec hated it), and now finds itself as a tent-pole March picture, if such a thing exists. Old studio habits die hard, so March has been the last month to see a shift in release patterns. The monthly opening weekend record for March is the oldest one currently on the books, and dates back to 1997 and Liar Liar at $31.42 million. DreamWorks is hesitantly betting on it for this month, with a slightly revamped marketing strategy. An initial teaser was more confusing than anything, as it made it look like a car commercial (the recent Toyota Matrix ads playing in theaters have done little to sharpen the line between movie and commercials). Then came the trailers themselves, which looked highly derivative of (the remake of) Planet of the Apes. While the book The Time Machine was around long before Planet, the parallels are uncanny. Time travel? Check. Subjugated humans? Check. Obligatory non-actor babe? Check. Unrecognizable distinguished British actor choking the protagonist? Double-check.
Instead of dwelling on these similarities to a movie that most people seem to now want to forget, ads now focus on more of the F/X and sci-fi angles, with some truly outstanding-looking time-lapse shots. This is also the big chance for Guy Pearce, who hasn't really been the Hollywood go-to guy up until now, despite appearing in some highly-regarded projects. He broke into the general consciousness in a big way in LA Confidential, but leaving aside the little-seen Ravenous, the next thing anyone saw him in was a bad-guy supporting role in Rules of Engagement three years later. After that came the indie triumph Memento, but that still doesn't establish a leading-man track record. The Count of Monte Cristo this January has been a moderate-size hit, but again, he is not the lead, again playing the heavy, this time to Jim Caviezel. It's certainly possible that DreamWorks had been anticipating a Best Actor nomination for Pearce for his role in Memento, hoping to see a boosting effect like what may have occurred with Denzel Washington and John Q. Without that, however, it's going to depend entirely on the sale of the concept. In 2,977 venues, it certainly should be available to everyone; however, this feels more like a grab-and-run, taking into account the unenthusiastic remarks from the studio itself. Perhaps it's all a game of lowered expectations, but it's a missed opportunity if it's not. A more energetic feel from the studio might have made this into a terrific hit, but it appears this one will stick to the mid ranges of success, at best. $17.5 million should be its take for the weekend.
All About the Benjamins is the latest from Ice Cube, who has been one of the rappers-turned-actors who has proven himself as a draw. Besides Ghosts of Mars, which wasn't good for anyone but Cahiers du Cinema (French people are quirky), Ice has had mostly successes. Next Friday was a hugely profitable hit in January of 2000, and has inspired another sequel later this year. I feel that his movies are more successful when they involve his comedy, which plays more to his natural charisma, and this is an angle that Benjamins seems to be attacking. Something of a combination of Midnight Run and Lethal Weapon, Ice Cube stars as a bounty hunter who teams up with a bail jumper to track down a diamond-smuggling ring. With plenty of action in the ads and a goofy, self-mocking tone, All About the Benjamins should make a very strong showing this weekend. As befitting typical patterns of African-American-targeted films, Benjamins bows in only 1,505 venues, but this shouldn't be much of a handicap for at least getting into the teens. $13-14 million is my call for this film this weekend.
There's a third film this weekend getting its own wide release, in a way; as every man, woman and child in Canada knows, Men with Brooms hits theaters in Canada this weekend. After a blitz campaign during the Olympics, I think there are dead people who know about it, too. The Canadian attempt at a Full Monty, this film is about the sport of curling, insanely popular in Canada and...hey, why are you laughing? In a wide-for-Canada 176 venues, it has a decent chance at breaking the weekend top ten, since the weekend figures are North American totals. It'll have a ways to go to beat the all-time highest-grossing Canuck film, Porky's (no, really), but it certainly has a head start on the typical domestic film in the Great White North. Director/writer/actor Paul Gross will probably be familiar to most as the lead from the TV show Due South, and that's just one of the many Hoser qualities this film possesses. I haven't met anyone here in Canada who, when asked, hasn't expressed at least a passing interest in this film, which is odd, considering the national inferiority complex that causes us to treat domestic films like a dentist's appointment; we'll go once a year, but only if we have to. Curling became the "buzz" sport during the Salt Lake Olympics, so a very successful run in Canada could make for a States-side debut. I expect between $2 and 2.5 million this weekend.
We Were Soldiers is the top returning film this weekend, with a solid if unremarkable $20 million debut. Extremely solid CinemaScores give it a decent chance at repeating as number one should The Time Machine falter; I see a very good chance at $14 million or more this weekend, or an above average 30% drop or less. This would also be consistent with the older age demographic that this film attracts, which tend to be late adopters of a film. 40 Days and 40 Nights received poor scores from that older age group, but no matter, as the target audience is really 18-to-30-year-olds. They should give it a strong support, although as they tend to be early adopters, this may not be a huge effect. It certainly shouldn't lose any ground to any other returning films. John Q is the closest film to that, but is almost a full $4 million behind it. Checking milestones, Harry Potter will inch across $315 million, The Lord of the Rings will cross $290 million, passing The Empire Strikes Back for 12th place all time, and Snow Dogs has already beaten $75 million, which proves kids will see just about any old crap.
All in all, this is a very intriguing weekend, with a large number of scenarios that can play out in the top ten drama. This is definitely one of the more interesting March weekends in quite awhile.
Forecast: Weekend of March 8-10th, 2002

Rank

Film

Number of Sites

Change in Sites from Last

Estimated Gross ($)

1

The Time Machine

2944

New

17.5

2

We Were Soldiers

3143

No Change

13.9

3

All About the Benjamins

1505

New

13.6

4

40 Days and 40 Nights

2399

+174

7.8

5

John Q

2382

-74

5.5

6

Return to Neverland

2498

-120

4.9

7

Dragonfly

2430

-77

4.1

8

A Beautiful Mind

1790

-172

3.4

9

Big Fat Liar

2070

-162

3.2

10

The Lord of the Rings

1210

-93

2.6

11

Crossroads

2173

-128

2.4

12

Men With Brooms

176

New

2.3