Weekend Forecast
for February 22-24, 2002
By Reagen Sulewski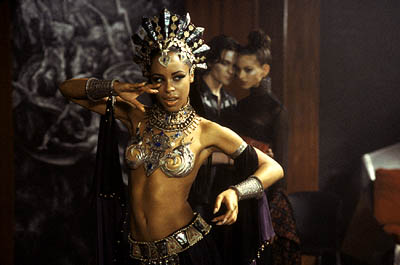 After the chaos of last weekend's five opening films, only two challenge for box office glory on this, the final weekend of the 2002 Winter Olympics. They will fight not only with those second week films but also with the tremendously deep slate of older films, which saw 17 movies earn $3 million or more over the President's Day holiday weekend. You'd almost think it was Thanksgiving again.
Dragonfly, a supernatural thriller starring Kevin Costner, has higher profile of the two. Although he's become an industry punchline, Costner still commands a movie star's billing. Thirteen Days was a highly respected film and did well for a historically themed film with no special effects. Unfortunately, he's also mixed films like Thirteen Days in with horribly chosen scripts like 3000 Miles to Graceland. On the surface that would appear to not be the case with Dragonfly, as it was once chosen as the best unproduced screenplay in Hollywood. It appears to be positioning itself as a kind of spiritual Sixth Sense-type film, complete with prescient children. It also bears a superficial resemblance to the recently released Mothman Prophecies. The Mothman's $11.2 million would have to be considered a basement mark, as that film opened in heavy traffic and with a lesser star in Richard Gere driving the ads. The director of choice for this script, Tom Shadyac, may appear odd if I mention that he has made his career directing Jim Carrey comedies until you realize that he is the person who was at the helm on the 1998 hit Patch Adams. On paper this film would seem to have a good head start on success. At the very least it should be the best opening film for Kevin Costner in quite some time although that may not be saying too much. With a more reliable star in the lead role, I could have seen this film opening to over $20 million easily, but given the shaky record of Mr. Costner, I will have to downgrade this film's opening potential to the mid teens, at around $16 million.
A decidedly infamous film, although through no fault of its own, is Queen of the Damned. This sequel to the adaptation of Anne Rice's Interview with the Vampire instantly received a higher profile as the last film starring Aaliyah before she died in a plane crash in the Caribbean. Awareness will be there, at least for fans of Aaliyah, but what is not there is the original Lestat, Tom Cruise. Instead we have Stuart Townsend in his biggest starring role so far, at least in Hollywood terms. This disconnects from the first film and loses the film a tremendous potential boost; the uninitiated viewer of the commercials would have no reason to associate the two films. On the whole, this film has the feel to it of a Dracula 2000, or perhaps, if one were feeling generous, From Hell. Even with the free (if morbid) publicity this film receives as a matter of course, I don't see a weekend take of more than $6 million.
The returning opener with the best chance to take number one is of course, John Q, with a four-day total last weekend of $23.6 million. A very strong A Cinemascore should allow it to keep a very good amount of its business, and there will likely continue to be overflow support related to Denzel's Oscar nomination. The numbers are against it repeating as number one but it should make things interesting. Britney Spears' Crossroads, taking in, I dare say a shocking $17 million last weekend probably won't be able to hold much of that audience. Front-loading is a common feature of teeny-bopper films and with the primary appeal of this being something of a gimmick film, the time spent in the upper portion of the box office will likely be small. Return to Neverland is more likely to take the third slot this weekend than Crossroads, as it is a rare children's film that doesn't show above average legs.
The sheer depth of the field should keep all the Oscar contenders excepting A Beautiful Mind out of the top ten again this week, although they will by no means disappear. The field will thin out in a few weeks and at that time, In the Bedroom, Gosford Park, I Am Sam and Monster's Ball all may make an appearance in the coveted top ten list.
Forecast: Weekend of February 22-24, 2002

Projected
Rank

Film

Number of Sites

Change in Sites from Last

Estimated Gross ($)

1

Dragonfly

2,507

New

16.1

2

John Q

2,505

+39

13.6

3

Return to Neverland

2,626

+21

9.7

4

Crossroads

2,381

+1

8.1

5

Big Fat Liar

2,420

-114

6.5

6

A Beautiful Mind

2,040

-41

6.1

7

Queen of the Damned

2,511

New

6.0

8

Collateral Damage

2,410

-414

4.9

9

Hart's War

2,459

No change

4.5

10

Black Hawk Down

1,802

-248

3.9