Weekend Forecast
for February 8-10, 2002
By Reagen Sulewski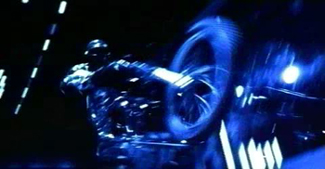 Collateral Damage and Rollerball, two troubled productions that were both delayed for very different reasons, have their fates entwined this weekend as they both finally hit the big screen. With none of the returning films from last weekend likely to surpass $10 million at the box office, one of these two films could, by default, take first spot at the box office and provide at least a one-week vindication for their respective marketing campaigns. Big Fat Liar, another film aimed at the children's market, arrives as well, and could also contend for the top spot over the frame.
Arnold Schwarzenegger has seen a steady decline in his star power ever since his peak in 1991 at the time of Terminator 2's release. His biggest-ever box-office opening actually occurred after this film, but that was Batman & Robin, and we all know how that turned out. Seemingly can't-miss projects such as End of Days and The 6th Day flopped (and if I may opine in the case of The 6th Day, undeservedly so), and now he has suddenly forgotten his objection to doing Terminator 3 without James Cameron. But I digress. Collateral Damage is the latest in the recent series of unintentionally-relevant films in the past few months. The story of a firefighter who seeks revenge on a terrorist who kills his family in an explosion, it's impossible to not look at this film without seeing the parallels to the incidents in New York and Washington, DC last year. For this reason, it was initially shelved from its October release date so as to not appear to be capitalizing on those incidents. While you don't want to talk in terms of a film being helped by world events such as this, topicality has never been a debit towards a film, with the possible exception of Primary Colors. On the other hand, no one is pretending this is a sophisticated, socially-redeeming film with thoughtful views on world politics and anti-terrorist actions; it is, after all, a blow-up-the-bad-guy film, Commando with heart. The last film in Arnold's oeuvre that really resembles this new release is Eraser, and there are some similarities with director Andrew Davis's most successful film, The Fugitive (both $30 million openers, with inflation). In particular on that front is an obvious homage to Harrison Ford's fall from a hydroelectric dam, which appears in Collateral Damage's commercials. I think it's important also to note that, while it does carry the scarlet letter of delayed release, it's not due to any disastrous test screenings. This film ought to be able to take advantage of its topicality and slick ads to a $16-17 million opening weekend.
Rollerball, on the other hand, was simply delayed to salvage the film. An update of the 1975 James Caan film of the same title, this production has had trouble stamped all over it since the first screenings. Reportedly, the first cut was unwatchable. Silk purses rarely come from the sow's ears of Hollywood and often end up just looking like someone's had a go at it with a chainsaw. There's an awful lot of comparisons to be made here to The Avengers, where an update of an old concept just goes wrong and all that's left is to hope for life on video. It's doubtful that anything can be salvaged for this cinematic whipping-boy, though. Add up another disappointment for MGM, and a $7 million dollar weekend, filled mostly by the morbidly curious and the undiscriminating.
Recently, it has seemed that all that has been necessary to launch a successful kids' film is to make sure you get ads on TV and use a lead with a familiar name. Don't worry about how good it is; it'll sell itself as long as it exists. How else to explain Snow Dogs, other than a malevolent deity? Big Fat Liar tests the theory with Malcolm in the Middle's Frankie Muniz. Previous to his TV fame, he had a respectable success with My Dog Skip, which made $34 million with little promotion. Success in a sit-com, of course, is no guarantee for movies made by its cast members; just ask any member of the Friends cast or David Duchovny. It is a different situation with young audiences, on the other hand, as they are typically more loyal. Sony is pushing this film well, and at 2,528 venues, I think $13 to 14 million could be in order for the weekend.
Last week's number one, Black Hawk Down, will finally step down after three weeks at the top and may even give another spot to Snow Dogs; it has stopped its initial steep slide, but Snow Dogs continues to carry well, dropping only 22%. These films, along with others like The Count of Monte Cristo and the continuingly strong A Beautiful Mind, will contribute to a log jam below second spot. A Walk To Remember was able to hold a great portion of its business; if this pattern continues, a $50 million take could be in the works for this film, which would have to be considered a small triumph. In limited release news, Miramax appears to have lost the platform battle with The Shipping News; after several weeks of slow increases in the number of venues, poor showings have dropped them from 357 venues to just over 200. This would appear to slam the door shut on any serious widespread Oscar potential for this film, although acting awards are always possible.
Forecast: Weekend of February 8-11, 2002

Projected
Rank

Film

Number of Sites

Change in Sites from Last

Estimated Gross ($)

1

Collateral Damage

2,824

New

16.7

2

Big Fat Liar

2,528

New

13.3

3

Snow Dogs

2,454

No change

7.0

4

Black Hawk Down

2,964

-179

6.8

5

Rollerball

2,762

New

6.7

6

A Walk to Remember

2,311

-109

6.6

7

A Beautiful Mind

2,220

-50

6.3

8

The Count of Monte Cristo

2,199

-12

5.9

9

The Mothman Prophecies

2,275

-56

4.9

10

Lord of the Rings: The Fellowship of the Ring

1,706

-549

4.0