Weekend Forecast
for February 1-3, 2002
By Reagen Sulewski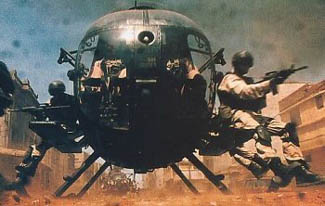 With most of the continent focusing its attention on New Orleans and the 36th Superbowl this weekend, the story is definitely not the two new films in the market. Superbowl Sunday will suck the life out of theaters for that day, excepting female-targeted films (hey, it's not a stereotype if it's true). This is one of the few documented cases of a calendar event directly deflating the box office. In other words, you'll never see an Arnie flick open against the Superbowl (or maybe you will, if his career keeps on his current path).
The battle for first place this weekend will be between the incumbent, Black Hawk Down, and a surprise challenger, A Walk to Remember. BHD's $17 million performance last weekend gives it the clear early advantage, but its week-to-week performance was not that strong, falling all the way from a $29 million three-day total over the previous holiday weekend. I expect a little of the slide to halt on Friday and Saturday, but this should also be one of the films most affected by Superbowl Sunday. A drop of up to 70% from Saturday's numbers is not uncommon, as compared to a more typical number of 40%. A take of about $10 million should be expected.
I give a chance to A Walk to Remember to grab the top spot due to its overwhelmingly female audience. Warner Bros.' figures show an amazing 83% female audience, which is the kind of thing you'd only see at a Natalie Merchant concert. With extremely high approval from this audience (it scored As across the board from females at CinemaScore), this will be the activity of choice for football widows on Sunday. Ultimately, I don't think it will surpass Black Hawk Down for top spot, but it ought to make it a very close race at just less than $10 million.
A Beautiful Mind also should make a run at the title; its Golden Globe win for Best Picture caused it to hold even across last weekend. This effect probably won't last for a second weekend, although a modest 20 to 25% drop would not be unexpected.
Slackers is a film that likely makes Richard Linklater cringe at the thought that his indie masterpiece Slacker could possibly be confused with it. With names like Jason "Rushmore" Schwartzman and Devon "Idle Hands" Sawa attached, you would think that perhaps this is just a case of marketing not knowing how to sell a film. You could strain and maybe, somehow, see a good film lurking under painfully forced ads. However, as reviews start to trickle in, it seems that no, the film may really just be that bad. The ad campaign has turned slightly schizophrenic as Friday approaches, which as regular readers may know, is a particular sign to me of a bomb waiting to go off. Final Destination, Sawa's last film, did surprisingly well for a film with basically no star-power, opening a hair over $10 million in March of 2000. James King, the female lead of the picture, recently appeared in Pearl Harbor and Blow, but these hardly count towards her status for this situation; neither was anything resembling a lead role. With Sony's indie arm, Screen Gems, dumping this out there at a modest 1,893 venues, this looks like a very good candidate for this weekend's disaster. I would not expect it to earn more than $5 million for the weekend, and that is probably being optimistic.
The oft-delayed Birthday Girl shows up as well, in an even 1,000 venues. No doubt hoping to ride the wave of Nicole Kidman's dual Oscar run for The Others and Moulin Rouge, this film has Kidman as a Russian mail-order bride who marries Ben Chaplin. High-jinks ensue and lessons are learned. Moulin Rouge and The Others were both surprise mid-level hits this summer, opening to around $14 million each, with The Others showing remarkable staying power and nearly reaching $100 million. I don't expect this one to do nearly that well and it appears that neither does Miramax, or it would see more than a kilo-venue. I've also seen very little promotion for this film, and it appears that Miramax is giving it the bare-minimum push. I expect a total of about $5 to 6 million for the weekend.
The four other one-week-old films in the marketplace each should suffer slightly this weekend, with The Count of Monte Cristo looking to have the best chance at some staying power, and Kung Pow! most likely dying very quickly, as is typical of spoofs lately.
Forecast: Weekend of February 1-3, 2002

Projected
Rank

Film

Number of Sites

Change in Sites from Last

Estimated Gross ($)

1

Black Hawk Down

3,143

+43

10.0

2

A Walk to Remember

2,420

+9

9.4

3

A Beautiful Mind

2,250

+13

9.2

4

Snow Dogs

2,426

-14

8.6

5

Count of Monte Cristo

2,211

+204

7.2

6

The Mothman Prophecies

2,331

No change

6.8

7

I Am Sam

1,303

+35

5.4

8

Birthday Girl

1,000

New

5.3

9

Lord of the Rings: The Fellowship of the Ring

2,309

-394

4.9

10

Slackers

1,893

New

4.2