Holiday Forecast
for December 25-29, 2002
By Reagen Sulewski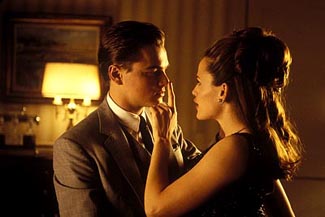 The Christmas stockings of theater patrons arenít quite as full as last year's edition, but even this smaller package offers some excellent presents to be unwrapped on Christmas Day. Catch Me If You Can, the second film of the year for Tom Hanks, Leonardo DiCaprio and Steven Spielberg, is the sole new release that everyone will be able to see. Roberto Benigni brings a beloved classic to life in a smaller number of theaters; meanwhile, the usual slate of limited releases in Oscar contention also arrives, but the weekend will belong once again to the hobbits.
The Two Towers answered many questions last weekend regarding the demand for the series and how it has grown since last December's Fellowship of the Ring. With a $62 million weekend, it jumped about one-third in earnings over the first film. This also puts it in position to challenge for the title of highest-grossing film of 2002, a distinction that Fellowship just missed for 2001. To do so, the film is going to need to match the impressive hold that Fellowship saw in its second weekend, when it dropped less than 20%. In the hyper-profitable Christmas week, this is probably feasible.
With a more action-oriented film (and yet, at the same time, still heavily character driven due to its split narrative), The Two Towers may have found the only formula that could improve on the staggering success of Fellowship. If it does hold to the same pattern across the holiday period, its second weekend will be near or above the $47 million first weekend of Fellowship, and may earn it another $100 million by the 29th. A $200 million total by this point would make it 12 days to reach this point, while Fellowship took 19 days.
Rare is the director that can complete two Hollywood pictures in one year, let alone make both of them excellent entertainment. Steven Soderbergh was probably the last to turn this trick in 2000, getting Oscar nominations for both Traffic and Erin Brockovich, but Steven Spielberg is also no stranger to this feat, as his credits include the 1993 tandem of Schindler's List and Jurassic Park. He has the opportunity to repeat that success this year as he follows up this summer's Minority Report with Catch Me If You Can, a film many are calling Spielberg's most fun movie in years.
It's also a very different movie than we're used to seeing from Spielberg, who usually tells larger-than-life tales instead of caper films such as this one. Maybe he'll work in an alien or something. To be fair, the story is somewhat unbelievable; its protagonist, Frank Abagnale Jr., had impersonated a doctor, lawyer and airline pilot on five different continents as well as cashing forged checks worth over $2 million, all by the age of 18.
Abagnale is played by Leonardo DiCaprio, who after nearly disappearing from screens for two years has two movies out less than one week apart (blame the Gangs of New York crew for delaying themselves for over a year). DiCaprio has been unfairly tagged with the heartthrob label ever since Titanic, with all of his subsequent films labeled as failures because they didn't match that performance. He's got some help in the person of Tom Hanks, as steady a box office draw as anyone in the business.
This film might be well described as this year's equivalent to Ocean's 11 with a somewhat smaller cast. Catch Me If You Can is still nothing to sniff at, as in addition to Hanks and DiCaprio, it also boasts a supporting cast that includes Christopher Walken, Martin Sheen and Jennifer Garner. As fun and light entertainment, this could be a good consensus choice for families looking for a diversion on Christmas Day. A Friday-to-Sunday total of $34 million would not be out of line, with about $50 million for the five-day period that begins on Christmas Day.
Roberto Benigni is 50-years-old. Pinocchio, though a wooden puppet, is supposed to be a boy of about 12. Robert Benigni is playing Pinocchio. Anyone see a problem here? Frankly, I just find the whole thing creepy. Okay, the Italians went nuts for it, but it's their story. Looking like nothing else but a forgotten Fellini film, your appreciation of this film will probably come down to one thing; do you find clowns scary? If the answer even slightly tends toward yes, you're probably best advised to stay away.
Positioned as Italy's entry for the foreign language feature category at the Oscars, it seems more likely to make an impact at the Razzies. Okay, it should be in the mix for Art Direction and categories such as that, but if I wanted to be bored and disturbed for two hours while looking at pretty colors, I'd go to an art museum. Starting on a modest 1,200 venues, Pinocchio will be lucky to get away with about $5 million for three days and $8 million for five. Italy should be thankful we don't consider this an act of war.
Several Oscar contenders open in limited release on the 27th, with three of them coming in with strong pedigrees. Chicago led the Golden Globes with eight nominations, which really helped to boost the filmís credibility since the musical genre is still something of a bastard child, even after last year's Moulin Rouge. With Richard Gere, Renée Zellweger and Catherine Zeta-Jones, Chicago has a strong leading cast but will still need a strong limited performance, perhaps combined with a win at the Golden Globes to make a big box office splash.
The Hours has a not-too-shabby seven nominations at the Golden Globes and has perhaps even more of a star-studded cast with Nicole Kidman, Meryl Streep, Julianne Moore and Ed Harris in a complex narrative revolving around the works of Virginia Woolf. It'll be a tough sell for casual film fans but appears to registering well among critics.
Forecast: Weekend of Dec 27th-29th

Rank

Film

Number of Sites

Change in Sites from Last

Estimated Gross ($)

1

The Lord of the Rings: The Two Towers

3,622

No change

47.1

2

Catch Me If You Can

3,156

New

34.2

3

Two Weeks Notice

2,755

No change

9.7

4

Gangs of New York

2,170

+666

7.6

5

Maid in Manhattan

2,938

+72

6.8

6

Harry Potter and the Chamber of Secrets

2,505

-245

6.4

7

The Wild Thornberrys Movie

3,012

No change

6.3

8

Pinocchio

1,195

New

4.8

9

Drumline

1,837

No change

4.6

10

Star Trek: Nemesis

2,642

-69

3.2