Weekend Forecast for
December 25-28, 2003
By Reagen Sulewski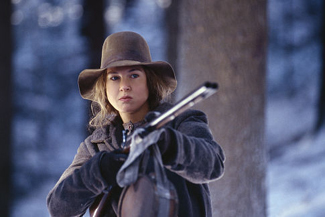 2003 steps aside for 2004 soon, but before that, there's one last weekend's worth of movies to release. With the week between Christmas and New Year's Day acting like another weekend in itself, there's room for all comers; four wide releases join the fray, while numerous films open or expand in limited release in one of the last chances to improve their Oscar hopes.
It's still The Lord of the Rings' weekend, and will be for at least the next two or so. The third and final edition of this trilogy broke the December opening weekend record yet again, accumulating $72 million from the pointy-hats and robes set on the weekend and $125 million in its first five days. A full $20 million more than The Two Towers took in over the same period; the Rings series has clearly built a fanbase through the course of its run. Towers' first five days beat Fellowship by a tally of $102 million to $94 million, a ratio that held up in the final totals. If this same pattern holds for Return of the King, we'll be looking at an eye-popping $400 million domestic total, which in turn will be dwarfed by its global total, a figure that is likely to surpass the $1 billion mark (and would be just the second film to do so, after you know what). For the third year in a row, Christmas weekend will be dominated by Frodo and company, this time to the tune of another $70 million from the 25th to the 28th.
Among the films taking on the family market (which is pretty much encompassed by Return of the King, but oh well) is Cheaper by the Dozen, starring Steve "Shut up, it pays the mortgage" Martin, Bonnie "Why Aren't I More Famous?" Hunt, Hilary "Three more years until I 'Christina' it up" Duff and Ashton "What Stupid Grin?" Kutcher. Based on a 1940s book and 1950s movie, this version of Dozen stars Martin as a college football coach with 12 kids (as if there wouldn't have been a trip to the vet after number five or six) who gets a big break by taking a job at a huge profile school. How ever will he balance this new life and his huge family? Apparently, you bring in someone with the emotional maturity of a carrot to relate to them, in the form of Kutcher, the boyfriend of the oldest daughter in the group. For some reason, Fox forgot to stick in the laugh track to this sitcom, but it should do well anyway (if they ate up Daddy Day Care, this should be no problem). Make it $24 million in four days.
In a bit of an upset, this is going to be more than the take for Peter Pan, the first live-action version of the book ever produced (Hook was close but no cigar). It's a luscious-looking production, with more eye-popping effects than might be expected, but could be a bit challenging and scary for very young children, something that may give the edge in the family film race to Cheaper By the Dozen. Let's give it an "A" for effort, though, as it's not shying away from the potentially uncomfortable subtext of the book (and play), with the idea that being a boy forever might not be such a great thing after all. The story is of course well known, but that's not always a sure thing for box office. Witness the atrocity that was Roberto Benigni's Pinocchio to see how quickly a project with a well-loved premise can go wrong. This is nowhere near that league, with reviews tending towards the positive. This version should manage about $18 million over four days but will probably not be the player that Universal had hoped, even as they've done a good job of positioning this one as a blockbuster.
Those looking for action that doesn't involve orcs and magic will turn to Paycheck, the latest film from John Woo and starring Infamous Man of the Year Ben Affleck. Based on a Philip K. Dick story, Paycheck is about an electronics wiz played by Affleck who reverse engineers stolen technology for a hefty sum but also pays a price himself; after completing his tasks, his memory of the incident is wiped (presumably leaving him free to rediscover Gigli on video again and again). This time, after three years, he's found that he's forfeited his money but left himself 19 clues as to why. What did his past self know that he needed to let his future self be aware of? Well, this is sci-fi and it's the same guy who wrote Minority Report, so you can probably piece this one together (Paramount's ads have just... danced... around the plot point enough that clever viewers should figure it out for themselves).
For a guy who was respected as a legend, Hong Kong director John Woo has seen his reputation crash since coming to Hollywood. Aside from the brilliant Face/Off, Woo's films have been, for the most part, panned, with his name becoming synonymous with "over-directed, indecipherably plotted mayhem." Affleck, on the other hand, is nursing a year of over-exposure that started with the decent performance of Daredevil but crashed in mid-August at the height of Bennifer backlash. Paycheck isn't going to help much, as a movie this high-concept really needs a strong sell (no Cruise or Spielberg here), something Paramount has been terrible at accomplishing this year. This one smells a lot like Timeline, the studio's most recent high-concept bomb. While it won't fare as poorly, it's not going to help erase that memory. Look for $15 million over four days.
Cold Mountain is this year's attempt to buy an Oscar by Harvey Weinstein. Admittedly, this Civil War epic has had buzz from the start, with Oscar winner Anthony Minghella (of The English Patient fame, wait, don't run away so fast) behind the camera and an all-star cast in front of it, including red-hot Nicole Kidman. The film looks at both the war and the effect it had on those left behind. What could have been a sure walk through to Best Picture is hitting speed bumps as it is getting dinged somewhat by critics for the romance being as cold as the eponymous mountain. A long delayed, long running-time period piece filled with violence by an honored director from Miramax -- this is looking to all the world as this year's Gangs of New York. It's worth noting, though, that Gangs managed to gross $77 million even with bad buzz preceding its release a mile long. Cold Mountain is debuting on a smallish 2,100 or so theaters and is being primed for a long run pending Golden Globe wins and/or Oscar nominations so this first weekend isn't as crucial as it could be. A $13 million take over four days could be a good building block for a mid-level success, though this $85 million production is something that Miramax is clearly hoping for big things from.
Mona Lisa Smile was certainly a disappointment by Julia Roberts standards, though as a life-affirming chick-flick, it's about par for the course. An $11 million take on opening weekend isn't great, especially for a film with Oscar hopes and a middling reception by critics, but it's not a disaster either. However, it's probably taking aim at a $60 million finish rather than $100 million plus.
Something's Gotta Give, but it's not the take of this film, as it experienced a gentle fall-off in its second weekend of release. The romantic comedy choice for the older crowd, it's ideally placed over Christmas to pick up some business from parents who've dropped off their children at the theater, and ought to hold steady at about $11 million over four days.
The two Christmas themed films out there, Elf and Bad Santa, both shed a significant number of theaters this weekend but should be able to take the loss, as both are the leggy phenomenons of the holiday season thus far. Elf has already earned almost five times its opening weekend to date, and family films often see a significant boost through this period. Bad Santa is much less of a family film (though you wouldn't know it by looking at its audiences) but its themes have clearly struck a chord, ducking the trend of black comedies to have a short lifespan. Watch for both to hold their grounds through this week as they make their last stabs at the box office.
Key expansions are The House of Sand and Fog (two to 438 venues), In America (146 to 325), 21 Grams (71 to 291), and Big Fish (six to 124). All are in some way hoping for Oscar attention, though Big Fish is the one with the most commercial potential, coming from director Tim Burton. A visual feast of tall tales, it's already attracted attention from the Golden Globes and as a semi-serious "father-issue" film, could be Tim Burton's first ticket to an Oscar nomination. None of these four films are likely to make an impact on the top ten through the week, but are interesting films to watch for January and expansion possibilities. 21 Grams may have already fizzled, earning only $3,600 per venue last weekend, with In America doing about the same albeit on a greater number of screens. House of Sand and Fog earned a decent if not spectacular (for two screens) $22,500 per venue and this low-key thriller still may make some noise. The well-intentioned Calendar Girls failed to get out of the starting blocks, earning just $6,000 per screen on 24 screens, not enough to merit a significant expansion in the long run, though it jumps to 42 on Christmas Day.
Also debuting is Monster, starring Charlize Theron in a role that is (improbably) being hailed as her breakthrough Oscar-caliber performance. Also starring Christina Ricci, Monster is an unflinching portrayal of real-life serial killer Aileen Wournos, who murdered several men as a hitchhiker in Florida. Not an easy film to take, it draws favorable comparisons with Boys Don't Cry, another film that ends tragically. It may not earn much, but it's already drawn recognition to Theron's acting, a miracle in and of itself.
Forecast: Weekend of December 25th-28th, 2003

Rank

Film

Number of Sites

Change in Sites from Last

Estimated Gross ($)

1

The Lord of the Rings: The Return of the King

3,703

0

70.2

2

Cheaper By the Dozen

3,298

New

24.5

3

Peter Pan

2,813

New

19.6

4

Paycheck

2,762

New

15.9

5

Cold Mountain

2,163

New

13.4

6

Something's Gotta Give

2,709

+32

11.1

7

Mona Lisa Smile

2,677

0

10.3

8

Elf

2,015

-436

6.1

9

The Last Samurai

2,557

-381

5.9

10

Bad Santa

1,710

-515

5.1