Holiday Forecast
for December 20 - 22, 2002
By Reagen Sulewski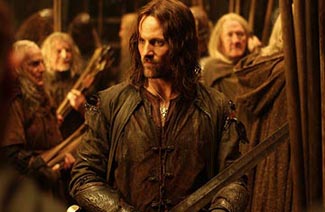 A number of the final releases of the year hit theaters this weekend, the last before Christmas. Headlining them by a wide margin is perhaps the most anticipated film of the year, The Lord of the Rings: The Two Towers. It's far from the only notable film this weekend, as there are at least six new releases (counting wide and limited) that have aims at Oscar nominations, in one category or another.
The first installment of the Lord of the Rings saga, The Fellowship of the Ring, surprised many last year on both sides of the equation. Boosters were a bit dismayed by "only" a $47 million opening weekend, while naysayers were humbled by the film's eventual $313 million gross, good for ninth all time and a stone's throw behind last year's champ, Harry Potter and the Sorcerer's Stone.
Though Spider-Man very likely has the yearly box office title wrapped up, this go-round for Frodo and company may very well do much better than this year's Harry Potter, as that franchise has lost a bit of momentum and Rings has gained it. Last year, Fellowship of the Ring was a bit of a question mark; few knew if Peter Jackson had successfully translated the novel to film, and fantasy films had always been a difficult sale.
The aforementioned box office bonanza, 13 Oscar nominations and two DVD releases later, no one's wondering anymore. The only real question is how many of those fans were conversions and how many were built-in. New Line seems to think there were a few, as the number of sites for Two Towers is up significantly from last December, moving from approximately 3,300 to over 3,600. It certainly helps that this may be a more crowd-pleasing film; the centerpiece is a 45-minute sequence depicting the siege of Helm's Deep that has the potential to be ranked among the greatest battle scenes of all time.
The film is still three hours long, though, and even considering the fact that both Harry Potter films approached that length, the Rings films have been less aggressively marketed (to split a hair) and skew older. There is also still the unsettled question of just how much the pre-Christmas weekend holds films back. I say very little, considering the past performance of returning films on this weekend; if there really was a Christmas shopping effect on box office, we'd see it in the films in weeks two and beyond.
Starting on a Wednesday, as with the previous Rings film, there's some thought about how much these two starting days will pull from the weekend. Though New Line doesn't care that much, it does make a difference when considering record weekends. The month of December's record is sure to fall, though, and The Two Towers should earn about $59 million this weekend, with an additional $37 million perhaps coming from the two day "preview".
What would Christmas be without a plethora of family-oriented films? Hollywood isn't about to let us find out anytime soon. The latest adaptation of a TV cartoon, The Wild Thornberrys Movie, makes its appearance this weekend in a fairly massive 3,000+ theaters. As the Jetsons to the Flintstones of the Rugrats, the Thornberrys are unlikely to reach the same success as the two movies that the 'Rats launched in 1998 and 2000.
What it will be aiming for is a potential nomination for Best Animated Feature, an option that wasn't available for the Rugrats films, and something that they may very well have attained if the category had existed. With five nominations likely to occur in that category this year, Thornberrys has a moderate chance but faces stiff competition, especially as a traditional cel animated film. Box office would perhaps prove to be a deciding factor, particularly since the Christmas week is extremely lucrative for family films. I would expect the Thornberrys to start out with about $14 million, which could potentially mean over $100 million total.
Not aiming for any Oscars (though perhaps a Golden Globe or two) is Two Weeks Notice, the latest romantic comedy from Sandra Bullock, this time adding Hugh Grant as the romantic interest. Bullock is a model of consistency when it comes to opening weekends; nearly all of her films have opened between $10 and $16 million, with the final totals naturally dependent on just how good the movie is. This is more remarkable considering the varying status of her leading men; from Jason Patric to Ben Affleck, Bill Pullman to Benjamin Bratt, it seems to make not a whit of difference who her co-stars are.
This is good news for Hugh Grant, for whom the upper end of Bullock's range would represent the second highest opening of his career. For such a public star, he's had relatively few hits, with Julia Roberts responsible for his biggest. About a Boy represented a breakthrough for him as an actor this year, but didn't connect to a large extent with audiences, starting at just $8 million and ending with around $40.
Though Two Weeks Notice started out untitled and finished as the one we see today, I'm assuming at some point that Not Another Sandra Bullock movie was bandied about. I'm hard pressed to identify much that indicates that we haven't seen this film a dozen times over, and Sandra Bullock's constant spazzing doesn't help. Familiarity is an asset in this genre, though, so I still figure this one for about a $13 million weekend.
Gangs of New York is the home run/strike-out potential film of the year. The latest from technical genius Martin Scorsese, it's been over a year in the waiting for release (though it's been over 20 years from first concept). After Miramax detested the initial cut, it was postponed from its original Christmas 2001 release date. Little has changed since then, so it's now a question of whether Miramax or Scorsese knows movies better.
It's not often that you sit on gold for a year, so clearly they're not expecting a bonanza. Oscars are a primary aim, with Daniel Day-Lewis looking like the best option there. Scorsese should probably be considered the greatest living director without an Oscar, so he's definitely someone that could factor heavily into the race, even if the picture doesn't.
Leonardo DiCaprio is also an option in the acting categories but little attention has been focused on him. After being the biggest star in the world for about ten months after Titanic was released, he's (perhaps wisely) laid low on the scene, with Gangs being his first major release since 2000. Then again, with two of his films appearing in one week (at one point, Gangs was scheduled on the same day as Catch Me If You Can) it's hard to say he's underexposed right now.
Also checking in at a robust two and half plus hours, Gangs is a tough sell even before realizing that Scorsese has never really had what you could call a hit. Even Goodfellas earned only in the mid $50s. His status as a premiere director is not in question. His status as a money maker is. Opening Friday on about 1,500 screens, Gangs of New York would probably do well to earn $7 million this weekend.
Last weekend's number one and two films will be moving in divergent, if not opposite directions this weekend. Maid in Manhattan, which beat out Star Trek: Nemesis by just $150,000 last weekend, has the friendly nature of the romantic comedy audience to count on. Star Trek, on the other hand, has a hypercritical audience that all saw it last weekend anyway. Jennifer Lopez beats the nerds again, but this time by a more significant number. Even with direct competition from Sandra Bullock, look for Manhattan to hit $13 million while the disappointing Trek will stumble to around $9 million.
In limited news, at least three of the films arriving in select cities are definite Oscar hopefuls. Narc, Antwone Fisher and The 25th Hour all have their eyes set on the Golden Boy and hope to use a prestige start to catapult their campaigns.
Antwone Fisher has probably the highest profile, with Denzel Washington in both a supporting acting role and behind the camera. The story of a young black man inspired to find his family during a stint with the Navy, this has feel-good written all over it, a (not to trivialize it) Black Good Will Hunting. The ad campaign is high class and heavy rotation and a roll-out to at least a medium sized release is sure to be in the cards during the next few weeks. I would not be surprised to see this become one of the success stories of the Holiday season, much like last year's A Beautiful Mind.
The 25th Hour is the latest from Spike Lee and boasts an impressive cast all around. Two-time Oscar nominee Edward Norton heads the cast as a man given one last day to settle his affairs before heading to prison (that's an awfully trusting police department, if you ask me). Faced with important choices on possibly his last day as a free man, will he do the right thing? (Sorry.) Brian Cox, Phillip Seymour Hoffman, Barry Pepper, Rosario Dawson and Anna Paquin round out the all-star ensemble.
The big story around Narc is what might be considered a comeback performance for Ray Liotta. Though he was in Hannibal, it wasn't exactly his finest hour as an actor (though who could pass up the opportunity to have their brain fed to them on screen?). Early word has this as a film that revitalizes a tired genre, the cop thriller. Liotta's is not the only performance in the film receiving praise, with Jason Patric also looking like a contender for Best Actor. All in all, it looks like a low-wattage Training Day, and we all saw how well that performed last year.
There's really no excuse to not be at the theaters this week, especially in NY/LA where you have access to all the great limited films. Movie weekends don't get too much better than this.
Forecast: Weekend of December 20th-22nd, 2002

Rank

Film

Number of Sites

Change in Sites from Last

Estimated Gross ($)

1

Lord of the Rings: The Two Towers

3,622

New

59.3

2

The Wild Thornberries

New

14.4

3

Two Weeks Notice

New

13.6

4

Maid in Manhattan

13.0

5

Star Trek: Nemesis

9.4

6

Drumline

8.4

7

Gangs of New York

New

7.5

8

Die Another Day

4.8

9

Harry Potter and the Chamber of Secrets

4.2

10

The Hot Chick

4.0