Weekend Forecast
for December 19-23, 2001
By Reagen Sulewski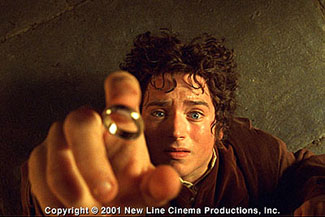 Destined to be the movie of the holiday season since practically its inception, the first installment of The Lord of the Rings, The Fellowship of the Ring, has now arrived in a world where it has to play second fiddle in the public consciousness to Harry Potter and the Sorcerer's Stone. Of course, the young upstart is showing signs of weakness as the weeks go by so Potter may have simply primed the pump for fantasy adventure.
With over 100 million copies sold in print, Lord of the Rings may have the ultimate built in audience. Even most of those who haven't read the book are at least familiar with the concept. All that you really need to do to sell this film properly is to announce that it's coming and you'll get lineups around the block. Well, okay, and you need one more thing: it has to look good. Really, really good. With that mass of rabid fans also comes a large responsibility to get the film right, as nothing will sour a film's chances faster than irritating the core demographics. So far, director Peter Jackson has seemed to satisfy the majority of fans and has successfully converted casual observers, with dazzling visuals and trailers hinting at the epic scope of the series. As evidence that the campaign is working, one need only look to reports of advance tickets that are commanding 85% of all sales. Of course this is an inflated figure, as no one's really going to be in a rush to get their ticket for Spy Game or Shallow Hal right now, but it's a terrific way of finding a range. In 3,359 venues, Fellowship will be sufficiently wide to qualify as a mega-opener, although not challenging the awesome number that Harry Potter had at 3,672, nor its nearly unfathomable number of screens (mid 5,000s compared to Potter's 8,000+). With two full days of preview screening plus Tuesday night sneaks, it's possible that the bulk of the fanatics will be exhausted before the actual weekend; however, the number of 'normals' should fill it out to a proper weekend and of course there will be repeat viewers. The classic example for this type of behaviour is Star Wars Episode I: The Phantom Menace, which grabbed a then-record $28.5 million on its first day but still grossed $64.8 million on the weekend. Can Fellowship duplicate that kind of success? I doubt it, but I do think that the weekend can be duplicated. The two preview days likely will not be as strong, considering that that $28.5 million includes a full $7 million from midnight screenings as well as showings that day starting at 9 a.m. A total of about $35 million for two days plus $66 million would put the film easily in line to capitalize on the enormously lucrative period from Christmas Day to New Year's Day, possibly to the tune of becoming the number one film of the year.
Oh yes, there's four other films opening wide this weekend... Studios have always made a point of releasing a large slate of films this time of year. The extra time that people generally have this time of year often leads them to the movie theater, and generally in groups. In addition to Jimmy Neutron, Joe Somebody, How High and The Majestic, two others, Ali and Kate and Leopold, open on Christmas Day. Of these films, Ali easily has the highest profile with saturation level ads and an eminently recognizable subject matter, arguably the most famous athlete in the history of the world (does Pele have his own movie? I don't think so). The not-so-long ago box office champ Will Smith plays him, a choice that could play as genius or could crash the movie. It all depends on Will's portrayal, which most are at least regarding as adequate and many lauding as magnificent. It's certainly an amazing transformation that he has gone through viewing from the ads. We may have to leave the Fresh Prince jokes behind. Since the flop of Wild Wild West, Smith has only starred in the low-key Legend of Bagger Vance, which earned a miniscule $30 million after an $11 million opening. It's easy to wonder if all the good grace from the summers of 1996 and 1997 has disappeared for Mr. Smith. As always though, success of a film is as much correct casting as anything else and this could be the film to captivate and motivate fans of his natural charisma, something he's no doubt being given opportunity to display. In the four days from Christmas to next Thursday, Ali should open in the area of $26 million.
Jimmy Neutron is likeliest of Friday's new releases to earn the most money. While its animation at this point isn't exactly ground breaking, it possesses a unique style and design, which has proved to be crucial in getting mainstream acceptance. Nickelodeon, the film's production company, has had recent success in launching animation, with the Rugrats series placing it as the number three company for animation behind Disney and Dreamworks. Jimmy Neutron is not an established concept however, which is what helped both Rugrats movies open over $20 million. A strong advertising presence and a kid-friendly concept should compensate for that problem, with what I expect to be a $22 million weekend and a strong boost during the Christmas holiday week.
The Majestic is Jim Carrey's latest, a Frank Capra-esque tale of small towns and big cities that surely would have starred James Stewart in the 1950s. Unfortunately, WB doesn't seem to know how to sell it, with a severe miscalculation in advertising concepts. The commercials featuring Jim Carrey and Frank Darabont do little to indicate what the movie is about, and at worst seem like proselytizing. It's my opinion that these ads become extremely easy to ignore and may in fact turn viewers hostile against the concept. An utterly botched job will stop this movie from making over $20 million in its opening weekend and will unfortunately be the second straight Christmas disappointment for Jim (after Man on the Moon), to say nothing of breaking director Frank Darabont's streak of nominated films. A $16 million weekend could leave the film room to recover but it may ultimately become the film lost in the shuffle this year.
In addition to each year's film that loses steam during Christmas week, there is the one that gains momentum and recovers from what ultimately is a flop opening to profitability. It's almost always a light hearted or unpretentious comedy. This year, the only film that fits that bill is Joe Somebody. Two years ago, Tim Allen was in the Christmas underdog of that year, Galaxy Quest, which pulled itself up from a $7 million opening to a $70 million total. I don't think this will see the same dramatic increase, but it will all depend on how well the film is received and reviewed (Galaxy Quest looked just about this bad in 1999, too). I expect a weekend of about $6 million followed by a strong holdover which could bring the film to about $50 million.
How High is the fifth choice this weekend, starring rappers Method Man and Redman in a raucous party comedy not unlike House Party (kidding, kidding, please don't hurt me) or Friday. Black-targeted films like The Wash and Bones have not faired well these past few months, but neither had the advertising support that How High has, with advertising hoping to break out of just the black demographic. I wouldn't be surprised to see this reach to just below the heights that Friday reached ($14 million on Martin Luther King, Jr. weekend, for reference). I don't expect this film to see as much support through Christmas holiday week, but a $9 million start should be quite healthy for it.
The last film to discuss this week is Kate and Leopold, starring Hugh Jackman and Meg Ryan. A tale of time travel and chivalry (!), it's unlikely to attract a single self-respecting unattached male viewer. It has also shown its hand by ducking away from the weekend of the 21st to open on Christmas Day. Potentially getting away from competition may be a good thing, but last minute changes are never a good sign. It likely means it was having trouble securing screens. The exact screencount remains a mystery to me, but I would not be surprised if this move limited it to around 2,000. This spring's Someone Like You seems the best analogy for this film, with about $10 million order for the period from the 25th to the 28th.
Returning films should start to see a bit of the benefit from Christmas week starting on Friday, as typically business starts to increase with the closest weekend to Christmas Day, especially if it leads directly into that holiday.
Forecast: Weekend of December 21-23, 2001

Projected
Rank

Film

Estimated Gross ($)

1

Lord of the Rings: Fellowship of the Ring

66.3

2

Jimmy Neutron: Boy Genius

22.7

3

Ocean's 11

19.1

4

The Majestic

16.1

5

Vanilla Sky

15.0

6

Harry Potter and the Sorcerer's Stone

9.5

7

How High

9.1

8

Not Another Teen Movie

7.0

9

Joe Somebody

6.3

10

Monsters, Inc.

5.4
Forecast: Week of December 24-28, 2001

Projected
Rank

Film

Estimated Gross ($)

1

Lord of the Rings: Fellowship of the Ring

62.5

2

Jimmy Neutron: Boy Genius

31.3

3

Ali

26.7

4

Ocean's 11

22.2

5

Vanilla Sky

14.3

6

The Majestic

13.8

7

Harry Potter and the Sorcerer's Stone

10.5

8

Kate and Leopold

10.4

9

Joe Somebody

8.6

10

How High

8.0