Weekend Forecast for
December 19-21, 2003
By Reagen Sulewski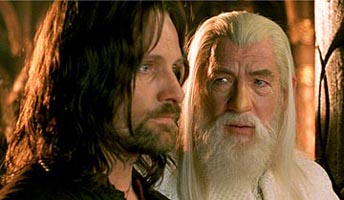 A year and a half of pre-production. Fifteen months of filming. A $280 million budget. $1.8 billion and counting in worldwide box office. Nineteen Academy Award nominations (so far). Nine plus hours of film. Two years after the first film in the Lord of the Rings trilogy was released (and after decades of anticipation), this epic series that has changed filmmaking comes to a close.

A risky project that in hindsight becomes one of the easiest calls in history, Peter Jackson's epic dramatization of the J.R.R. Tolkien novel The Lord of the Rings has changed in perception through the release of its three parts. The Fellowship of the Ring was viewed with some suspicion, as die-hards worried about rumored changes to the text (remember the freak out about Liv Tyler? That seems so long ago now), while more casual (and sane) fans hoped for just an adaptation that wouldn't suck and the uninitiated wondered why people were making a big deal about some Dungeons & Dragons thing. Fellowship opened to $42 million and more importantly, kept earning, against the trend of front-loaded blockbusters, proving to the tune of $313 million domestic that it had touched a nerve in movie audiences and was like nothing many of them had ever seen.

When The Two Towers rolled around a year later, some questions still remained. Had interest increased or waned from the first film, and would audiences embrace what was effectively a three-hour interlude? Far more action oriented, it theoretically could have been a far more accessible picture despite being in media res. We also had a significantly larger role for the character of Gollum, the most convincing and best acted CGI character ever seen on film (Suck it, Lucas!). It opened to $61 million, an almost 50% increase over Fellowship. It wasn't able to turn that into a similar increase in overall take, earning $340 million total, meaning that its audience was effectively static, even though it clearly became more anticipated.

So what's left for Jackson to prove? He's given himself a lot to wrap up and letdowns to avoid, and potentially, a Best Director Oscar to win. Reviews are approaching "reverential" as critics look back on all three films and realize the amazing accomplishment that Jackson has pulled off. As pure entertainment, this series may be some of the greatest entertainment in film history. As far as the finale goes, The Battle of Helm's Deep in The Two Towers was not the end of the action by far and Frodo, Sam and Gollum's arc is far from finished. The Return of the King weighs in at a butt-numbing three hours and 31 minutes but it's an endurance test that few will be able to pass up. Super hard-cores have already started, attending screenings of Fellowship and Towers in both their original and extended DVD cut versions these past two weeks and special triple-header screenings of all three films in one sitting exist for the bravest among us (even Star Trek fans think this is overboard).

Like the two previous films, it starts on a Wednesday and like The Two Towers, becomes the rare breed of film that gets to have midnight screenings. The chances for a sudden jump in fanbase are slim; those that are going to discover the films already have done so. However, with ticket inflation and a general sense that this is The Event Film in a year of events that have disappointed, Return of the King should best the other two films and earn at least slightly more on opening and final box office than Two Towers. $45 million should fill its coffers on Wednesday and Thursday and a first weekend figure of $66 million is my expectation. It's been a long wait, but worth every minute.

Sooner or later, every person on Earth will have his or her own personal movie version of Dead Poets Society. Mona Lisa Smile is Julia Roberts', set at 1950s Wellesley College. Roberts plays mentor to a group of immaculately coifed (seriously, look at those hairdos. I think they've been shellacked) students, at one of the crossroad times as far as the definition of women's roles go. It's clear early on that it's more interested in speaking to the twentysomethings of today rather than having anything particular novel to say about the evolution of women's roles through the past five decades.

With a Who's Who of young actresses in the supporting cast, Smile has a bit of a look of passing the torch from Roberts to a younger generation of actresses. Julia Stiles, Kirsten Dunst and Maggie Gyllenhaal are the three most prominent (and this should be Gyllenhaal's mainstream breakout after her indie breakout last year in the sexually-charged Secretary) and make for an attractive cast, but it's going to be a strictly XX chromosome affair at the theater for this tale of affirmation. This is Roberts's first film as a headliner since the summer of 2001 and America's Sweethearts, which opened well at $30 million, though it failed to break the century mark, a disappointing finish for the normally bulletproof romantic comedy genre (Ocean's Eleven was a smash of course, but the sheer size of the cast makes it difficult to give her significant credit for its box office). Julia's still pretty much on a upswing after her 'dark' period in the mid '90s (and I'm not talking about the whole Lyle Lovett thing) so she'll still be able to make a winner out of this narrow-focused pic, though we're not looking at a blockbuster. Mona Lisa Smile should manage about $15 million for the weekend on its trial run for Oscars. One could hope for a better performance from counter-programming, but the Lord of the Rings films are perhaps the blockbusters with the biggest female portion of its audience since Titanic.

With Mona Lisa Smile going for younger audiences (though not exclusively), Something's Gotta Give will try for much the same effect with older audiences (though not exclusively). A bit of a surprise first place finisher last weekend with $16 million on a weak weekend, The Jack Nicholson/Diane Keaton/Keanu Reeves love triangle film (words I never thought I'd type) is the romantic comedy of choice (with Love Don't Cost a Thing barely registering on radar). A strong second week is crucial for its Oscar hopes, as the Inoffensive Populist spot is still up for grabs. A take of $11 million should go a long way towards that goal.

The Last Samurai had a hefty 42% portion of its opening weekend take sliced off, boding ill for its overall box office total and Oscar chances. Tom Cruise turning Japanese divided many filmgoers, some who saw it as a perfect epic, while others felt it was a bit too eager to pander. We're looking at not quite $100 million as a final total (with some hope coming from Christmas bonanzas) but expectations are higher for a Tom Cruise Oscar Film meaning it's got an uphill battle to fight. Helping it out somewhat is that its main competition, Master and Commander has almost completely fizzled, standing at $75 million and falling down last weekend to just $2 million and change. Samurai isn't done yet, though it could potentially be hurt the most of films this weekend by Return of the King. It should earn about $7.5 million in weekend number three; anything lower than $7 million might kill off its Oscar chances for good.

Stuck on You continues the Farrelly's even/odd pattern of success; their previous hit Shallow Hal jinxed Stuck On You, even with the higher profile cast (primarily Matt Damon), which earned just $9 million last weekend. It's tough to stop a snowball rolling down a hill like this, and it should fade very fast. This, the Farrelly's excursion into what's essentially more thoughtful moviemaking (no, really) has proven a flop, but they're just this close to figuring out their new formula. In the meantime, they'll have to suffer the pain of a sub $40 million take for Stuck on You, and perhaps even worse. An over 50% drop should not be unexpected.

Meanwhile two Christmas-themed films continue to rule the contest of legs, as Elf and Bad Santa show staying power. Elf is closing in on $150 million for this weekend and is the film that stands to benefit the most from the rejuvenation that will occur Christmas week. The misanthropic Bad Santa is an unlikely champion of the holiday season, and the $35 million it's made in three weeks after a $12 million opening is very promising for black comedy, which are hit and miss at the best of times.

Oscar rollouts continue as Calendar Girls and House of Sand and Fog appear in limited release. Girls is sold as essentially a female Full Monty, as a group of 50-something women create a risqué calendar to help out a friend with Leukemia. Based on a true story, this is a good bet to find a receptive audience with its folksy charm. Full Monty (or My Big Fat Greek Wedding) levels of success can't be expected, but there's always that chance, as these manufactured buzz films are notoriously difficult to predict.

House of Sand and Fog is likely to be a far more challenging film, a thriller about entitlement and ownership. After Jennifer Connelly's character's inherited house is mistakenly taken away and sold to an immigrant played by Ben Kingsley, a moral and ethical (and physical and psychological) struggle ensues between the two with dark endings foreshadowed for both. It's not the stuff of blockbusters but it's already started to receive notice for first time director Vadim Perelman and its leads. The movie does show shades of 2001's In the Bedroom, another directorial debut that dealt with complicated issues that was a surprise Oscar nominee. It's a film that's one to watch through the end of this year and into 2004.
Forecast: Weekend of December 19-21, 2003

Rank

Film

Estimated Gross ($)

1

The Lord of the Rings: Return of the King

66.7

2

Mona Lisa Smile

15.3

3

Something's Gotta Give

11.1

4

The Last Samurai

7.3

5

Stuck on You

4.4

6

Elf

4.1

7

Bad Santa

4.0

8

The Haunted Mansion

3.6

9

Love Don't Cost a Thing

3.3

10

Honey

2.4