Weekend Forecast for
December 12-14, 2003
By Reagen Sulewski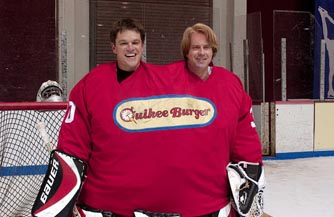 It's a classic build-up weekend in December as multiplexes greet three mid-tier films the week before the biggest event of the holidays (and perhaps the year) steals everyone's attention in less than a week. In the meantime, we're given a nice variety of movies.

The Farrellys are perhaps the most misunderstood directors in Hollywood; with a filmography that's filled with boundary-pushing comedy and notorious for bodily-fluid gags, their ability to get to the heart of their characters can be overlooked. Their willingness to create humorous situations involving characters with physical or mental handicaps or outside of the movie star ideal often gets them heat, but they display a remarkable ability to make the comedy about situation, rather than cruel jokes at their expense (I can't explain away Dumb and Dumber this way, though). Stuck on You, their newest film about Siamese twins, seems on first glance to be rife with potential offensiveness, but the Farrellys have found a metaphor, perhaps for their own relationship, that threatens to turn them into respected filmmakers.

Starring Matt Damon and Greg Kinnear as the two brothers, the film follows the two as they move through life with different dreams and ambitions; Damon is the athletic one of the two, while Kinnear's brother has movie star dreams. Of course, the film has plenty of fun playing off the absurdity of brothers who stick together without acting like they really are stuck together (it could have been weirder; at one point the casting was going to be Jim Carrey and Woody Allen).

Ironically, Damon is definitely the stronger of the two when it comes to being a box office draw, as Kinnear has never really had a hit on his own. Damon's had a few question marks on his CV but regrouped last year with The Bourne Identity, last summer's buzz spy thriller that finished with $121 million and has spawned at least one sequel. The Farrellys have ebbed and flowed with their success, interspersing an Osmosis Jones or Kingpin in the middle of their bigger hits like There's Something About Mary and Me, Myself & Irene (roundly dissed but a $90 million earner). Where Stuck on You could go wrong is in that it's not as raunchy as Farrelly fans might expect. This issue shouldn't come into effect until the second weekend, but with the rapidly shrinking release window, it's not a given. The ads are genuinely funny and attention grabbing, so the initial release period should be positive. Give it $22 million initially on its 3,003 screens.

The new Oscar contender for the week is Something's Gotta Give, starring Jack Nicholson, Diane Keaton and Keanu Reeves. Going after a decidedly older target audience, it should still have some crossover appeal, as Nicholson retains his cool well into his 60s. In recent roles, years of accusations of "playing Jack Nicholson" have caught up to him and his movies now seem to be playing off his established persona in one form or another. Last year's About Schmidt featured the anti-Jack, a charisma-free retiree who creates tension in the film by never fulfilling the audience's expectation of Nicholson's reputation. In Something's Gotta Give, it plays off his ladies' man reputation and his penchant for dating much younger women. Director Nancy Myers (of What Women Want fame) seems to want him to "act his age" as it were and puts him opposite her (if I may play pop psychologist for a moment) stand-in, Keaton.

In addition, she also has Keanu Reeves as Nicholson's doctor that treats him after his heart attack at Keaton's house, where he was dating her daughter. Rather than develop into an episode of Jerry Springer, Something's Gotta Give becomes a conventional-unconventional romantic comedy, with everyone chasing after everyone else and pointed barbs flying between prospective suitors. I wouldn't expect a repeat of the performance of Myers's What Women Want for box office, as Jack & Diane (as the poster so cleverly refers to them) don't have the same draw as Mel Gibson and Helen Hunt, nor is the concept as novel (or ill-executed, for that matter). Look for around $14 million, a figure that could well act as a stepping-stone for bigger things if it's well received.

Have we really run out of ideas to the point that Patrick Dempsey movies are being remade now? Love Don't Cost a Thing unabashedly lifts the story of Can't Buy Me Love (Jennifer Lopez = 2000's Beatles equivalent??? I don't think so) with a primarily black cast. There are certainly worse '80s movies they could have picked to remake, though the premise itself threatens to date the movie immediately; they don't make movies with bizarre and potentially offensive (I'm reminded of a joke about negotiating prices) premises like this anymore. For the uninitiated, the plot revolves around a nerdy high school senior who pays his crush to date him so he can be in the cool crowd. Life lessons about the value of friendship and being true to yourself ensue. Much of the charm of the original film was due to its stars and clever situations (plus an early Seth Green appearance) so it will be interesting to see how it translates, if at all.

Warner Bros must be banking on some kind of familiarity, as the cast is basically a group of unknowns (which also keeps it cheap). The two leads have had a bit of exposure, Nick Cannon essentially leading Drumline, and Lopez-sound-alike Christina Milian crossing over from her singing career, but the rest are yet to make any kind of impact. It's looking to have a bit wider bow than the usual targeted release that films with primarily black casts have, which means that WB must have some confidence in it. It may look fresh enough to an unsuspecting audience that it can grab a new generation of teenagers to the tune of about $11 million.

A few words to the people that wrote in about The Last Samurai and the post-Thanksgiving weekend expectations; we don't cut excuses for studios here. Whether or not there's a lull after Turkey Day in the multiplexes, films still have to earn their keep. Executives don't make their big bonuses based on a handicapped scale. Now, Samurai really is in no danger of losing money, what with international box office and the fact that the domestic market is slowly transforming into an expensive advertisement for the DVD. However, the big budget action prestige film starring Tom Cruise really should open to more than $24 million. It can certainly prove me wrong by turning around this weekend with a 30% drop or less but I'm nor really expecting that to happen. For that matter, it should actually hold fairly well, with about $15 million this weekend.

Honey was a bit of a shocker last weekend, earning almost $13 million for its song and dance show with a hip-hop beat, thus proving that Jessica Alba's midriff has appeal for all. I don't expect this one to hang on too long as it's a genre that's not long-lived, so expect around $7-8 million for its second frame.

Elf continues to do excellent business, now the highest grossing film released since the end of summer. With the prime time of Christmas approaching, it's looking to cruise past $150 million and could make a run at $175, truly an impressive feat.

In America is the most significant expansion of the week, more than quadrupling from 11 to 47 screens. A lot of its Oscar hopes ride on its performance at the box office and this is a make or break weekend. The three biggest profile limited releases are Girl With a Pearl Earring, Big Fish and The Statement, all with Oscar hopes. Big Fish is probably the biggest contender of the three, being directed by Tim Burton and starring Ewan McGregor, Albert Finney and Billy Crudup.
Forecast: Weekend of December 12-14, 2003

Rank

Film

Number of Sites

Change in Sites from Last

Estimated Gross ($)

1

Stuck on You

3,003

New

22.6

2

The Last Samurai

2,908

0

15.2

3

Something's Gotta Give

2,677

New

14.3

4

Love Don't Cost a Thing

1,844

New

10.5

5

Honey

1,971

+29

7.5

6

Elf

2,876

-243

6.7

7

The Haunted Mansion

3,001

-121

5.6

8

Bad Santa

2,540

+449

4.8

9

Dr. Seuss' The Cat in the Hat

2,954

-455

3.1

10

Gothika

1,806

-399

2.7