Weekend Forecast for
November 26-30, 2003
By Reagen Sulewski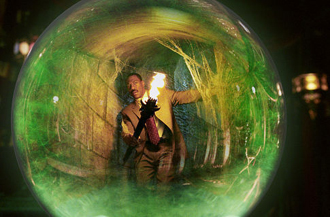 The traditionally busy Thanksgiving weekend doesn't disappoint, bringing a feast of four wide releases for family (and otherwise) consumption. A strong group of holdovers means this weekend is going to be ultra-competitive, hopefully making up for last year's dud slate.

Leading the pack of new films is The Haunted Mansion, the third film in the series Disney has created based on their amusement park rides. The performance of the two released prior to this one could not be more opposite. The Country Bears (which is hidden in the back of the park anyway) was a huge flop, but was more than counteracted by this summer's Pirates of the Caribbean, a $300 million plus blockbuster (and 16th highest grossing film of all time). The difference was a much different approach to the material; while The Country Bears probably could have been nothing but a goofy kids musical, Pirates of the Caribbean was a raucous Jerry Bruckheimer action film. The lesson as always, the concept is not as important as the execution.

The Haunted Mansion isn't the most original idea for a film in the first place; there's nothing uniquely Disney to the concept of a haunted house. However, almost all of them play it straight, and the comedy angle of this film plays well into the Disney style. It's also a "horror" film for the whole family, with a PG rating and a "spend more time with your kids" moral. Disney's been able to get away with a lot of things even with a G rating, having freaked out and warped entire generations with Old Yeller, Sleeping Beauty and Bambi. I wouldn't exactly expect that sort of trauma with the sanitized fare we call children's entertainment nowadays, but Disney is notorious for making the most of limitations. What Disney will be aiming for is that split demographic, the under 12 set and their parents, but the studio has also reached out further by making this an Eddie Murphy Movie.

Murphy (slowly morphing into Dean Jones) has had a bizarre career turn in the last five or so years, having his best string of hits with films like Dr. Dolittle and The Nutty Professor, and most recently Daddy Day Care. Meanwhile, his Pluto Nashes, his Showtimes and his I Spys have all been unmitigated disasters. He could soon find himself down a path of no return playing straight man to bears and CGI ghosts for another 20 years. In the meantime, these family oriented flicks have found a nice, stable niche, opening to the mid $20 millions. Haunted Mansion will test whether there is any Disney marketing muscle behind this notion. They're certainly pushing it as a blockbuster and the trailers are definitely crisp (even if Murphy is desperately trying to get back some of his "street cred"). Opening in 3,122 venues, The Haunted Mansion should manage about $31 million in three days and $44 million over the five-day holiday period.

Judging by Ransom and The Missing, no one should ever mess with Ron Howard's kids. The Missing is Opie Cunningham's attempt at a John Ford western, specifically, trying to "remake" The Searchers. Tommy Lee Jones and Cate Blanchett star and lend the film gravitas. It's being lauded as intense and an Oscar contender, but what I really want to see is the film the trailer hints at, an American Gothic-like film that doesn't exist here. Trippy and jarring, the early images had this appearing truly bizarre and haunting, a mood that is being downplayed as we approach release, since it's far more mainstream than that early marketing would have you believe.

Howard has been an almost unfailingly commercial director throughout his career, really only missing twice with Edtv and The Paper. Recently, he's had The Grinch and the Oscar-winning A Beautiful Mind, both of which were massive hits, the latter due to its Oscar nominations and wins. The Missing will need similar success in that vein to keep the string going, because while Tommy Lee Jones and Cate Blanchett may be terrific actors at the top of their games, they have never proven themselves to be box office draws. The Hunted was a modest success this past spring on opening weekend but faded quickly. Recently, Veronica Guerin opened without even causing an impact. So, the film gets sold on Ron Howard's name more than anything. That should be good for around $17 million over three days and $21-22 million for all five days.

Few Michael Crichton adaptations have looked as silly as Timeline, the time-travel-as-medieval-theme-park film Paramount is passing off to us this week. Paul Walker, out of his element without cars to drive, leads a team of young archaeologists (Note to Paul: People who dig for old stuff in the ground) to rescue their professor after he's accidentally transported back to the 14th century in the middle of The Hundred Years War between the French and the English. I've already discussed the major scientific suspension of disbelief that has to go on before this is even slightly believable, but that's almost the least of its problems. As given to us by director Richard Donner, Timeline looks hopelessly generic, with most of the appeal resting on how cool you think weapons like a trebuchet are (admittedly, that goes a long way).

Timeline is this week's whipping boy for reviewers, with most kicking it for unintentional humor and implausible or random plotting. Paramount is doing its best to put in the token effort of selling it without trying too hard; recent ads have been eschewing clips of the movie for digital clocks counting down, hoping the time travel angle is intriguing enough to suck...viewers in. It shouldn't, with an $11 million take over three days being as much as they can really hope for, and around $15 million for five days.

An antidote to all the family fare in theaters this weekend, Terry Zwigoff's Bad Santa is the Bah Humbug to Elf's Christmas cheer. Billy Bob Thornton stars as a shopping mall Santa gone bad, full of vile potshots at Holiday traditions. This is black-as-midnight, take-no-prisoners, adults-only dark comedy and doesn't care what you think of it. It's aimed precisely at anyone who's ever gagged at the thought of one more Christmas carol and has fantasized at telling the whole mall where they can stick their jolly sense of well-being.

Thornton's Santa is in actual fact a crook who chooses Christmas Eve each year to make his big score with the help of his "elf" (Tony Cox). This year, a mall manager (John Ritter, in his final movie role) and store detective (Bernie Mac) are on his case. It's not so much whether he can pull off his heist this year, as it is whether he can get everyone else to stop pestering him. Unrelenting in its cruelty and misanthropy, Bad Santa is sure to become a cult classic. However, as we all know, cult classics have to fail at the box office first. It's starting in a medium-sized 2,005 venues, a sign that Miramax doesn't have a huge amount of confidence in how it's going to perform long run. Give it about $6 million over three days and $9 million in the Holiday period.

The Cat in the Hat has already shown that lightning wasn't about to strike twice with Dr. Seuss adaptations; $38 million for opening weekend is something of a bomb compared to the mid-$50 million mark for The Grinch three years ago. Combine that with the curb beating it took from reviewers and audiences and we're looking at a huge misfire by Universal (though it'll still be wildly profitable considering ancillaries). With the double cushion of Thanksgiving and a PG-rating, it shouldn't drop out of sight immediately but is not going to be the major player through Christmas that would have been hoped. In daily takes, it's already slipping dangerously close to Gothika and Elf. Second weekend take will be a decent $22 million, with $29 million coming in over five days, but expect a very steep decline in the days and weeks to follow.

Elf doesn't have to worry about that so much as it has already established its audience pleasing nature, closing in rapidly on $100 million. While it can't be the official winner of the weekend, unofficially, it should do just fine, making another $16 million in three days and $21-22 million in five. With a couple of breaks, it could be the biggest family film of the winter season, especially if these legs keep it in a significant number of theaters through Christmas.

The quote-unquote "real" horror film Gothika performed admirably last weekend, opening to $19 million despite horrific reviews to match. Much of its audience will get swallowed by The Missing, though there is plenty of room over the holidays for multiple movies to get seen. It's not going to turn into a The Others or The Ring, but a Stigmata would probably serve nicely. Look for $11 million in three days and $14 million in five.

Master and Commander is chugging along nicely, having dropped an average 39% in weekend number two. For adult adventure period drama, it's most definitely a better choice than Timeline, and could even out pace that film in its third weekend should the bottom fall out of the time travel piece. Look for $10 million in three days and $13-14 million in five.

A few films make small expansions this weekend; among them, 21 Grams goes from 8 to 73 venues after a decent showing last weekend. At over $30,000 per venue, it has justified this expansion but needs to hold onto these patrons to keep it in Oscar contention. That's enough to get it going but $10,000 per venue or around three-quarters of a million is the benchmark. Shattered Glass, a film about deception in journalism starring Anakin Skywalker himself, Hayden Christensen, is also quietly making box office and Oscar noise; it jumps to over 200 venues after earning $1 million below that release level.

In other limited release, In America, Irish director Jim Sheridan's semi-autobiographical tale of a young family in New York in the '80s, also hits release, having quietly been gathering acclaim since its premiere at last year's Toronto Film Festival. It's the kind of heartwarming and hopeful film that could catch on if it gains any momentum. Also opening in limited release is The Cooler, starring William H. Macy, Maria Bello and Alec Baldwin. Macy stars as a professional jinx, kept by a casino to 'cool' off winning players. Buzz surrounding this one is, appropriately enough, fairly tepid. Don't expect this one to stay on a roll.
Forecast: Weekend of November 26-30th, 2003

Rank

Film

Number of Sites

Change in Sites from Last

Estimated Gross ($)

1

The Haunted Mansion

3,122

New

44.3

2

The Cat in the Hat

3,467

+3

28.9

3

Elf

3,202

-179

22.0

4

The Missing

2,756

New

21.4

5

Timeline

2,787

New

15.1

6

Gothika

2,382

0

14.3

7

Master and Commander: The Far Side of the World

2,703

-398

11.8

8

Love Actually

1,714

+24

8.7

9

Bad Santa

2,005

New

8.5

10

The Matrix Revolutions

2,055

-969

5.3