Weekend Forecast
for November 22-24, 2002
By Reagen Sulewski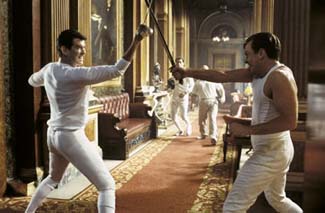 England rules this weekend, as the top two spots in the box office are all but assured to be filled out by the second weekend of Harry Potter and the new edition of the James Bond franchise. As much as $100 million or more could be tied up between the two films, making it a very sweet weekend for anglophiles. They're not the only game in town, but it's pretty close.
Die Another Day is now the fourth edition of the Bond series to star Pierce Brosnan, who has very effectively revitalized the series when it nearly ended after the Timothy Dalton era. Licence to Kill made just $33 million in 1989 ($47 million in today's money) -- a figure that GoldenEye passed in its first week of release. After a slight step downward for Tomorrow Never Dies, the subsequent film in the series would earn that amount in a single weekend, as The World is Not Enough broke $35 million on the pre-Thanksgiving weekend in 1999.
This, the 20th "canon" Bond film, comes in the year of the series' 40th anniversary, a phenomenal achievement. Aside from in-jokes in the movie itself, the producers of the film have used this fact slightly in the promotion for the film but have not made it a big deal (for comparison, look at Hannibal). Quite frankly, they don't need to. It's back to the point where a Bond film sells itself. Just for good measure, though, they've gotten an Oscar-winning actress to play the Bond girl, in the person of Halle Berry. Does a big name really make a difference in terms of audience interest? I'd find that hard to believe, considering that neither Sophie Marceau nor Denise Richards are anything close to leading ladies and they were in the highest opening Bond to date.
Plot details are surprisingly in short supply (something to do with North Korea and Iceland) but early reviews do call it one the better Bond movies to date. Indeed, there are talks to spin-off Halle Berry's character into her own series (um, let's see her in action first). The bits shown in commercials have looked, well, insane, with maybe some of the more compelling action sequences this year, a difficult feat on the heels of xXx. Perhaps the biggest concern is whether films like that Vin Diesel neo-spy fest have stolen Bond's thunder. However, considering how faithful xXx actually was to the rhythms of the Bond formula, the success of the update underlines that the blueprint still works, and there is still obviously room for the original. Bond's 40th year will give the franchise its first $40 million plus weekend, up to a figure of about $44 million.
That probably won't make Die Another Day the number one film, though, since we still have Mr. Potter to deal with. Though the $88 million figure Chamber of Secrets racked up last weekend was a slight step down from the first film, it's hardly a disappointment to have the third highest weekend ever, fourth with inflation. It's not a significant enough difference to infer any kind of loss of enthusiasm for the series; however, there are two factors in play that are different than with Sorcerer's Stone. Last year's Potter film opened the weekend before Thanksgiving. Since that's perhaps the most family-friendly weekend of the year for movies, the already high weekend take was buoyed slightly. In addition, the high opening night "rush to see" factor was not as evident, as shown by the fact that the Saturday through Sunday total was higher for Secrets than for Stone, even though its Friday was smaller.
Combine this fact with a general feeling that Chamber of Secrets is a better film than the first and the rare beast of a high-grossing leggy film could be in store. Even Spider-Man fell only 38% in its second weekend. Around $55 million would be a very excellent take for the phenomenally popular family franchise. Chasing the first Potter film's $317 million total will be a difficult task, but a weekend total in this range would go a long ways towards making that a feasible goal.
With the sudden viability of Eminem as a leading man, it's easy to forget that another rapper has been making waves this year. Ice Cube has become a star in his own right. Although All About the Benjamins didn't earn a tremendous amount in total box office, its $25 million easily exceeded its $15 million budget and its opening weekend of $10 million was very healthy for a medium-sized release. The real breakthrough came with Barbershop, a day-in-the-life-of comedy that broke through to the mainstream and moved him out of the pigeonhole of "black entertainer".
With a $20 million opening and a total closing in on $75 million, Barbershop was one of the surprise hits of the fall, bridging the gap between the ghetto comedies like Friday and the community comedies like Soul Food (no wonder, since it was from the same creative team). Ice Cube returns to that first type of comedy in Friday After Next. Despite the torturous title (will the next one be I Know What You Did Next Friday?) this should be a solid third choice this weekend. The second outing in the series shocked many with a $14 million gross on just 1,100 screens in January of 2000, putting it in the same general level as Nutty Professor 2.
However, Friday After Next is a bit of a step backwards for Ice Cube as far as I'm concerned; I've no doubt it will do well but Barbershop shows that he's got more in him than wacky comedy. On a significant upgrade to 1,616 venues, Friday After Next should bring in about $17 million through Sunday and should definitely challenge the last sequel's $60 million total.
In the 'Oscar bait' category this weekend, we have The Emperor's Club, which suffers greatly from obvious and unfair comparisons to Dead Poets' Society, Mr. Holland's Opus and just about every other film about teachers you can think of (except maybe Teachers). It's been 13 years since Robin Williams taught us all to reject authority (cough) so surely we can deal with another film on this theme by now? Kevin Kline plays the teacher this time, in an upper class prep school (are there any lower class prep schools?) teaching about honor, truth, yada yada yada (er, sorry Kevin). Universal is taking a "wait-and-see" attitude with this film, trying it out on 808 screens to see if it sticks. Kline had the superficially similar Life as a House last year at this time, which made a modest $15 million total and nearly played spoiler at the Oscars. The Emperor's Club looks to be a little stronger contender on both counts and should net about $6 million this weekend.
8 Mile took a huge fall in its second weekend, dropping from over $50 million to under $20 million, the kind of performance normally reserved for the worst of blockbusters. It's certainly not that kind of film, so one can suppose that it was simply a case of Eminem's fanbase appearing early but not often. This precipitous fall did significant damage to the film's Oscar hopes but won't stop the film from being a financial triumph. With a $41 million listed budget, 8 Mile is already in the black and a $125 million total is still within sight. The sinking boat of its weekend box office should right itself a little this weekend, but a 50% drop is still a very likely outcome, which would move the total below the $10 million mark, one of the fastest flameouts for a $50 million film ever.
The Santa Clause 2 also gets a chance to recover after being beaten down by the Potter franchise. It did well to fall only 39% against such a juggernaut. Just as Monsters, Inc. was hurt by last year's Potter film and recovered the following week (which admittedly was Thanksgiving), so should the Tim Allen film, perhaps stemming the bleeding to just $11-12 million. This would bring it very close to the $100 million mark, with the possibility of beating the $140 put up by the original.
My Big Fat Greek Update: So long to $200 million. $225 million is possible but could be the end of the road, barring a huge influx of end-of-year awards. The screen shedding is starting to happen now, though, as one-eighth of last weekend's screens go to other films.
The two most significant new limited releases are The Quiet American and Talk to Her, one of which has Oscar hopes; meanwhile the other film has had those hopes dashed. Michael Caine and Brendan Fraser headline The Quiet American, a low-key spy thriller on par with The Tailor of Panama. Caine is the Oscar hopeful here, and reportedly petitioned Miramax to release it so that he could be eligible. Appearing on just 13 screens, The Quiet American should earn about $250,000. Caine's performance is hailed by nearly everyone who has seen it, so his Oscar chances should be excellent no matter the box office take. Talk to Her is the latest from Spanish legend Pedro Almodovar, but suffered a severe blow when it was passed over as Spain's official selection for the Academy Awards' foreign language film category. This undoubtedly will affect its box office totals, but with Almodovar's reputation, the movie should still do respectable business. In a prestige release of only two venues, the per screen average will loom large in any plans Sony might have to take it wider.
Forecast: Weekend of November 22nd-24th, 2002

Rank

Film

Number of Sites

Change in Sites from Last

Estimated Gross ($)

1

Harry Potter and the Chamber of Secrets

3,682

0

55.3

2

Die Another Day

3,314

New

44.1

3

Friday After Next

1,616

New

17.7

4

The Santa Clause 2

3,251

-95

11.8

5

8 Mile

2,585

+89

9.7

6

The Ring

2,628

-254

8.4

7

The Emperor's Club

808

New

5.9

8

My Big Fat Greek Wedding

1,586

-226

4.0

9

Half Past Dead

2,113

0

3.7

10

Frida

794

+275

2.8