Weekend Forecast
for November 15-17, 2002
By Reagen Sulewski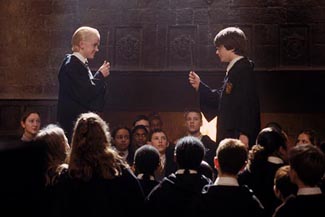 Just as the first Harry Potter film cut November in half last year, so does its sequel, which arrives in theaters this week. The first film with all-time record breaking potential since May, Harry Potter and the Chamber of Secrets is a no-brainer pick to win the weekend, even with the ridiculously unexpected bonanza earned by 8 Mile last weekend. Which direction is the series headed, though? Can it sustain a record breaking pace or has Potter's magic run its course? Also set to be tested are the legs of three key films for the fall, not to mention a stray action film warming up for the arrival of Bond. Will there be enough room for all with Potter stealing attention and screens?
The $90 million that Sorcerer's/Philosopher's (depending whether you use the American or British version) Stone commandeered last year doesn't seem quite so magnificent this spin around the sun. Not, at least, after Spider-Man ably shattered that record this May by vaulting past the $100 (and $110) million mark. The spirit of one-upmanship being what it is, Potter fans are undoubtedly eager to consider it a candidate to leapfrog past that mark. Several factors would seem to make it clear, though, that not only is Spidey's record safe, but so is the first Potter film's.
While it launches in ten more venues than last time (setting a new record of 3,682 for first weekend of release), these seats might be a tad emptier. The hype surrounding the launch of this film is palpably diminished. After all, last year, it was a case of the films finally being released. (They had to wait a whole three years. Here are the fans of the Lord of the Rings, playing the world's tiniest fiddle just for them.) Fans certainly won't have given up on the series, but I imagine there will be more than a few who aren't in quite as much of a rush to see it. Additionally, with the long awaited fifth novel not appearing in the intervening period between these two films, the fanbase has been allowed to simmer down, although one can't help but be a tad cynical about the recent announcement that it has gone to the publishers. Had a fifth novel arrived this summer as originally expected, the level of hype surrounding the film would have been enormous.
Still, there's no question that the Harry Potter franchise will be a license to print money for some time (keep walking, Schumacher). Even with hype for the film merely being present instead of omnipresent, the legions of 12-year-olds (of both age and spirit) will certainly be there in full force. What greets them is a film that is ten minutes longer than the first (or two hours, 40 minutes -- we're nearly up to Titanic length here) and is possibly better than its predecessor as well. Director Chris Columbus seems to have grown a little more comfortable in his role at the helm. Imagine the pressure upon him to get it right; botch and you've got a pint-sized army coming for your head. With a successful film under his belt in the series, many reviews have commented that he appears to have taken off the kid gloves, as it were, and done a bit more than be respectful to the material. However, he has walked away from the series, yielding the third movie to Mexican director Alfonso Cuarón. He leaves the franchise in good condition, though, and a still terrific weekend of about $86 million should result. Whether that's enough to push to the same heights as the first film for total box office is yet to be seen.
The other new wide release this week is Half Past Dead, starring aging Aikido master Steven Seagal. Last spring, Exit Wounds was a surprising hit, opening to $18.5 million and finishing with about $50 million. A lot was no doubt due to Seagal's choice of co-star, rapper DMX. Half Past Dead teams him with another rapper, Ja Rule (who producers are no trying to pretend was a major draw for The Fast and the Furious), in a grungier take on The Rock. The supporting cast actually makes the movie seem a little worthwhile but it's still a Steven Seagal film. Why he's not been relegated permanently to the direct-to-video aisles yet is beyond me. Ja Rule probably is the bigger draw for this film at this point; while he's certainly got a ways to go before reaching the cultural awareness of someone like Eminem, he's probably got a fair bit of pull. However, while Exit Wounds arrived as the biggest game in town for its weekend, Half Past Dead has a huge number of established releases to contend with. This should leave the film with about a $10 million weekend in 2,111 venues.
Now that we've all had time to process the remarkable weekend that 8 Mile put together last weekend, let's take a look at what it actually did. At $51.2 million, it's the 22nd best opening weekend in history. It's the second smallest release to break the $50 million mark (Jurassic Park just beating it out) and even accounting for inflation it's still the fourth smallest. 8 Mile is the closest thing to a straight drama to break that mark too. It had the third highest per venue average for a wide release film this year. It's the fifth best opening weekend in November history and the second highest opening weekend for an R-rated film. It's all just seven shades of ridiculous.
Ordinarily, this would add up to a significant expansion in the second weekend and a killer performance in frame number two. Screens are apparently hard to come by, though, as it adds just a handful of new locations. I think Universal is missing out on an amazing opportunity; screens are going to be even more difficult to find with the coming holiday blockbusters and a jump to 2,800 or 3,000 could have given them a huge momentum boost. The film should still perform well, as it had a tremendously wide base of support, even wider than could have been expected. The R-rating apparently did not do much to deter youngsters; hey, I saw groups of kids as young as five in theaters (parenting has gotten much more permissive). Oscar contention is the next thing on its mind and a modest drop of about 37% would see it earn in the neighborhood of $32 million this weekend.
Lost in the excitement of the 8 Mile story were the twin performances of The Santa Clause 2 and The Ring, two dissimilar films that had very similar drops in earnings, each falling just 14% and change. Santa Clause could be most affected by the addition of Harry Potter to the schedule this weekend; last November, Monsters, Inc. was hit to the tune of 50% when Potter launched, though Tim Allen and company don't have as far to fall. I still expect a very respectable weekend of around $16 million. What appeared on the outside to be a moderately troubled production has shown itself to be one of the hits of the fall, especially with one of the friendlier periods of the year for family films approaching. The Ring has already established that status for itself, with three straight weekends that have been larger than its opening bow. Those were all due somewhat to moderate expansions, which have run out as it backslides a bit in theater count. Even so, the per venue average has dropped only 30% from the initial weekend, an amazing feat by any standard. It should easily pass the $100 million mark by Sunday, earning about $11-12 million for the weekend, proving to be another in the long line of tremendously long-legged horror flicks. Let the Naomi Watts worship begin on a larger scale.
Sick of hearing about My Big Fat Greek Wedding yet? Well, too bad, because it keeps on ticking. Experiencing a 4% increase over the previous frame, Wedding became the highest grossing film to never reach the number one spot in the weekend charts, passing Dances With Wolves. This could be the weekend it slips past the $200 million mark, inching so close to the promised land of Thanksgiving weekend. It's not a sure thing, since anything more than a 12.5% drop would fall short and it lost 8% of its screens for the upcoming frame. Even $250 million looks like a reasonable target at this point now. Past that lay numbers people only dare to whisper about as a possibility.
After taking the tenth spot last weekend, Frida expands even further to about 500 sites. This Salma Hayek-starring biopic is, in a bit of an upset, holding up much better than another recent expanding film, Punch-Drunk Love, which is in full free fall, giving up 1/3 of its screens. As they head in opposite directions, Frida strengthens its Oscar chances while Paul Thomas Anderson's mini-opus treads water a bit. Frida could earn as much as $4 million, while Punch-Drunk Love, which has already dropped from the top ten, might be gone from theaters in a very short while.
Two significant Oscar hopefuls open in limited release this weekend, both from countries outside the USA. Mexico's nominee for Best Foreign Language film this year, El Crimen del Padre Amaro, is the wider one, appearing on 46 screens. One of the more controversial films in Mexican history, it's also the highest grossing. Dealing with a Catholic priest in a small Mexican town, the film inspired protests from the church in that country. Probably unlikely to inspire that kind of reaction stateside simply for the reason that it's in another language, it could still make an impact at the box office. A hopeful take for this opening weekend might be in the neighborhood of about $500,000. Canada's premier director, Atom Egoyan, brings the other film to theaters. Ararat is about the alleged Armenian massacre at the hands of the Turks in the early part of the 20th century. It boasts a great cast, with the likes of Christopher Plummer and Bruce Greenwood, but many early reviews have damned the film with faint praise, calling it preachy. A director of Egoyan's reputation might still bring some box office clout to the film, at least on the scale of a limited release. The best weekend it could hope for would be about $100,000.
Several weekends throughout the past few years have shown that heavy competition isn't necessarily a hindrance to the performance of several films at once; this weekend will once again put that theory to the test.
Forecast: Weekend of November 15th-17th, 2002

Rank

Film

Number of Sites

Change in Sites from Last

Estimated Gross ($)

1

Harry Potter and the Chanber of Secrets

3,682

New

86.3

2

8 Mile

2,499

+29

32.7

3

The Santa Clause 2

3,346

-6

16.1

4

The Ring

2,882

-45

11.8

5

Half Past Dead

2,113

New

10.2

6

My Big Fat Greek Wedding

1,812

-163

5.3

7

I Spy

2,671

-571

5.2

8

jackass: the movie

2,413

-119

3.8

9

Frida

519

+200

3.5

10

Sweet Home Alabama

1,469

-535

2.5